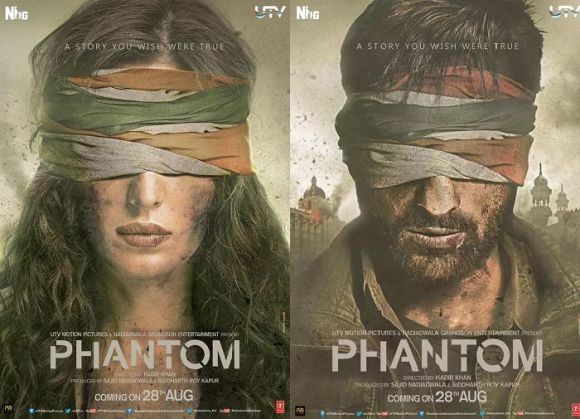 Phantom is Sajid Nadiadwala's upcoming action thriller which discusses global terrorism. The film is an adaptation of S. Hussain Zaidi's recent novel Mumbai Avengers.
The film has been shot in Lebanon, Syria, the UK, Canada and India. Indian locations include Gulmarg in Jammu and Kashmir and Punjab's Malerkotla. The drama featuring Saif Ali Khan and Katrina Kaif, was wrapped up in Mumbai, last September.
In Hussain's novel, a retired army officer spearheads a covert mission with a team of daredevil agents to find and kill terrorist masterminds, one by one, making sure that the assassinations look like natural deaths. The best-selling author has collaborated on the screenplay and the real-life terror suspects of the like of David Headley and Sajid Mir have found their way into the fictional plot.
The makers came up with a few intense posters of the film featuring Katrina Kaif and Saif Ali Khan. The two characters are blind folded by Indian Flags which possibly insinuates that the two are blinded by patriotism. The duo will be seen playing Indian Army officers in Kabir Khan's edge of the seat thriller.