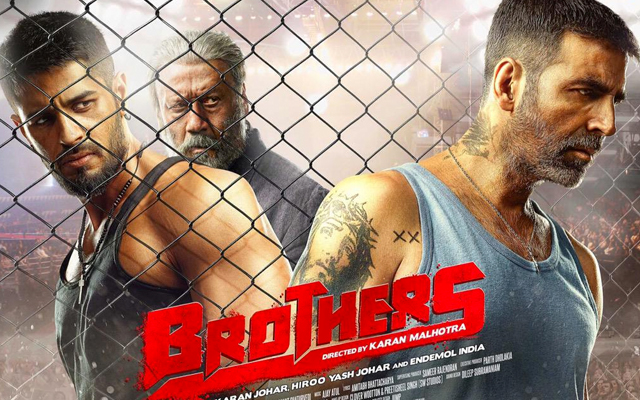 Synopsis
Akshay Kumar and Sidharth Malhotra are fighters and estranged brothers, and Jackie Shroff, their father
A loud, jarring and laughably melodramatic remake of \'Warrior\'
Shroff hams like no tomorrow; makes this an affair to forget
Writing is awful, and a perfectly good story is destroyed
Gavin O' Connor's 2011 hit 'Warrior' is about two estranged brothers and their redemption-seeking alcoholic father, set against the backdrop of a brutal Mixed Martial Arts tournament. On its own, it had the beating heart of a passionate Bollywood mainstream movie. I remember wondering whether any Indian studio would even wait till the film ended to secure its rights. I also wondered if it could be 'Indianised' any further. When I heard that Karan Malhotra - he of the deafening, vein-popping Agneepath remake - was in charge, I was relieved he didn't name it 'Bhaijaans' for starters.
What director Karan Malhotra needed to do:
Surely, no Indian filmmaker could mess this up. It's already there on a nice colourful platter; all he needed to do was not stray away from the DVD player on set, gag and maim his background musicians, pop a Xanax into Jackie Shroff's coffee every hour, resist urges of using item songs and supporting actors and sound in general, lock his writers up in Akshay Kumar's vanity van, and finally, simply consider dubbing the original in Hindi instead.
Mr. Malhotra didn't do any of this. He wanted to make a mark. And he did -all over our bodies, minds, hearts and souls.
Let me tell you how.
What director Karan Malhotra ended up doing:
Short of showing armless kids on crutches in a minefield, 'Brothers' clocks Rajesh-Khanna-In-Swarg on the emotional manipulation scale of 1-to-Slumdog-Millionaire. It also clocks Main-Prem-Ki-Deewani-Hoon on the hamming scale from 1-to-Jackie-Shroff-in-Yaadein. Ironically, it is Jackie Shroff again, who, in his attempt to emulate Nick Nolte's splendid drunk in 'Warrior', ends up looking and behaving like an Arkham Asylum inmate. When he is relatively calmer, he looks like he has been in a car accident. 'Warrior' was around 120 minutes long; it avoided flashbacks, songs and slow-motion sequences. 'Brothers'adds 40 minutes of flashbacks, where Shroff interprets alcoholism as sequences of repeatedly walking through doors like Dev Anand with a bad hairdo. At one point, I was worried; was he actually just keeling over in continuous slow motion? Shefali Shah, his wife in the movie, has her moments, before the director's absurd fixation with teardrops takes over. A lone teardrop is seen rolling down most characters' cheeks every 47 seconds. Shah's eyes are perpetually wet. Who can blame her? She has been typecast as the wife of philandering or dead husbands (Satya, Kucch Luv Jaisaa, Dil Dhadakne Do).
Movie is of the so-bad-it's-bad variety
In between a score that sounds like the inside of barking cats in heat, we're treated to well-choreographed cage-fighting sequences with punches and kicks that sound like hammers tapping on skulls. The brothers' physicality is compelling, but they seem almost euthanised in comparison to the histrionics of Shroff, Kulbhushan Kharbanda (School principal to Kumar's teacher), Ashutosh Rana (Kumar's Muslim trainer), and of course, Kiran Kumar - the tycoon responsible for bringing the MMA tournament called R2F (Right 2 Fight; that's right) to India. Kiran Kumar wears tinted shades and smokes stylish cigars, and announces the 10 fighters in a press conference - where he introduces a German Champion as the fighter "straight from the land of Hitler".
There's also Jacqueline Fernandez, Akshay's wife, who - to demonstrate financial strife and Catholic middle-class existence - foregoes makeup and fake eyelashes for the entire movie. A strong contender for 'Mom Of The Year', she leaves her hospitalised daughter alone to watch her husband battle it out for the same daughter.
The director's keenness to fuse phases into a seamless shot is disturbing; for instance, husband and wife are making love, a teardrop (of pain, presumably) escapes her eye, and suddenly a newborn enters the same (sort of) frame towards her face; they're parents now. Creepy.
Laughable writing, no redeeming factor
And who can forget ringside commentator Raj Zutshi, who addresses his younger colleague as 'cheeky bugg-ah' in various colonial accents. The idea is to demonstrate how incompetent Indian sports commentators are, but using juvenile teaching references ("Summer Vacation is over for David (Akshay)", "His biology will be distorted by physics"), and terming Monty (Siddharth) a villain (because 'Ek Villain') are crimes that would put even an on-air Russel Arnold to shame. When not racially segregating athletes ('Italian criminal', 'Brazilian barbarian', 'North Indian champ'), they drop gentler bombs like "His father is an ex-criminal and alcoholic; I hope the angst works for him."
I could go on. And on. Karan Malhotra milks every single microsecond of every moment - enough to fill all of Switzerland's dairies - and then some more.
In short, despite this being a remake of one of the finest films of 2011, this is one of the worst films of 2015. Fortunately, sinusitis doesn't allow me to hear at full capacity. I pity those who can. Resistance is futile; annihilation is imminent.
Watch the trailer here: