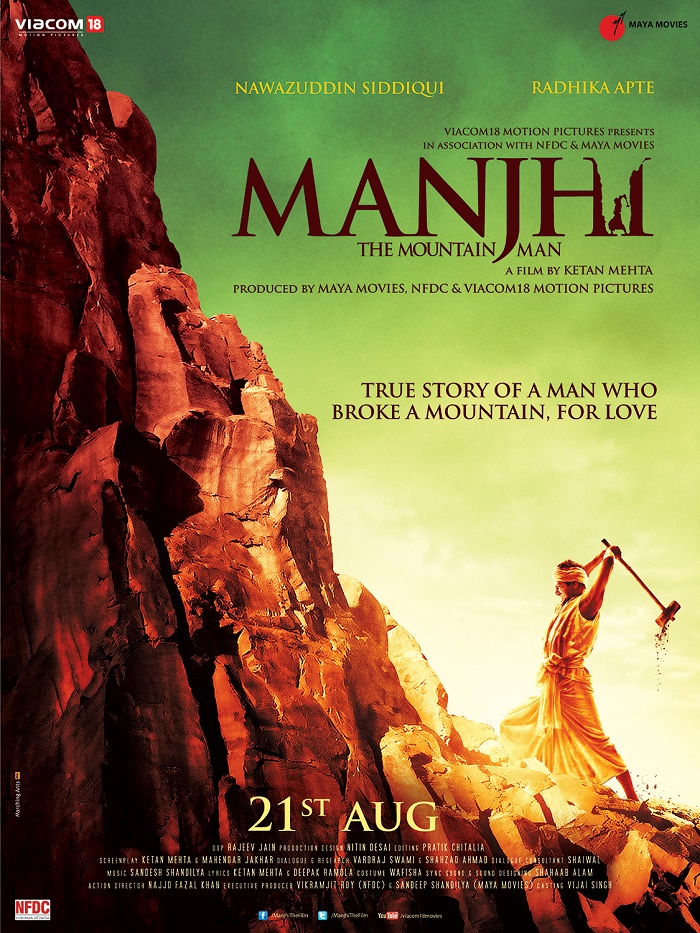 Actor Nawazuddin Siddiqui, who plays the titular role of Dashrath Manjhi in Ketan Mehta's biopic Manjhi-The Mountain Man, says the leaked version of the movie is just a rough cut.
The 41-year-old Gangs of Wasseypur actor said he wants people to watch the movie on a big screen, including those who have already seen the online version.
"This is not the final cut. People who have watched it are calling it a cult classic, they have loved the movie. It is just the rough cut that they have watched. But picture abhi baaki hai...," Nawazuddin told PTI.
"I just want people to watch the final version in theatres. They will enjoy it more. It is a big screen movie."
The team, including Nawazuddin, Radhika Apte and Mehta is in Gehlaur, Manjhi's village to pay their tribute to the man, who broke down an entire mountain after his wife died due to unavailability of medical help.
Manjhi, after 22 years of struggle, carved a way between mountain so that the villagers get easier access to the nearby hospital and other places.
Mehta said while the leak incident was sad, fortunately it was an earlier rough cut of the movie.
"It is unfortunate. We were shocked when we heard about it that just before ten days of the movie's release such a thing happened. Fortunately it is an earlier rough cut, so hopefully when people see the final cut they will enjoy it much better.
"In any case this is a movie which should be seen on a big screen. It is a story of a small man against a huge mountain and that cannot be enjoyed on a laptop."
Apte, who stars as Manjhi's wife in the film, praised Mehta for his positivity even after the leak. she said "There have been obstacles in the last two years. Even the leak is unfortunate. But Ketan is a very positive person. And he has made a wonderful film which should be enjoyed in a theatre."
Manjhi-The Mountain Man goes tax-free in Bihar
The film which is hitting the theatres on August 21 has been declared tax-free in Bihar.
Chief Minister Nitish Kumar said that "The Bihar government has already announced to waive off tax on the film Manjhi-the Mountain Man. Kumar is scheduled to attend a programme on the movie in the evening.
The cast of the film had paid a visit to Gaya yesterday as part of programme to promote the movie.
The chief minister had displayed rare respect to Dasrath Manjhi when he had vacated his chair for him at one of the 'Janata ke Darbar me Mukhya Mantri' programme in the past.
- PTI