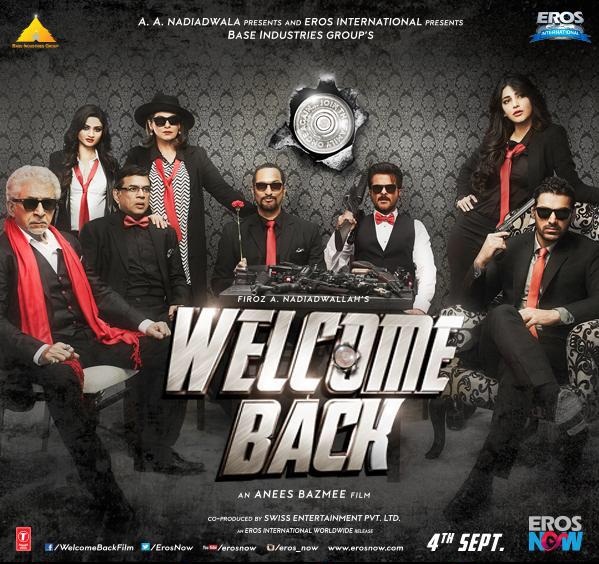 The sequel to Welcome (2007) is a repetitive loop of silly one-liners and stale gags
Relies solely on self-parodying over-the-top gimmicks by senior stars
One of the laziest, most tackily crafted comedies in recent years
There are two types of comedies in contemporary Indian cinema. The first assumes that viewers are deaf, dumb, perennially horny, underpaid, and incapable of understanding anything but recycled SMS puns told by overpaid stars; the second assumes that viewers are baboons.
Welcome Back, directed by Anees Bazmee, is the worst of both.
It retains the two lead nincompoops, don-turned-brothers Uday (Nana Patekar) and Majnu (Anil Kapoor), and depends largely on the fact that you enjoyed Welcome eight years ago - back when comedies were restricted to full-grown adults acting asinine, rabid and senile on screen.
Less of a sequel, more of a lazy episode
However, since the four writers didn't have the tact to come up with a plot that moves forward from the original, they literally recreate the same story without Akshay Kumar, Katrina Kaif and Feroz Khan. That's right - a same-director reboot.
This time - and stay with me here - the two fall for another gold digger, but want to get mannequin sister (Shruti Hasaan) married to a decent chap and not the goon (John Abraham; invokes his inner Rangeela) she chooses, who is also the stepson of Doctor Ghunghroo (Paresh Rawal).
Still here? They must also drive away the coke-addled love-struck son (Shiney Ahuja) of a blind don called 'Wanted' (Naseeruddin Shah), who owns an island with a desert.
The film begins with pixelated aerial shots that make Dubai look like a Lego set. The film ends with toy helicopters and John Abraham outrunning camels by sprinting over their humps. If you're the kind of viewer who finds this funny precisely because it isn't, this could be for you.
But you must also understand that there is no need for mansions, water, air and roads to be computer-generated - as if the lazy filmmaker is trying to lull us into the mindset of a 5-year old with a cartoonish sense of craft.
As long as the performers keep landing one out of every 436 verbal gags and crude metaphors in silly accents, who cares, right?
Few gags aside, torturous to see senior actors play the fool
I'm not sure this brand of self-flagellating humour works anymore; Bazmee probably knows how Patekar looks when he tries to dance, or how John Abraham looks when he tries to act, or how Shruti Haasan looks when she tries to move, emote or even breathe - and expects us to laugh at the fact that he knows.
Or perhaps he expects us to laugh at the fact that we know he knows - oh, the sheer gall - is it supposed to be funny that mediocrity can plunge to the depths of infantile hell?
Have we entered an era where the surreal sight of 60-year old actors shaking a leg with 25-year old starlets at crowded hotspots is supposed to tickle us because of its garishness? At least choose better backdrops - what are these rundown malls and deserted hotels?
Director Anees Bazmee should rethink his interpretation of humour
I don't get it though. It's not funny that able-minded humans spend 150 minutes demonstrating to us what a LSD-fueled midlife crisis would look like.
Is Bazmee trying to tap the reality-show voyeur in us - in the perverse hope that we'd enjoy watching revered actors of different generations destroy their own legacies to earn a quick buck?
To be fair, they land exactly two chuckle-worthy gags - Neeraj Vora is called a 'mooch wala beanbag', and a juvenile graveyard sequence boasts of diggers playing antakshri with imaginary ghosts.
There's also typically bigoted humour - the kind that sounds hysterical to drunken uncles after three pegs in a quarter bar; everything from 9/11, drugs, blindness and Africa is mocked with the ill-conceived arrogance of a scriptwriter discovering wealth.
Even an orange-panted hip-thrusting Govinda would have struggled with material that compels lyricists to rhyme 'psycho' with 'kai ko', 'Dubai ko' and 'bhai ko'.
In the meantime, Anees Bazmee's recent filmography reads suspiciously like the vocabulary of a hotel guard: No Entry. Welcome. No Problem. Thank You. Ready. Welcome Back.