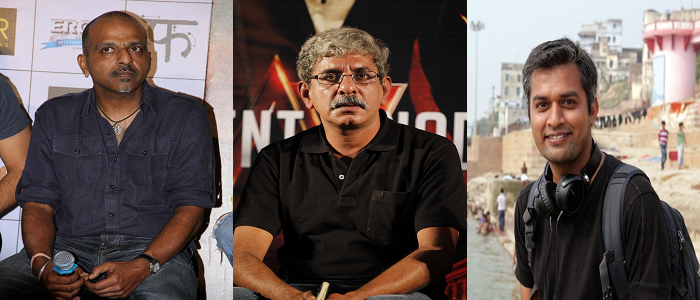 Screenplay, script, editing are few words which form an integral part of almost every film review. However, there has never been clarity about what the three words exactly mean and how important they are for film making.
As Sriram Raghavan, Navdeep Singh and Neeraj Ghaywan join hands with Cinestaan Film Company's Screenwriters lab, which aims to nurture students in the field of writing script and screenplay, we got to interact with the renowned directors who gave us some insight into what the three words mean:
Sriram Raghavan (Director: Ek Haseena Thi, Johnny Gaddaar, Agent Vinod, Badlapur)
The most important thing while making a film is getting the story right. You have to choose the right story to direct a film. Script and screenplay is actually the same thing. Sometimes we call it script, sometimes we call it screenplay. The final shooting draft will be with dialogues and everything but that is at a much later stage. Script is basically the early stage of screenplay.
David Dhawan and Rajkumar Hirani are editing students so they edit as well as direct their films. The body of work they have done so they know what they want to shoot. Editors know what exactly they want, thus making the work crisp and economical. A film is written at the writing table and writing table. We shape up the film on the editing table.
Navdeep Singh (Director: Manorama Six Feet Under, NH 10)
Frankly, for me script and screenplay is the same thing. In our industry, there is a perception that the story is a script and extended story is a screenplay. But story and screenplay really is the same thing.
I really think that a film is written three times - Once is the screenplay, once is when you are shooting it and third time is the editing table as that is the final chance to refine you story. Editing is very important but screenplay is the most important thing. Some people like to edit their own material and some like to have another eye on your vision.
Neeraj Ghaywan (Director: Masaan)
I had a very weird quote in the past and it might come out in a very funny manner - 'Every director has three wives - First one is the screenplay writer, second is the director of photography and third wife is the editor.' Each and every thing forms a very important part of a film. For instance, what Varun had written for Masaan, had to be rewritten for the editing stage and even while shooting for the film, we came up with a few changes.
A lot of direction comes from editing and it is actually very good when directors edit their own films. Shimit Amin, Rajkumar Hirani and David Dhawan are few directors who like to edit their own films. If you edit a film, you know the relevance of every scene. Economy of time is a big hurdle and when you know what to take and how much to take, you task of direction becomes pretty easy.