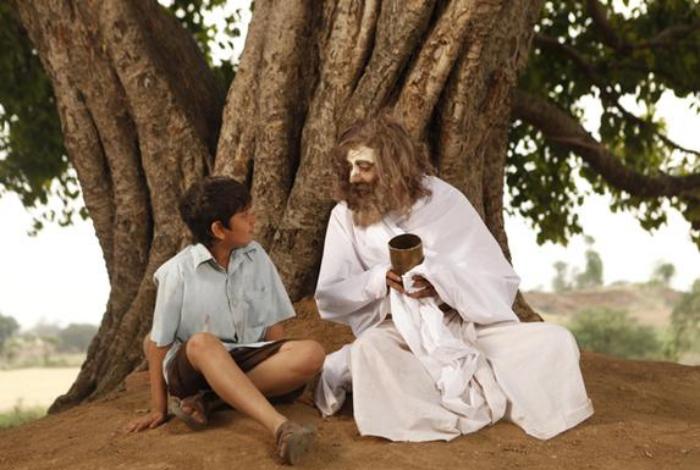 Rating: 2 stars* Based on the early years of Osho Rajneesh between 1938 and 1952* Special Jury Award winner at the Salento International Film Festival in Italy* Produced and written by a veteran Sanyassin from the Pune commune
In a recent interview, director Krishan Hooda explained that he was not a follower of Osho Rajneesh and his philosophies. Perhaps this detachment would only allow him to understand his subject better. And perhaps his foray into period filmmaking would become more than a propaganda-driven glorification of the most famous - and infamous - spiritual Guru of our times. Not quite.
Painfully simplistic
It's not difficult to see why we're shown a virginal, pure, textbook-ish, PG-13 version of the Guru's presumably restless childhood instead. His producer, Swami Jagdish Bharti, known primarily for carrying on the Osho legacy, is also the all-encapsulating writer of this film. Therefore, there is virtually no scope for Hooda to express himself.
He sticks to the safe, Amar-Chitra-Katha-ish and adoring portrait through the eyes of a follower, instead of a probing, balanced exploration of young Raja's building blocks. The film consciously terminates before his controversial latter life stages, where he divided, enthralled and united as the rabble-rousing "Rolls-Royce Guru".
Right from the beginning, the paper-to-screen translation is literal and unimaginative. Budgetary restrictions limit the cinematographer to empty sceneries with voiceovers and the insides of mud huts. As a curious child (Prince Shah; respectable) looking for questions to most answers, his journey unfolds simplistically, from the tired pages of a school lesson. Hooda adds precious little with his imagery; everything looks staged and clean as if the makers are afraid to offend.
From his upbringing in central Madhya Pradesh by his maternal grandparents (Bachan Pachehra, Kirti Adarkar), to the death of his loved ones and peacemaking with mortality, the film blandly covers his struggles with spirituality and sexuality. The makers strive to make their material more of a mystical, meditative quest - an experience that invokes the mood and pace of time gone by. Long shots, silent routines, static frames, unhurried scenes - the director's language is obvious within the first five minutes.
Tropes for Young Minds
The child questions set patterns of religion and God. For this, traditional schoolteachers and myopic sages become fairytale-ish villains. Wise librarians with soft voices provide early pearls of wisdom. The adults playing these roles are too wooden and 'scripted'. Unforgivable, even if this were a religious fable strictly for impressionable kids.
Crafting lacks experience
As the title suggests, Raja is rebellious while flowering into an inquisitive, nirvana-seeking teenager (Shashank Singh). The visual transition is predictable: a child dives into water and surfaces as an adult. But the awkwardness of its execution exposes Hooda's unfamiliarity with this restrained style: He cuts from long shot to close-up, unaccompanied by a background score or change in frame rate, fading it out abruptly.
Similarly, at various points, the camera stays a second too much on facial expressions before cutting away. This results in an odd limbo at the end of most shots.
Few positives
Internal conflict is rare and invariably portrayed through an outbreak of a string-heavy classical score and fairly well-composed folk songs. Perhaps, the most intriguing parts involve the actor Mantra playing all the three sages - Magga Baba (the spark), Pagal Baba (the carrier) and Masto Baba (the teacher) - influencing Raja's meandering path to divinity.
Lacks ambition and passion
Early on, after observing faces during a movie screening, the child asks his nani if viewers are still the same people after watching a film as they were before it started. The emptiness remains, and everything in between is not real, he reasons.
This heightened sense of perspective rings true, ironically, for those who watch 'Rebellious Flower' too. The story told in between lacks passion. It ends up being a decontaminated sermon that will only impress Osho's ardent disciples.