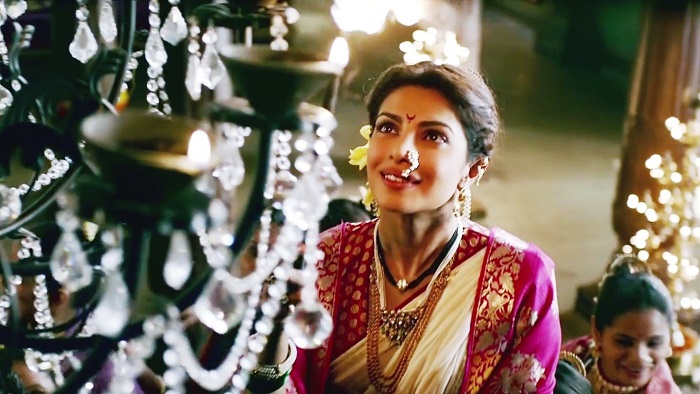 At the grand Bajirao Mastani trailer launch event, Priyanka Chopra revealed that she would team Quantico is excited about the film and she would be hosting a special screening of the film for the cast and crew of Quantico.
"There is a lot of excitement for Bajirao Mastani here. My entire cast and crew is going to have a special screening. They want clothes from film and they're very excited," Priyanka told reporters from the US through video conferencing during the trailer launch of Bajirao Mastani.
Also Read: Ranveer, Deepika and Priyanka's Bajirao Mastani trailer has surprised us and how
Ranveer Singh and Deepika Padukone, who also play lead roles in the film, were present during the launch with the director of the film Sanjay Leela Bhansali.
Priyanka said that the response she is getting for the film is amazing.
"People are very excited. We were trending (on social media) in the US all day even before the trailer came out. This is a part of history, but it is Sanjay sir's fictional version of the story of Bajirao and Mastani. It'd be wonderful to see how people respond to it internationally," she said.
Also Read: Bajirao Mastani's Deewani-Mastani song out: one word verdict -- Beautiful
Bajirao Mastani narrates the story of the 18th century Maratha warrior Peshwa Bajirao I and his second wife Mastani. The film will release on December 18.
Priyanka is in the US shooting for the series where she plays Alex Parrish, an FBI agent.
When asked how she managed to handle two completely different and difficult projects at the same time, she says that its her job.
"It's my job as a actor to be able to differentiate between my characters and over the years I've been able to learn to slip in and out of characters."
Watch Bajirao Mastani Trailer here:
-- IANS