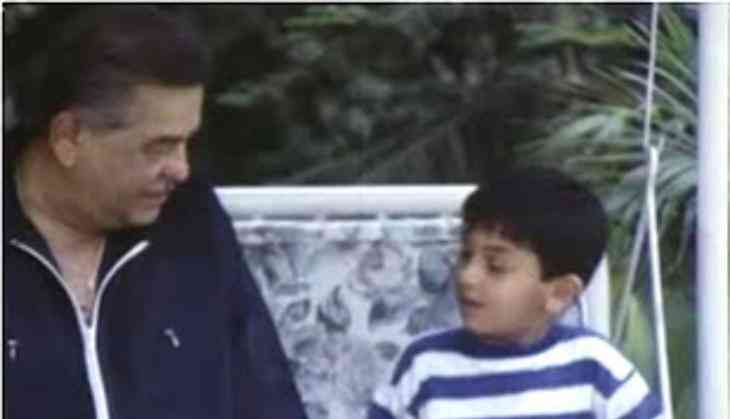 Bollywood superstar Ranbir Kapoor is celebrating his 36th birthday today as he was born on 28th September 1982 to the family of the film industry, Kapoor. When Ranbir born it was like the biggest happiness of Raj Kapoor and the reason was that he got his first grandson who will say him 'Dada'. Besides Ranbir, Raj Kapoor has only granddaughters or other children who have different surnames.
Rishi Kapoor, father of Ranbir Kapoor wrote in his biography Khullam-Khulla and revealed the love between Ranbir Kapoor and Raj Kapoor. Rishi Kapoor revealed Before Ranbir Raj Kapoor didn't have any grandson and Rishi's sister's children have not the surname Kapoor.
Happy 🎂 to my Friend Philosopher an Guide ❤️ loads of love and duas - Neetu Kapoor pic.twitter.com/vbIju0sYIv

— Ranbir Kapoor Fan Club (@RanbirKapoorFC) September 28, 2018
Then Randhir Kapoor, elder son of Raj Kapoor also had two daughters Karishma Kapoor and Kareena Kapoor were also going to change their surname after the marriage. So in that case, Raj Kapoor was eagerly waiting for any son to come to take forward his family tree and the wait comes to an end with the birth Ranbir Kapoor.
On the birth of Ranbir Kapoor, Raj Kapoor gave him the patrimony of a gold coin on which some Afghani has written. Let us tell you that Kapoor family belongs from Peshawar, Pakistan. Raj Kapoor's grandfather Basheshwarnath Kapoor was the Tehsildar of Peshawar. Peshawar is located at on the border of Afghanistan. This is why the coin has written Afghani.
Also Read - Tanushree Dutta confessed when she gone under knife and forced to do a b**bs job