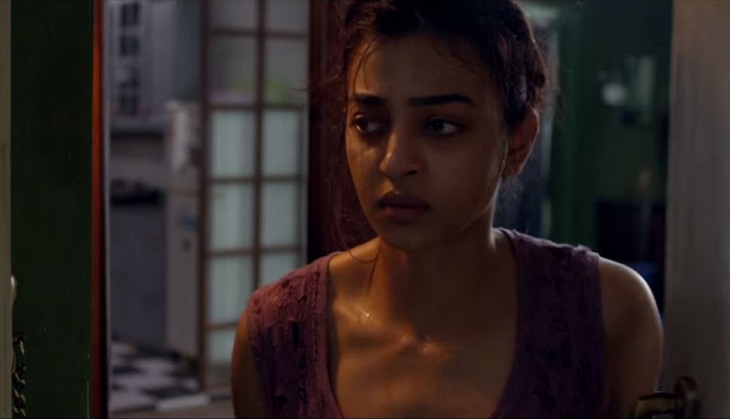 In Jon Amiel's 1995 serial killer drama 'Copycat', Sigourney Weaver plays a criminal psychologist who becomes severely agoraphobic after being brutally attacked by one of her students. She spends most of the film cooped up in her well-furnished flat, trying to solve a copycat-murderer case for two hard-boiled cops. Agoraphobia - an anxiety disorder triggered by a crippling fear of being attacked outside safe closed spaces - is a condition that, at least cinematically, naturally lends itself to the paranoia genre.
At long last, an Indian filmmaker seems to have picked up on this inherently frightening device, though it is perhaps a bit too early to expect an out-and-out psychological thriller parading as a spook fest. Because the genre takes itself so very seriously, some supernatural mumbo-jumbo, vengeful spirits and strategic speed breakers (CCTV footage, bathtubs, creepy neighbours) are par for the course.
But what director Pawan Kripalani (Ragini MMS, Darr @ the mall) does, however, is fashion all these tropes into the endlessly hallucinatory psyche of his afflicted protagonist, Mehak (Radhika Apte). Mehak's condition, too, is a result of a particularly traumatic incident: A late-night cab ride gone woefully wrong. By a twist of fate that only seems to happen in atmospheric chamber pieces, she soon finds herself cooped up in a trendy sixth-floor flat that belongs to a friend of her part-time paramour Shaan's (Satyadeep Mishra). And, of course, there are no signs of the previous tenant, an airhostess who seemed to be in a torrid relationship with the eerie next-door neighbour Manu (Ankur Vikal; terrific). Manu is quite the presence. His fluctuating temperament leads us on a wild goose-chase, intentionally raising visions of a past we really don't want to know about - more so because that would mean this is just another tired slasher flick.
But combine Mehek's phobia with the questionable history of this house, and there's enough to induce a handful of edge-of-seat gasps for two hours.
I've a genuinely low tolerance for contemporary Hindi-language horror flicks; there hasn't been a single noteworthy and original one since (the once-sane) Ram Gopal Varma's Bhoot. Raaz brought in the jilted-ex-lover-spirit syndrome, and the Bhatts have had a hand in every black-magic-possessed-horny-ghost disaster ever since. But as I watched 'Phobia', I felt a bit of faith seeping back into me.
This is not a lazy film by any stretch of imagination; it's exceedingly well designed, the mise-en-scène is a result of careful deliberation, and even the opportunistic sound design doesn't render you (completely) deaf by the end. The eventual twist is not unusual, but mighty deceptive, given the fairly generic space this film had occupied thus far. Even though the scene itself is a bit farfetched, it's built up with an eye for suspense; the background score crawling towards an almighty crescendo is reminiscent of the final stunning shot of James Wan's classic, Saw.
But what really nudged my cynical being back into this forsaken universe are the performances. Radhika Apte as Mehek delivers one of the finest I've seen in any genre movie, internalizing every pore of an individual that can't quite come to terms with her mind anymore. It's not so much about her disease as her struggle to make sense of it. You get her, simply by watching her get defeated by herself time and again. Just watching her navigate the rooms becomes an experience, where you don't quite know whether to slap her out of her funk or cradle her in your arms. She repeatedly treats the front door as her Everest; every time she approaches it in various hues of hyperventilation, it feels different, like a trembling graph aching to attain fruition.
Shaan's persona is an intriguing one; he is that overcompensating tortured little lover who just keeps coming back for more. His unconditional niceness seems to have an edge, and seems to be more of a cultivated technique to induce eternal obligation and payback. He is an impulsive man - capable of involuntary reactions of 'psycho' and 'retard' if slighted - and somewhat represent Indian society's grave and selfish misunderstanding of mental illnesses. Mehak's ambiguous equation with him forms the backbone of the fragile space she is trying to explore with her spunky teenaged neighbour Nikki (Yashaswini Dayama).Phobia would have perhaps crumbled in the hands of lesser actors. But it is what it is. I rarely find myself in the position to recommend an Indian-language thriller. But this is one I will gladly re-watch, if only to reinforce my belief that its director had his wings clipped in his first two cheesy studio efforts. This is Kripalani unplugged, and I will hope he takes forward the Bollywood-horror mantle in a more respectable direction.