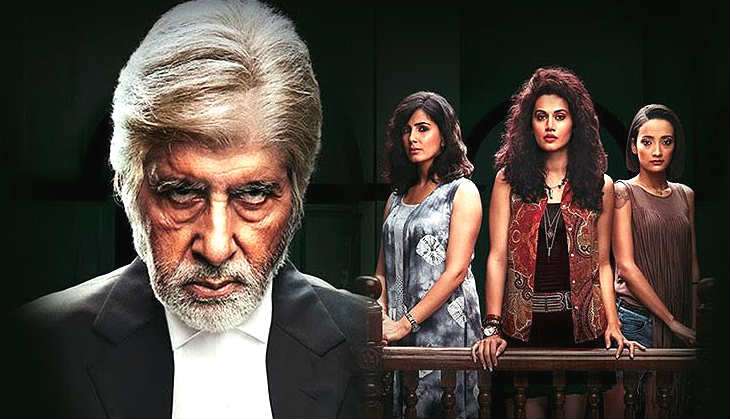 "Aaj tak hum sab log ek galat direction mein effort karte rahe hai ... we should save our boys, not our girls ... because if we save our boys then our girls will be safe." - a dialogue from Pink.
Amitabh Bachchan delivers this pithy, crucial line about the need to sensitise boys in English - a strangely counter-intuitive move considering the language is unfamiliar to a sizeable portion of the audience. Pink is a film that should have had larger chunks in Hindi because the message deserves to reach out to all strata of society - not just the English-speaking (the antagonist of the film is foreign-returned) but also to include people like my taxi driver who confidently pointed to a girl in a mini on the street and scoffed: "Ladkiyan chhote chhote kapde pehnengi toh aadmi ka man toh phislega na."
To counter this sadly-too-commonplace mentality, Amitabh Bachchan as lawyer Deepak Sehgal makes several pointedly pertinent pronouncements while fighting a case for three single girls who are independent professionals (Taapsee Pannu, Kriti Kulhari, Andrea Tariang) sharing a flat in a posh Delhi residential complex. During a triple-date gone horribly wrong, Minal (Taapsee) breaks a bottle on the head of a rich playboy, Rajveer (Angad Bedi) when he tries to force himself on her, and this opens a can of worms, a brutal display of malicious machismo, and a Kafkaesque situation where the girls end up being charged with soliciting and assault!
Pink is a very important film that makes an unequivocal case for a woman's right to say no - whether it a single girl, a wife or a sex worker. It also raises a disturbing poser: Why is a girl who smiles and jokes in a boy's company, makes her own drinks and accepts a dinner invitation considered 'available' by some?
Though sensitively directed by Aniruddha Roy Chowdhury, the film's first half had me drumming my fingers on the theatre armrest to subconsciously provide some momentum to the viewing experience. On introspection, probably it was the gradual ratcheting up of uncomfortable tension as the three girls' lives unravel. The first hour of the film painfully establishes the wringer the girls are put through - Falak (Kriti) loses her job when her picture is circulated by Rajveer and Co on the Internet as a call girl; the threesome struggle with unsympathetic police that includes a tightly-wound- up lady officer and an inspector who keeps a suspect cowering near his feet; and Minal's harrowing abduction experience with the avenging louts who make her pay for reporting the molestation incident to the police. I felt the film should have better explored the reactions of the three girls' parents ... but then, like a friend pointed out, that would have been my film. The chapter on Amitabh's terminally ill wife didn't blend in seamlessly but was mercifully given minimum footage.
When a film is as trenchantly topical as Pink, you want to dispense with the warts so that you can concentrate on the dimples. Among the many pluses of the film is the way the Delhi streets at night are captured with great dexterity by cinematographer Abhik Mukhopadya. Lacerating lyrics 'Titaliyon ke pankhon par rakh diye gaye patthar' from the heartrendingly sung song 'Kaari kaari raina saari' encapsulate the mood of the film. And the dialogue drills home the message without sermonising -- the lady inspector speaks everyday Haryanvi without underlining it in a "Look ma, no hands' manner, and Angad Bedi's oily, revenge-seeking sycophant mouths lines that are in sync with scumbag.
Apart from the commendable demand for a just deal for women - much-needed in this era when rape cases frontline newspapers and marital rape is still a talking point - I also recommend the film strongly for its powerhouse performances. Amitabh Bachchan imparts immense weight and gravitas to the lines. At 74, he is at his peak. Taapsee is terrific - the after-abduction scene in which she stands numbly below the shower is her piece de resistance. Mamta Malik as the hard-boiled Haryanvi cop Sarla Premchand gives one goose flesh. And Angad Bedi is admirably able to stand up to Amitabh and confidently spew venom right back at him.
But for me, the surprise package was Kirti Kulhari as Falak Ali. Her character's graph is fascinating - initially eager to concede to a compromise, Falak goes ballistic and challenges the arrogant Rajveer when he gets abusive on the phone.
Eventually, she breaks down in court and even admits to soliciting before positing the pertinent question: 'Isn't a woman entitled to change her mind after accepting money and saying yes?'
Do I recommend Pink? My response is a vociferous "Yes" to this film that speaks about a woman's right to say "No."
-- Sourced from Dinesh Raheja, Editor, Bollywood News Service