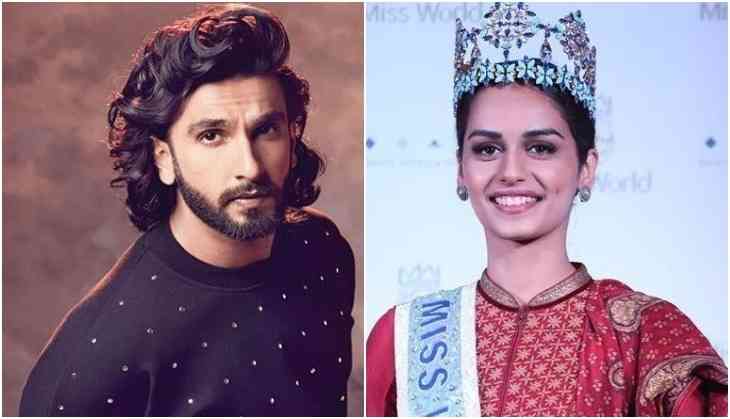 Padmaavat star Ranveer Singh commented on Manushi Chhillar's live video, see Miss World's interesting reply
Haryana's girl Manushi Chhillar won the title of Miss World 2017 and she was in the headlines for a long time for her this biggest achievement. Recently Manushi Chhillar came live to interact with her fans and she was live on her social media platform Instagram. She was giving replies to her followers.
Immediately Bollywood actor Ranveer Singh commented on the live video of Manushi Chhillar and for that Manushi also replied to her question. In recent award show Filmfare, Manushi was seen having fun with Padmaavat star Ranveer Singh. Even King Khan Shah Rukh joined them in their funny conversation.
Ranveer also posted a picture of Manushi with him during the rehearsals of Filmfare award in that he gave the caption 'Queen'.
Miss World Manushi Chhillar always is active on social media and shares her pictures on social media with the time. So recently Manushi came to have a live chat with fans on Instagram, so Ranveer Singh also commented on it. Ranveer Singh commented, 'Hey hey Hey how you doing. great Fun Haan at Filmfare'.
From Manushi IG Live Chat ♥️
Ranveer Singh :
Hey hey hey how you doing.
Great fun haan at filmfare.
Manushi Chhillar :
Hi Ranveer , I am really good how are u ? Yes yes we had really a good time at filmfare & u are Really funny I love ur since of humor really funny pic.twitter.com/qPnyRIWCIO

— Ranveer Singh TB (@RanveerSinghtbt) January 31, 2018
When Manushi saw the live comment of Ranveer Singh, she got shocked and while replying to Ranveer's comment she said, "Hi Ranveer, I am really good how are you? Yes yes, we had really a good time at Filmfare & u are Really funny I love ur sense of humour really funny."
Also Read - Sanjay Dutt Biopic: This actor is playing Salman Khan in Ranbir Kapoor's film
Pure magic on stage! @iamsrk, @MissWorldLtd 2017 @ManushiChhillar and @RanveerOfficial #JioFilmfareAwards pic.twitter.com/h7supmMnoq

— Miss India (@feminamissindia) January 21, 2018
Not only this Manushi also said, "I always said there are two actors who I love the most, not for the acting but for the person they are. Their behaviour with the people, I even shared the stage with Shah Rukh Khan and Ranveer Singh at Filmfare."
Also Read - When Padmaavat actress Deepika Padukone slapped a man at the age of 14 for molesting her
While there are reports that Manushi Chhillar soon can make her Bollywood debut with any big project.