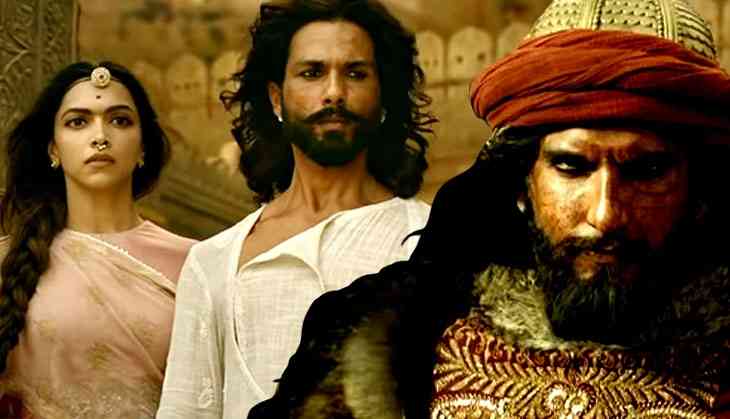 Sanjay Leela Bhansali's Padmaavat, or Padmavati as the movie used to be called, has been subject to much controversy over the past couple of months, with the Karni Sena demanding a nationwide ban on the film. Before watching this work of historical fiction, starring Deepika Padukone, Ranveer Singh, Shahid Kapoor, some background may come handy to know where Bhansali ended up.
When James Tod wrote his Annals and Antiquities of Rajasthan or the Central and Western Rajpoot States of India (1829-1932), the British East India Co was ruling the roost over a vast but fragmented sub-continent. His two influential volumes played an important part in shaping opinion, despite being criticised for inaccuracies.
Among the many tales he presented was also the legend of Rani Padmini of Chittor and how she committed jauhar – self immolation – when the fort of Chittor was about to fall to Alauddin Khalji. Significantly, Tod doesn't mention Malik Muhammad Jayasi's monumental work Padmavat as an inspiration. Presumably, he depended more on the local bardic telling of the story.
Be that as it may, the narrative caught on. Half a century down the line Bengali versions of Tod's tale started coming, romanticising a Hindu queen who gave up her life, but not her honour to a Muslim invader.
These were times when Bankim Chandra Chatterjee's brand of 'nationalistic' literature dominated the culturescape, where monks would band together to take on invaders. Naturally, the new retellings of Rani Padmini of Chittor found a following.
In the process, somewhere, Jayasi's nuanced and beautiful epic dropped out of the discourse. The new, dominant intelligentsia failed to grasp the importance of this sixteenth-century Sufi literature. Another half a century, and movies started to be made on the subject, sticking to the simplified storyline.
ENTER BHANSALI
When Sanjay Leela Bhansali, two decades into filmmaking, said that he was picking up Padmaavat as his next project, one hoped that a milestone of Indian literature would reach a wider section of the population. Also, the expectation was that someone as famous as Bhansali, would deal with history carefully.
Alas!
After years of presumably painstaking hardwork, a humongous budget – some say Rs 200 crore – and months of mindless controversy over Rajput pride and decency, Bhansali produced a bore.
Veering as much away from the text as Sinhala is from Mewar, Viacom 18 Motion Pictures and Bhansali Productions present a slo-mo choreography of cardboard characters to bury history in 3D. Add an IMAX cenotaph to it and it becomes a global first for an Indian film.
As someone conversant with the original text told me after a viewing, "Padmaavat is not Padmavat". Yes, creative liberty can be taken, but to what end? It is welcome if it adds to the original, not if it dumbs down and saps out the original's spirit.
Poor Deepika Padukone – she actually tried to hold fort but General Bhansali seemed to know not what to tell her. Seemed he wanted strong woman characters, one particularly strong, and then ran out of ideas. Eventually, we have a princess who seems straight out of James Cameron's Avatar, who is then asked to model for grand sarees and Tanishq. That's the best part of the film.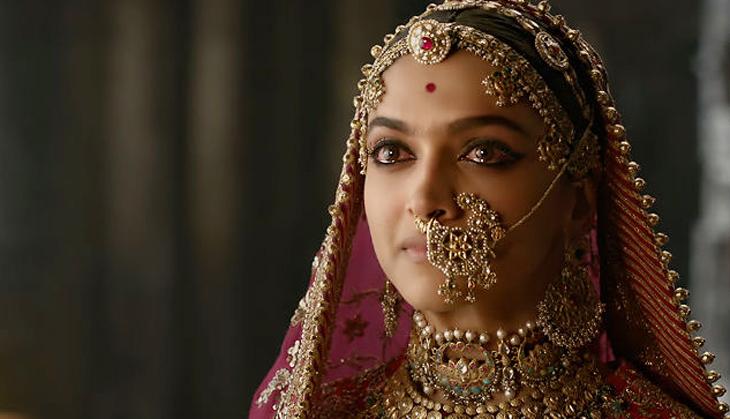 Deepika Padukone in Padmaavat.
Other characters are worse off. Ranveer Singh, who is not very bright on his best day, seems almost pushed into playing one of the most astute Delhi sultans. Alauddin Khalji was a man who left a lasting mark on the way a large part of India was administered for a very long time. His legacy, like that of most powerful medieval rulers, may be troubled but not unidimensional. When he attacked Chittor, he was a well-entrenched Sultan.
Ranveer's portrayal hardly reflects an astute administrator who is fabled to have nearly half a million horsemen. His Khalji comes across as a barbaric tribesman intent on only chomping off roasted meat, looti and plunder, after wandering into the screen in the first scene as if he was still in Ladies vs Ricky Bahl, but with better abs. Did anybody tell him that this role was played by none other than Om Puri in Shyam Benegal's Bharat Ek Khoj?
If Ranveer seems to be grappling with his role, Shahid Kapoor seems to be in a role that nobody cared to write. Jaysi's Ratansen thrived on arrogance – an arrogance that came after tough meditation – and penance that culminated in him marrying Padmavati, the most beautiful woman on Earth. Sadly, the most Shahid manages is to try to look angry at times and a deer caught in headlights otherwise.
If this is the state of the key dramatis personae, you can imagine the fate of the rest: They enter the frames, look at the camera, parrot their lines and leave mundanely. Jim Sarbh wasted the opportunity of playing the crucial role of Malik Kafur. He should have started with a basic gender sensitisation course on how 'eunuchs' behave and Bhansali should have researched on the roots of Khalji's crucial slave general.
The character of Amir Khusro resembles a court jester more than a revered poet. Not expected from someone like Bhansali who swears allegiance to art.
Not that Padmaavat doesn't have its moments. The few moments though, sink under the weight of a grand production design that seems squarely aimed at creating a spectacle. The poverty of ideas become even starker when Bhansali falls back on Ketan Mehta's Mirch Masala from three decades ago.
The money wasted in the process hasn't even been used to create good effects. In fact, on the IMAX version, some sequences were visually jarring and the 3D failed to add any dimension. The camera for most parts seemed to be content being aloof. The background score though managed to create a theme and stuck to it.
The writing is lazy and the dialogues sound contrived. Jayasi's famous monologues have been given a miss as has been the trope of Hiraman, the parrot, which was a crucial plot point. Bhansali degrades it further by actually showing a warrior fighting after being decapitated – harking back to a description used earlier on who a Rajput is.
Making a boring film is one thing. But Bhansali here also makes a choice: he chooses to further the stereotype of 'boorish Muslims who invaded India and defiled its civilisation'. The film will still make its moolah perhaps – those who celebrate the likes of Prem Ratan Dhan Payo will perhaps think this is a 'serious' film.
But what does Sanjay Leela Bhansali achieve? Not much more than the wrath of a community he set out to lionise at the cost of another.