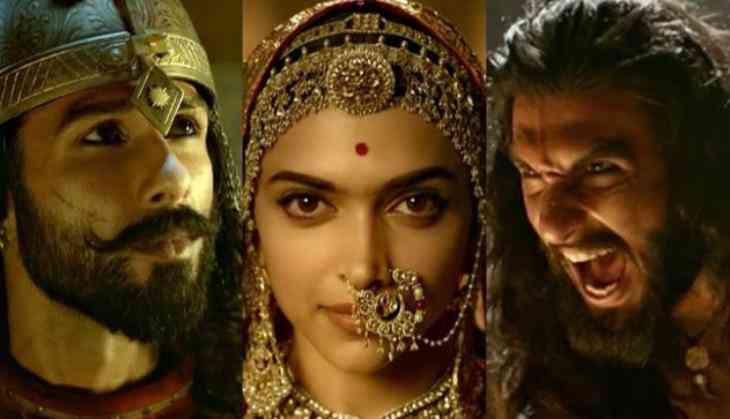 Padmaavat Movie Review: Sanjay Leela Bhansali proves why he is the best in making period films
Padmaavat Movie Review- Finally the most controversial and much-awaited film of filmmaker Sanjay Leela Bhansali is now coming out on 25th January, and the fans are eagerly waiting for the film to watch in the theatres. However, it is being tough for them after seeing this much protest against the film.
Movie Name - Padmaavat
Star Cast - Ranveer Singh, Deepika Padukone, Shahid Kapoor
Director - Sanjay Leela Bhansali
Producer - Sanjay Leela Bhansali, Sudhanshu Vats, Ajit Andhare
Music - Sanjay Leela Bhansali, Sanchit Balhare
Genre - Period Drama
Critics Rating - 4 stars
STORY
Padmavati (Deepika Padukone) is a princess of Singhal state and she is famous in the whole country for her beauty, one-day co-incidentally Maharawal Ratan Sen (Shahid Kapoor) meets her and fell in love with her at first sight. After this Padmavati got married to an already married king Ratan Sen. Everything was going well till one priest from Ratan Sen's court went to meet Delhi's Sultan Alauddin Khilji (Ranveer Singh).
This priest tells Alauddin Khilji about queen Padmavati's beauty and Khilji attacks Chittoor to achieve queen Padmavati. Khilji deceitfully arrests Maharawal Ratan Sen and asks queen Padmavati in return. From there the whole story of queen Padmavati's Jauhar gets to start and how it becomes an inspirational and proud story of Rajputs this is what Bhansali has told in the film.
Also Read - Padmaavat controversy troubles for Ranveer Singh-Deepika Padukone's romance
DIRECTION
The film clearly shows the hard work of filmmaker Sanjay Leela Bhansali, he has shown every aspect of every character brilliantly. Bhansali managed to show the beauty and bravery of queen Padamavati, with the brilliant bravery of Rajput king Rawal Ratan Sen and the also the cruelty and toughness of Alauddin Khilji. Every frame of the film shows Bhansali's brilliant filmmaking. We should take a bow for Bhansali for making a film like this.
PERFORMANCES
Now what we say about performances, everyone is just perfect in the film, everyone means everyone. Deepika is a clearly a queen of this film she proves that no one could have played this role beautifully better than her. Now Shahid Kapoor could say that he has done a film like Padmaavat where he nailed the role with her daredevil performance. Shahid will tell you why he was assured that his role will make his own space.
Now there is a different space for Ranveer Singh, Bhansali we would say that you have one of the best actors in the current generation. I would say if you thought that Bajirao Mastani was Ranveer's best performance then wait and watch Padmaavat, other things will his character Alauddin Khilji will himself say.
Also Read - Padmaavat: Here's the proof that Ranveer Singh, Deepika Padukone and Sanjay Leela Bhansali are the most controversial trio
MUSIC
The music of the film is good but not up to the mark it could have been better, one or two songs like Ek Dil Ek Jaan and Ghoomar are the best songs. In music, Bhansali could have done better. Background score is amazing and it has gone with the situations.
WATCH IT OR NOT?
Why should you will not watch it, you should watch this classic and brilliant cinema of Bollywood in current time when many filmmakers are showing some stupid love stories, Bhansali will give a treat of Indian culture as Indian cinema. Watch it if it is safe at your nearby theaters.