Filmmaker Omung Kumar is gearing up for the release of his upcoming film, Sarbjit. Based on the real-life story of an Indian who gets convicted of terrorism by Pakistan, the film features Randeep Hooda playing the titular character whereas Aishwarya Rai Bachchan essays the role of Dalbir Kaur, Sarabjit's sister.
The film is the second directorial project of Kumar after Priyanka Chopra-starrer Mary Kom.
Giving insights into the film and its cast, the filmmaker answered a few questions:
After Mary Kom, you are directing another biopic - Sarbjit. Do biopics fascinate you?
I don't have any fascination to make only biopics; in fact, I was not supposed to make Sarbjit. The film was supposed to be made four years back when Sarbjit was still alive. Dalbir Kaur (Sarabjit's sister) was making this film with other directors with the intention that the film would help his case. But unfortunately, Sarabjit died and the film got shelved. One year back, after I won the National Award, my partner Sandeep Singh brought this script to me ... I said no because I didn't want to make another biopic. But after two days, I saw Dalbir Kaur's video and that moved me a lot; this is one personality from whom you can't take your eyes off. I wondered why I was refusing this film. I did some research on this story and it really moved me. I realised that this story needs to be told since it is so strong.
Also read: Ahead of Sarbjit release, this is what Abhishek Bachchan had to say about Aishwarya Rai Bachchan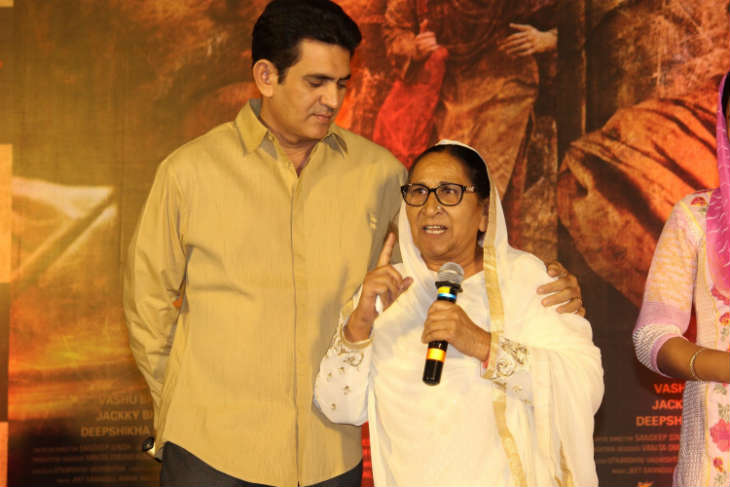 Omung Kumar and Dalbir Kaur during Sarbjit promotion (IANS)
Do you feel the film should have been made earlier?
Yes. People are asking 'Why now?' I say it's because what happened shouldn't have happened. Once you watch this film, you will go back home and hug your family and tell them that you haven't done enough for them. You will realise what Dalbir has done for her brother -- she couldn't manage to get her brother home but her journey still continues and she is still fighting to help other people in a similar situation. That's what attracted me to do this film.
Was Aishwarya your first choice to play Dalbir Kaur?
Yes, she was always my first choice. I wanted someone who is mature. There are very few actors who are mature enough to play a 22-year-old and a 60-year-old. Nobody would think of Aishwarya in this role at all because people might say 'From which angle does she look like Dalbir?' But I made Dalbir my way. All the mannerisms of Dalbir are there -- the walk, the talk. And I've made Aishwarya not look like Aishwarya. The same way in which I couldn't take my eye off Dalbir Kaur when I saw her in the video, you also won't be able to take your eyes off Aishwarya. Did Priyanka look like a North-Eastern girl? But when the film's trailer came out, everyone was convinced that Priyanka Chopra was Mary Kom. Here, too, Aishwarya became Dalbir Kaur. According to me, this is Aishwarya's best role.
Also read: Darshan Kumar: My friends are jealous because I am working with Aishwarya Rai in Sarbjit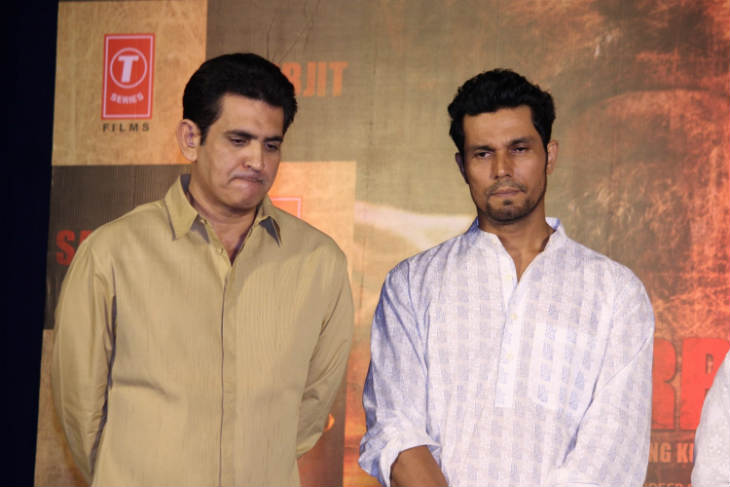 Omung Kumar, Randeep Hooda during Sarbjit promotion (IANS)
Was it easy to get her to accept the film?
Give actors the best role of their life. Something they haven't done, and they will say yes to it. It just took 15 minutes for Aishwarya to say yes to the film and Randeep said yes in 20 minutes. It's as simple as that. They look at something in that film and feel that if I don't do this film then I am losing something.
Was it easier to turn Priyanka Chopra into Mary Kom or Aishwarya into Dalbir Kaur?
Both were challenging. I would have lost my case if I had found Priyanka Chopra and not Mary Kom even in one frame. Here, it was even more challenging because Aishwarya is known for her beauty, she has done fantastic roles in her life, different roles, but her beauty has come forward. Over here, the challenging part was to change her drastically! If I see Ash even if in one scene in the film, then I have lost it. You won't see Ash in Sarbjit -- and that's my guarantee. Randeep Hooda has been noticed for his role too.
Ash just melted in the character, she felt what Dalbir felt. The same goes for Randeep -- he lived the way Sarabjit lived. He had chained himself! The major change that he went through was to lose weight. They both just made the characters their own. It's a good film, a rollercoaster ride during which you won't get time to breathe.
Also read: #CatchChitChat: Sarbjit artist Subhash Shinde on whether VFX will ever replace make-up
The film is likely to have an unhappy ending; how do you think the audience will respond to that?
People know the story ... and there is hope in the end. When you come out of the theatre, you will 'feel' Dalbir's struggle, you will feel that this shouldn't have happened. When you will look at your loved ones you will feel that you haven't done anything like this for them. The purposeful meaning of this film is hope. There is still hope for people who are there.
What kind of emotional journey did you go through while making this film?
It was a major rollercoaster ride for us because I immerse myself in the detailing. We put aside the script that we had; I wanted to hear from Dalbir what she went through. The kind of questions I asked her made me cry along with her because I was revisiting her wounds. The first meeting of the family is the biggest scene of our film, after 18 years when the family goes and visits him.
When I asked details about that, she broke down. To calm her down I took her to watch a movie. While she was telling us the story, every one of us was crying.
Have you finalised your next film?
My next is a psycho thriller; and, again it has the best role for life for an actor. A small part of it is based on real life. The script is ready and I have almost signed the actor.
-- Sourced from Anita Britto, Bollywood News Service
Also read: Sarbjit: This is why Omung Kumar can't get over Aishwarya Rai's dedication to acting