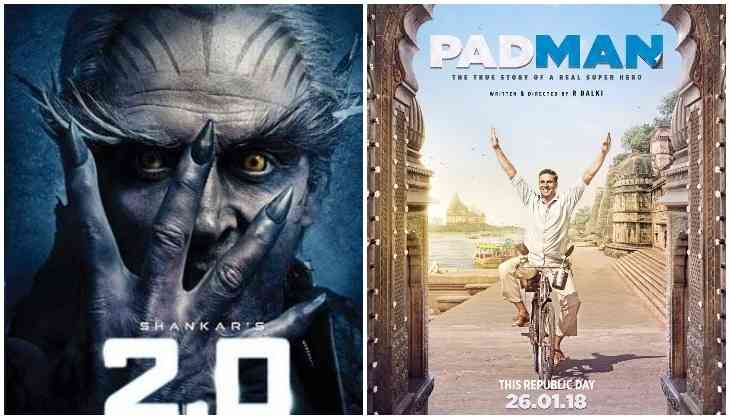 OMG! It's Akshay vs Akshay on Republic Day weekend 2018: Padman to clash with 2.0
Akshay Kumar is the most bankable star of Bollywood these days and it is being proved with his ambitious projects and upcoming movies. It is already clear that he is coming with the biggest film of his career and that too with the biggest superstar Rajinikanth. The sequel of 2010 released hit film Robot called 2.0 is now ready to hit the screens with a big band.
The most awaited film of Indian cinema 2.0 earlier was supposed to hit the screens on Diwali 2017 but due to some technical issues, the film got postponed for the next year 2018. Then it was announced that 2.0 will be releasing on 25th January 2018 and it is going to be a biggest republic day weekend for the film.
And here it is, the moment you all have been waiting for...the much awaited #2Point0AudioLaunch! pic.twitter.com/gTTADiANxE

— Akshay Kumar (@akshaykumar) October 27, 2017
However, everything was going good but what happens now is surely a big blow for Akshay Kumar and his fans. Actually, this is going to happen after a long time that in the same weekend two films of the same superstar is going to hit the screens. Today it has announced that Akshay Kumar's film with director R. Balki called 'Padman' is going to hit the screens on the same weekend of republic day 2018.
Also Read - Bigg Boss 11: What! Sapna Chaudhary doesn't know anything about 'condoms'?
Not all superheroes come with capes! Bringing you the true story of a real superhero, #Padman this Republic Day - 26th January, 2018! pic.twitter.com/hcEcJPO6Up

— Akshay Kumar (@akshaykumar) October 29, 2017
Well, now what will Akshay's fans do what will be their preference for first now becomes the biggest question. One hand there is the biggest collaboration of two superstars Akshay Kumar and Rajinikanth and on the other hand, Akshay Kumar is coming with a social message film 'Padman'.
Also Read - Did Priyanka Chopra just called her 'ex-boyfriend' Shah Rukh Khan 'MF'?
However, surely Padman can face the effects of 2.0 but let's see how will Akshay Kumar manage it. Earlier, there were the speculations that Akshay Kumar's another film Gold was supposed to hit the screens in the republic day weekend but later it got postponed for few months.