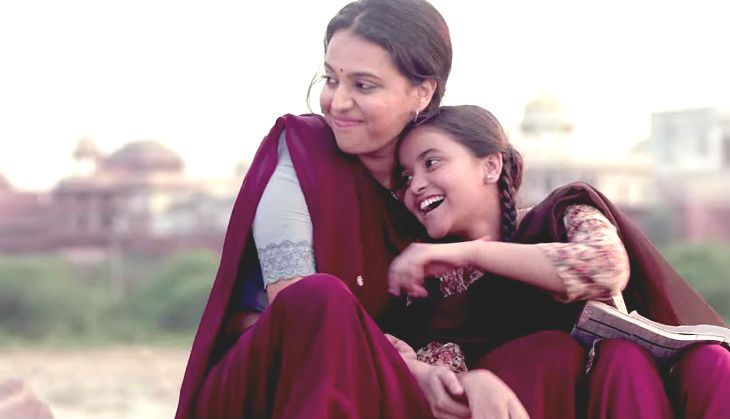 Rating: 3 stars
Director Ashwiny Iyer Tiwari\'s first film
Swara Bhaskar stars as a housemaid going back to school
Choppy, predictable but fairly sweet and well-performed
It's difficult not to be taken in by Swara Bhaskar. She has a most evocative face; she knows exactly how she looks when her brows furrow or lips curl on camera. And she understands that acting is primarily about reacting - the body language, walking style, linguistic quirks, those little moments between dialogues, and stretches of silence. 
In Nil Battey Sannata (a lead role, at long last!), she is earthy and exemplary as Chanda Sahay, an Agra-based 'bai' (housemaid) obsessed with the future of her cocky math-challenged daughter (Riya Shukla). 
Even if she doesn't look the part conventionally, she cleans, cooks and even cusses like she's done her homework. Incidentally, the title itself is Uttar Pradesh slang to denote "those-with-zero-hope". Notice the way Mrs. Diwan (the charming Ratna Pathak-Shah, again), Chanda's retired employer, is fascinated by this term during one of their many morning gab sessions. 
Not Yet A Woman
Chanda has that kinetic nervousness and borderline paranoia that young single mothers tend to internalize. As a woman closer in age and maturity to her 14-year old daughter than any man she has romanced, you almost understand how she has raised - or been friends with - such a bratty kid. 
Most kids this age are yet to grow genuine feelings, but Apeksha's in-sensitiveness is amplified by her mother's self-flagellating, pushy nature. In a way, Chanda may have hit adulthood too quickly, and is constantly playing catch up. 
The film deals with her overwhelming struggle to prove to her girl that destiny is a personal battle, and that she herself isn't the best example of a life well spent. It's unnaturally tragic when self-aware parents must step down and discourage their own children from looking at them as heroes.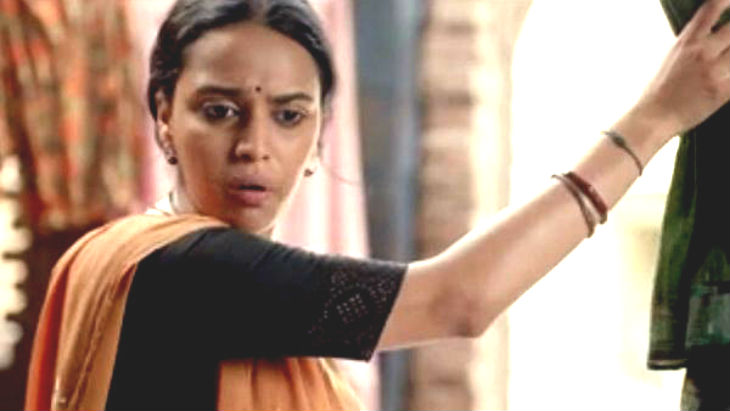 Photo: a film still

But, as the educated Mrs. Diwan points out, inspiring young minds doesn't always require the destruction of one's own dignity. For this watershed event in Chanda's life - where she considers leading the way by going back to school - the scene plays out much too conveniently. She resists, but you get the feeling that it's the story and not her own character that makes this interesting decision. And it's definitely this urgency that compels Apu and her pals to behave like they're in a movie. They say wise things and stupid things and nothing in between; most of it is sweet, but staged. 

This is what's not quite right with Nil Battey Sannata. It advocates ambition and nobility, has memorable performances, even intrigues with its idealism, but I came away wondering why I wasn't too inspired. I wanted to - this is the kind of film that thrives on correct intentions - but perhaps it tries too hard for too long. 

For example, Apu's relentless cynicism is characterized by a deliberate, dour-faced line, "The poor have no right to dream", immediately followed by an abrupt scene of her mother contemplating, "Those who don't dream are poor." Chanda's tough-love phase, exam competitiveness and Apu's inevitable change of heart is, again, too plotted. Though one could argue that her 'filmyness' is derived from her remorseless soap-watching habits. 

Much like her producer Aanand L. Rai (Raanjhana, Tanu Weds Manu), first-time director Ashwiny Iyer Tiwari thrives on exploring the authenticity and flavours of her environment. But for a well-observed film about a mother and her conflicted daughter, other personas and bonds endure far more.

It's uncanny how Mrs. Diwan, an ex-doctor and restless matriarch, treats Chanda as more of a part-time daughter than an old-timer's project; there's a casualness (Chanda routinely wipes lassioff the lady's lips, tucks errant hair strands away) derived from years of loyalty and familiarity. They even communicate through Bollywood references - Chanda remembers the late Abdul Kalam as the chap with the Tere Naam hairdo, while Diwan explains dyslexia to her by citingTaare Zameen Par. There's a different film in their relationship, as is one in the hype surrounding the dreaded 10th standard board exams, and the enthralling presence of the school principal (Pankaj Tripathi; excellent). 

Tripathi latches on to a sarcastic and studied language, one that will remind many of their early, seminal schoolteachers. I could go on about him, but that demands a separate piece. However, like Rai, even Tiwary falters in the narrative closing out a solid platform. 

In fact, the film this reminds me of in its obviousness and squandered simplicity is Bhoothnath Returns, which, as it turns out, is directed by Tiwari's husband, Nitesh. Their sensibilities match, but so do their shortcomings - something that Miss Bhaskar and her career-best turn almost persuade you to forget.