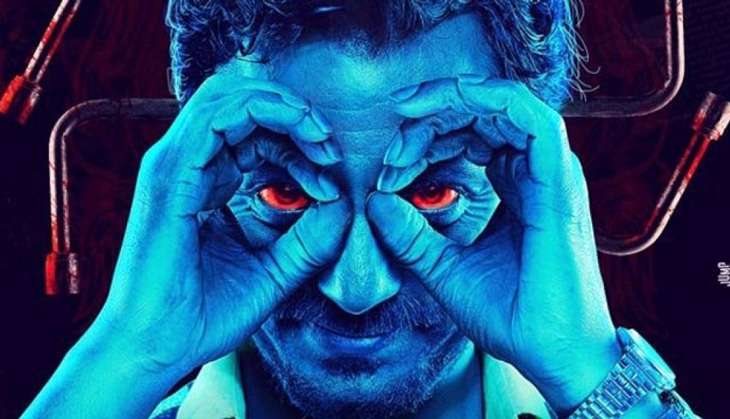 Anurag Kashyap\'s 12th feature-length film
Reunites with Nawazuddin after Gangs Of Wasseypur
Fictitious story driven by the legend of titular 1960s serial killer
Rating: 3 stars
Early on in Raman Raghav 2.0, it becomes quite clear that Anurag Kashyap has set out to achieve his own non-sanitized flip of Sriram Raghavan's subversive Badlapur. In its third "chapter" - this chronological Tarantino-ish narrative trope appears more to justify its structural leaps of attention - we see drug-addled cop Raghavan (Vicky Kaushal) roll off his squeeze Simmy (Sobhita Dhulipala) after another furious bareback sex session.
She frantically uses a tissue to salvage her situation. You sense this isn't the first time. He casually assures her she can't get pregnant after her three previous abortions. He then reflects on how his failure to capture serial killer Ramanna (Nawazuddin Siddiqui) has resulted in three more gory deaths. "You're worse; you've killed three babies," she responds, half in jest, setting him off on one of his several self-destructive binges.
You get it: Two men on opposite sides of the law, two wicked sides of the same coin. That "good" and "bad", "hero" and "villain" are terms coined to uphold the illusion of civilization; that the power of uniforms can be as devastating as the brutality of a murderous rod; that, stripped of societal pretenses, an unconditional psychopath is far more honest to his being than the hypocritical citizen.
Also read: #CatchChitChat: Nawazuddin Siddiqui: There're 3 kinds of actors -- good, bad and Salman Khan
These are, however, stark and difficult realizations to digest. It's unsettling to see inherently clear binaries being turned upside down. It's also never easy to watch adults come undone without being privy to their reasons and consequences. Then again, such is the nature of bloodlust - it has no definite nature. This becomes starker and darker through the blood-tinted goggles of Kashyap and co-writer Vasan Bala. Their Mumbai feels like the kind of world that has no history, and certainly no future; all we see are stinking fragments of a very unfortunate "now."
Ramanna is an unhinged vagabond who idolizes the infamous 1960s serial killer, "Psycho" Raman Raghav. The film begins with him surrendering himself very matter-of-factly, because he can't afford to live on the streets anymore. Also, he's happy with his number: 9 murders. He is a kook so downright eerie that Raghavan refuses to trust his confession. Who can blame him?
But one look at the way his estranged sister (Killa's Amruta Subhash; startling) reacts to him, as if he were the ghost of a rabid dog she had long buried, and a horrid possibility dawns upon us: Has Ramanna's childhood obsession led him to internalize the his idol's incestuous past, too? This disturbing chapter tells us much about how we don't need to know a thing about this man, and he'd still be as frightening. Nawazuddin has that glint in his eye; if he holds an unbroken gaze, his staccato delivery will lead you into peals of classist paranoia.
Also read: Raman Raghav 2.0: Government should stop treating Bollywood like a secondary industry , says Anurag Kashyap
After it becomes apparent that he kills for the fun of it ("you know, like eating food?"), the focus shifts to the chain-smoking Raghav and the suppressed Raman in him. Each of his outbursts, aimed at Simmy or himself, trail off with lingering threats: Don't piss me off or I'll - (gun). And appropriately so, given his inability to complete a thought, and his disdain at having to respect others' thoughts. He thinks nothing of slapping his women around, aiming to exercise the control he had perhaps once submitted to. Mental demons and drugs make for a potent cinematic cocktail, which is why I was disappointed with the rather obvious chapter of 'The Son': Raghav's personality doesn't need to be validated by the depiction of his controlling Punjabi father (Vipin Sharma).
Kaushal, behind omnipresent glares and riffs of sadomasochism, does well to let a film devoid of goodness and redemption pivot around him. As the angry young man, aching to let the deformed Hulk out of him, he seethes enough to make this film a very curious one.
It would be normal to expect a conventional cat-and-mouse game of one-upmanship between the two. One's a troubled soul; the other is troublingly blissful about his life (and death) choices. It's often at such junctures that Kashyap derails his gleefully indulgent vision to embrace some sort of frenzied anti-plot intuition. Badlapur's most compelling scene is a late one in which a bloodthirsty Raghu (Varun Dhawan) is told by his wife's long-suffering killer (Nawazuddin) that he is an animal. "I killed her in a fit of rage; what reasons do you have?" The implication is swift and damning, a blow to viewers' pre-conceived notions of revenge and justice.
Also read: I like to maintain a balance between Bajrangi Bhaijaan and Raman Raghav 2.0: Nawazuddin Siddiqui
Here, though, given the story's freewheeling occupants, Kashyap recognizes the insignificance of this moral tussle. It thankfully tilts towards the perversely existential tone of the final "face-offs" in M. Night Shyamalan's Unbreakable and Christopher Nolan's The Dark Knight. Only, Mumbai's unforgiving hues lend them an audacious afterglow, one that is almost spiritually cleansing and, perhaps, even coming-of-age? It becomes about one monster identifying - instead of creating - the existence of another.
Naturally, a stage arrives where the two become all too self-aware and lyrical about their roles in a nocturnal quasi-mythical universe. The thrill, though, is in the voyeuristic anticipation of what lies ahead. This, only an hour after I hoped for a definite end, instead of one that leaves you high on its lowness.
Raman Raghav 2.0 is Anurag Kashyap's return to what he's comfortable at: making us uncomfortable and antsy. You walk out feeling soiled and smelly, yet with a vague sense of having watched an instinctive reaction (to Bombay Velvet) instead of a "full" film.
Also read: Raman Raghav 2. 0: Is Sobhita Dhulipala just another model-turned-actress? She explains
On looking back, all you see is Nawazuddin's scar and sleepless eyes, and Vicky Kaushal's tortured urban Batman. Or was that Varun Dhawan? Irrespective of whom or which film one remembers, the language is the same. And perhaps this familiarity isn't such a bad thing anymore.
Also read: Raman Raghav 2.0: Vicky Kaushal went teary-eyed when Anurag Kashyap offered him the Nawazuddin Siddiqui film