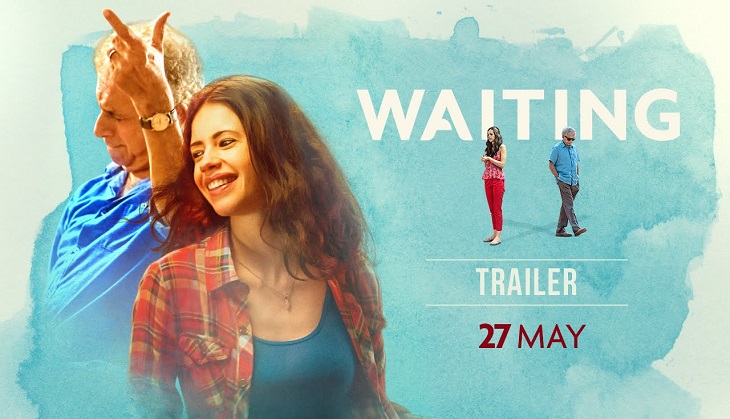 *Anu Menon\'s third directorial venture after \'London Paris New York\' and \'X: Past Is Present\'* Kalki and Naseeruddin Shah star as two grieving spouses at a hospital* One of the better (Hin-glish) films of 2016Ratings: 3.5 stars
Memories have a distinct visual language. If you drift away en route to office, images flip by - often, staccato, selective and soundless - with the noises of taxis, buses and beggars at signals echoing across them. But, the moment you enter a hospital, these montages acquire a sobering life, a score, a smell of their own. They become coherent and concentrated, as if the mind automatically recognizes - and bows down to - the place of its birth, and the venue of its likely demise. Here is where it will think its final thought. An unplanned pit stop brings it to behave, and overcompensate for its life-long lucidity.
In Anu Menon's 'Waiting', Tara's (Kalki Koechlin) cerebral journey into this abyss is absolute. Her lively husband Rajat (Arjun Mathur) is comatose from a car accident. The honeymoon phase of their young marriage will be spent bargaining with merchants of mortality. By the end, she learns to reminisce in an unbroken sequence, more like a film than its musical trailer - especially painful if it remains the lasting impression. When she thinks back to their favourite tiny puppy-love kisses now, they gradually lose their dizziness, and become part of the morning instead of blinding romantic entities of their own. This narrative device is particularly evocative if done right, as was the case in Hansal Mehta's 'Aligarh' - where fragments of Professor Siras' haunted flashbacks only attain an entirety at the cusp of closure.
Tara, though, quickly finds that her broken memories must jostle for space and relevance with other pieces - notably, those of a retired professor named Shiv (Naseeruddin Shah) - within four walls of the Cochin hospital. Anu Menon and her writers are a bit deliberate in their attempts to paint these two characters on the opposite ends of the existential spectrum: brash social-media child ("I have 6500 Twitter followers; none of them are here for me!") versus old-school eloquence, crudeness versus elegance, evolution versus tradition, texts versus hand-written letters, confrontation versus denial, and most of all, selflessness versus desire.
By posturing two souls at different stages of their grieving process, this film represents a truth very few acknowledge, much less explore: Grief, though an intensely lonely and private emotion, thrives on its peripheral voices. The trek is individual, but its halts happen at public junctions. Its lengthiness is built to be interrupted and shaped - by mechanical nurses, pragmatic doctors, idealistic interns, overzealous well-wishers, kind neighbours and selfish friends, all of who form a terrific ensemble here. It is perhaps most personal when shared, and there's no place more despairing and comforting at once than a hospital lobby.
Tara, at first, decides to emulate her stubborn old friend, who she thinks is her spirit animal. After all, both of them are the dependent ones, identical blissful participants in a union driven by their partners. She reads books to Rajat, just like Shiv reads to his afflicted wife (Suhasini Maniratnam) every morning. She ditches her heels for slacks, and decides to partake in the extended-hospital-family scenario instead of being the distant relative. All's well until she realizes this: While her love for Rajat goes beyond bringing him back for her, Shiv's love for his wife has long transcended its present dimension. He wants her to live for them; Tara wants Rajat to die for himself.
It is here that the filmmakers crucially explore the cinematically abused doctor-patient equation with a pinch of salt. I assume that a co-writer's credit for Dr. James Ruzicka suggests that care has been taken to maintain the credibility of the medical environment. This is evident from the Chief Doctor's (Rajat Kapoor) rather been-here-done-that handling of Shiv - the journal-reading conspiracy theorist who despises the "business of saving lives." Or the way he instructs younger practitioners on the finer facial aspects of breaking tragic news. Like a pressure cooker on the verge of blowing its lid, Mr. Kapoor retains an ominous doctor-ish ambiguity that drives the two leads' performances.
Naseeruddin Shah internalizes the fear of dying alone. He frightens with his perceptiveness - the way he snaps when confronted with real life, how he is acutely aware of being indulged, and how he strains to find hope of a time gone by in the girl's desperate situation. As the kooky deer-in-headlights brat, Kalki uses all her stage experience to lend an intimacy and brevity to her director's incessant close-ups. She is uncomfortably funny, in a way that makes you want her ordeal to end.
When Tara and Shiv have a pre-interval moral-dilemma meltdown, it's hard not to imagine how someone, somewhere - who you've perhaps left alone out of respect for privacy - actually needs you to invade their gloomy space and wake them the hell up.
Eventually, 'Waiting' serves a calm and dignified reminder of how the act itself is anything but. It is a fine little film about love, and a kind of anguish that has its own little quirks and half-smiles.
It lets you come away with the illusion of having seen a breezy change of fortunes - when, really, all you've witnessed is a change of goalposts. The end is not quite the destination; there is no real summit.