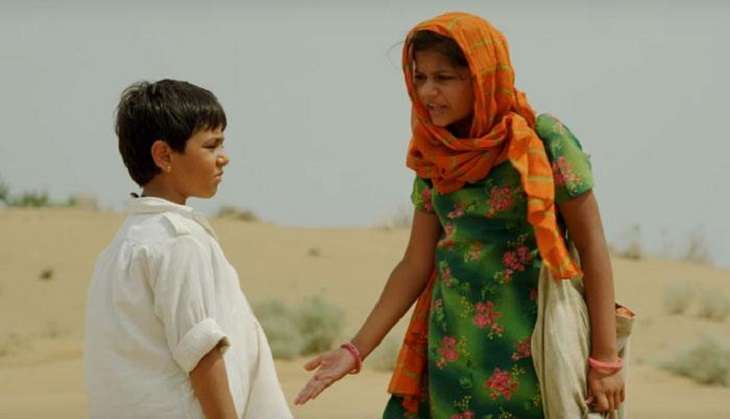 Nagesh Kukunoor\'s thirteenth feature film
A road movie about two siblings on a journey across Rajasthan
Best Children\'s Film winner at the 2015 Berlin Film Festival
Rating: 3 Stars
It is virtually impossible to tell one Nagesh Kukunoor film from another. By the end of his career, one could be forgiven for asking, "But who was he, really?" His varied filmography will suggest however that he was, first and always, a keen (and almost greedy) storyteller. He diversifies more than other contemporary directors, and shows a willingness - at the cost of consistent success, and an "individual voice" - to explore different genres. This lack of identity robs his more ambitious forays - like Mod, Ashayein, 8X10 Tasveer and Bombay to Bangkok - of any dignity, making them look shallower than they are.
But when he decides to ignore the existence of grey amidst black and white, his fable-like sensibilities and rose-tinted narratives pull through - if only as cutesy little fairytales. And heaven knows we need more goodness in life. Or, at least, occasional reminders of it.
Further proof of this extinct virtue lies in my reaction to Dhanak (rainbow), his latest, and my restless cynicism at how painfully optimistic this is. It almost feels like a vehement retaliation to his previous film, the relentlessly dark flesh-trade melodrama, Lakshmi. Like all his work, both these movies look and sound like an outsider's exotic, and rather musical view, of alien worlds. They don't thrive on realism, but on Kukunoor's disdain of today's reality. Except, in Dhanak's case of borderline fantasy-escapism, this approach works to an extent.
Structured like an illustrated Baby's Day Out series, Dhanak uses the oldest trick in the underdog book. A Shah Rukh Khan fangirl named Pari (Hetal Gada) wants her blind 8-year old brother Chottu (Krrish Chhabria) to see again. Chottu is a Salman Khan worshipper - the last film he watched before he lost vision was 'Dabangg' - a trait that sets the tone for plenty of wink-wink macho references (thankfully, he doesn't drive a vehicle), and some remarkably perceptive chemistry between the two. They sound like tiny adults, which is fine, given that they're occupying a universe in which there is no such thing as mean people - including their uncle (Vipin Sharma) and his grumpy wife, who raise them after the death of their parents. After learning that Shahrukh is shooting near Jaisalmer, Pari sets off on a wing-and-prayer expedition with Chottu across vast Rajasthani landscapes to seek his help.
They encounter various characters - and I mean proper "characters", the samples you only find in quintessential nursery rhymes - along the way. I became so uncomfortable by their helpfulness that I heaved a sigh of relief when a shifty-looking city babu almost kidnapped the two. But for this brief distraction, Dhanak thrives on this cheery cartload of colourful faces - from a drunken folk-singing marriage party to an American peace-seeking hippie, from fraudulent but kindly sages to pretty gypsies, blind fortune tellers and generous truck drivers.
Kukunoor repeatedly stresses on how the children - living haloed angels for all intents and purposes - bring out a suppressed goodness in the murkiest of personas. Whenever I rolled my eyes at wide preachy smiles, I immediately felt guilty about how this kneejerk condescension was a sign of the apprehensive times we live in. "Just because you can see doesn't mean you don't trust anyone," says Chottu to his paranoid sister once, seemingly an existential barb aimed at our tribe.
Each of the grown-ups grasps at their own lost childhoods on the kids' dreamy faces. Life clearly happens to them while they were busy making other plans. "I have to transport these tomatoes to Ajmer, otherwise I'd have come to meet SRK with you," one casually remarks. The others drop typically adult anecdotes about their imagined proximity with the star ("He was a ball of energy even in his Delhi theatre days," quips a holy lady, before sincerely adding, "Tell him Vibha says Hi.") Like quirky animals at a zoo, they're planted as milestones on cue, molded by the filmmaker's desire to highlight the inherent innocence of adventures.
Not all of them come off; Suresh Menon as a mentally unstable and aggrieved man looks like he is traumatized by his own ghastly roles in Grand Masti and Mastizaade. Rajiv Laxman is miscast, and contributes very little as the strapping rural local 'roadie'. Perhaps Kukunoor intentionally ends the film with many loose ends, ambiguous and hazily executed, as if to say, "This is where I refuse to show you what really happens to little humans walking across Rajasthan in 45 degrees."
The most agreeable parts about Dhanak though aren't the spunky child actors, their sparkling eyes or their accompanying journeyman tunes. It is the way each decisive juncture, each little chapter, is punctuated by images of delicious food. When I look back at their phases, I smell the smokiness of tava rotis and kali daal when Pari decides to elope, the steaming sheera-poori when they miss the bus at slogan-shouting venues, the melting jalebis of burgeoning friendship at the wedding haveli, crunchy onion kachoris over drugged danger in strange vans, soft rasgullas and Snicker bars at dhabas, and even the taste of earthy desert water to wash it all down. As every (fairly irresponsible) stranger bids goodbye to Pari and Chottu, sending them on their way without adult supervision, one feels a little ache in the chest - the kind only travelers and free hearts may understand.
Maybe its sun shines a bit too bright for me, but this film comes at a timely period for Indian creators. Perhaps its simplicity, and otherworldly niceness, is the tonic we need before embarking on bitter battles for creative freedom. And depending on who you are, Dhanak could leave you sadly nostalgic, or happy and expectant. Either way, the lights will come on.