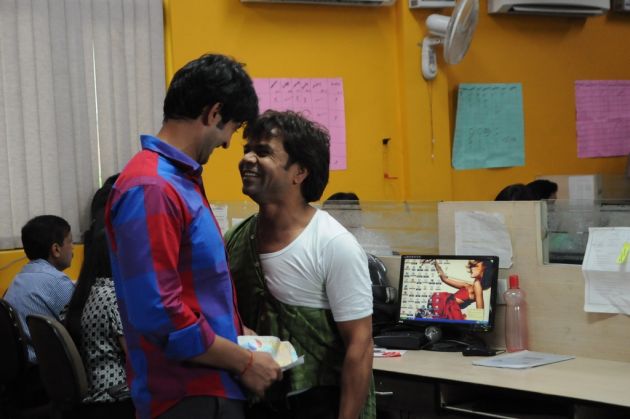 . Yet another tasteless representation of middle-class Delhi. Regressive script that reads like a power-point presentation. Rajpal Yadav\'s career\'s worst performance
Director: Sachin Gupta
Cast: Hiten Tejwani, Rajpal Yadav, Neha Pawar, Bhavita Anand, Sanjay Mishra
Every year, a certain category of mainstream Hindi films flies completely under the radar of weekend moviegoers. More often that not, they are based in Delhi, Uttar Pradesh or both, and boast of one or more of the following set of veteran actors: Rajpal Yadav, Raghubir Yadav, Om Puri, Satish Kaushik, Sanjay Mishra, Zakir Hussain or Annu Kapoor-actors of high caliber, who seem to be biding their time (or making up for lost time, as in Mishra's case) between offers of gritty indies and hard-hitting satires. While RaghubirYadav has the likes of the utterly shabby Gandhi to Hitler and eternally obscene Mainu Ek Ladki Chahiye to his name, Rajpal Yadav now has an unforgettable title that he will take to his grave.
Thoda Lutf Thoda Ishq is everything you expect from a film that actually aspires to sink without a trace.
Omnious Signs
Animated title credits usually spell the first signs of trouble, especially when swiftly followed by unrelated item songs that occur around pools and nightclubs. Fair-bodied dancers sway around holding glasses of flat beer, and lyrics are ripe with metaphors that compare love to the hotness of instant Maggi, tattoos and electricity. To be fair, Maggi is quite the dose of nostalgia. The title song even waxes eloquent about how obese girls are bulldozers with pimples, or something of the sort, just to remind us lewd commercial comedies are allowed to get away with anything.
There's always a respected actor that lends his credibility to an inconsequential role; in this case, Rakesh Bedi as a boss in an office where the production design is limited to hand-scribbled red graphs stuck to red walls. Then, almost as an afterthought, begins a plot about two nonsensically named characters (Hiten Tejwani as Jhumroo, RajpalYadav as Ghungroo) who're essentially middle-aged perverts obsessed with the female anatomy and get-rich-quick schemes. These chaps have lecherous traits that would put them behind bars and have them strapped into electric chairs in a slightly logical world. Given that misogyny, North India and objectification seem to be most filmmakers' formula for their own get-rich-quick schemes, there are always two female characters that must exist-not to take the plot forward, but to provide stark contrast to the bikini-bodied extras populating the boys' dreams. Here, it's two girls named Mini (Neha Pawar) and Chuski (that's right), and they run a beauty parlour. That they own a sinking business is only relevant as long as their financier is Haryanvi, overweight and an absolute imbecile of an entrepreneur named Khanna, Kapoor or Khurana.
Two Halves, Two Movies
There's also always a second half that invariably has no logical or stylistic connection to the first hour. Here, the two misfits somehow end up in Chambal trying to win the heart of Chuski's big-shot father (Mishra). Because Jhumroo's love story with Chuski till then is limited to dreamy bike rides without helmets. The movie abruptly goes from an aimless hustler tale to a D-grade DDLJ.
At least Sanjay Mishra, for whom the second half is yanked away from Delhi, seems to be enjoying his role. For every Aankhon Dekhi and Dum Laga Ke Haisha, he does a Miss Tanakpur Haazir Ho and Thoda Lutf Thoda Ishq, and seems completely at ease with his decisions. He even speaks to a (holy) cow that gets partially censored by the CBFC, resulting in a pixelated zoom-in of his face instead.
It isn't so bad when rookie actors perform poorly; viewers even get a kick out of their suffering. But it's particularly grating when accomplished actors ham their way to glory. Because they're so good, they can excel in being bad. There's no middle ground. Rajpal Yadav looks in perpetual danger of getting an epileptic fit throughout this film.
Worse, the director seems to have Okayed all his delirious takes-a crime that is still not as heinous as luring paying audiences into cinema halls.