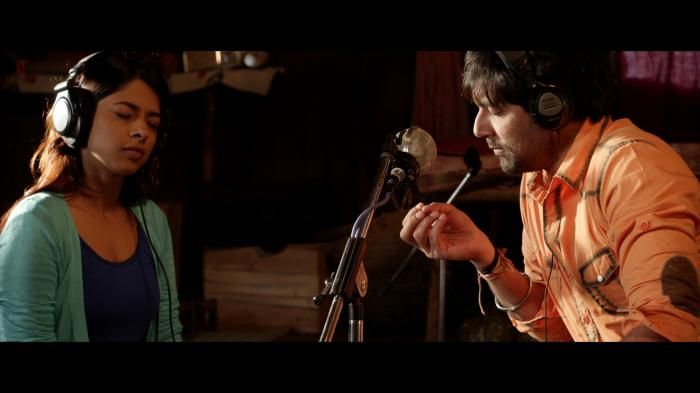 Well-informed tale about a composer finding herself through music
Dramatized account of director Shefali Bhushan\'s background
Soars on an inspired folk-singer act by Siddhant Behl
Rating: 3.5 stars
It's different when you watch a good film. You don't feel like spotting the flaws. If they do exist, they make you wince - like watching a batsman top-edge a ball during a chance-less innings.
This happens twice in 'Jugni', debutant Shefali Bhushan's intimate ode to a universe she is familiar with.
First, when an English pop voice precedes a symphony of earthy Punjabi folk stanzas. The idea is right in the scene's context: The city girl Vibhavari (Sugandha Garg) engages in a drunken jugalbandi with the talented rural boy Mastana (Siddhant Behl). They're discovering each other through music. It's an unsavory clash of two worlds, a fatal cocktail of two cultures - perhaps the foreboding metaphor Miss Bhushan may have been looking to convey. But it just doesn't sound right, like a High School Musical solo interrupting Nusrat Fateh Ali Khan.
Second - the way her live-in partner Sid (Samir Sharma) reacts when she repeatedly blocks his neck-nuzzling advances. Vibs is self-absorbed, ambitious and delightfully flawed, but Sid blandly exists only to drive home her complexities.
Poetic Context Of Title
These minor issues aside, Jugni is an infectious and perceptive film. It tells a tale about a young Mumbai-based music director in search of a lilting voice from the soil. She travels to Hassanpur to find Bibi Saroop (Sadhana Singh), but is more captivated by her son Mastana.
That's why the term 'Jugni', whose literal translation 'female firefly' works as much as its musical meaning: A narrative device of an outsider making political and incisive observations. Vibs often asks Mastana why epic Punjabi love stories always have sad endings. She also urges him to embrace his traditional roots, instead of singing glorified item songs for his admirers.
Now, it's not as simple as "sparks fly" here. After their impassioned night together, note how Mastana broods, and then begs for forgiveness by diving to her feet. She covers her face, embarrassed, probably realizing then how ingrained India's class-divides are. Vibs returns to Mumbai to work on the album. She breaks up with her boyfriend and lives in the same flat - a tricky phase that doesn't shy away from highlighting her flakiness. Mastana, meanwhile, struggles to suppress his infatuation ("Travelers don't stop to love," warns Bibi) within career limbo; he also shatters the adoration of his heartbroken village belle Preeto (Aniruta Jha).
Semi-autobiographical Script
Maybe the reason Jugni looks lived-in and authentic is because its director worked for the 'Beat Of India' program. She traveled extensively to record hidden folk talents that composers like Sneha Khanwalkar would later identify. But it's not only the foggy, brick-laden winter of Punjab; she also nails Mumbai's 'filmy' trappings: house-party 'mehfils' - dimly lit gatherings where rum sipping guests lavish oohs and aahs onto informal performers; do-it-yourself musicians like Vibs begging for singer budgets.
Minimal background music keeps an otherwise choppy editing pattern rooted in reality. Clinton Cerejo's fantastic arrangement allows Jugni to operate in the space between contemporary drama and musical escapism.
Convincing Performances
But this mature 2016-heavy worldview is accentuated by inspired casting decisions. Sugandha Garg has come a long way since 'Jaane Tu Ya Jaane Naa'; she has this urban manic-pixieness about her, and her craft-fueled intoxication is both naive and endearing. Even the side acts (Mastana's mother, grandfather, best friend) rarely look like formulaic add-ons, but it's Siddhant Behl who makes Jugni soar. Hard to believe he isn't a real singer; his Delhi theatre background comes to the fore, and he shines as the compromised young man burdened by his own humble beginnings. I can't wait to see more of him.
One only hopes this little film finds its way into a few hearts. Perhaps this is where film critics come in. Star-crossed affections aside, this provides a fair insight into what goes behind creating the sounds we share on social media platforms. I found myself hoping fiercely that the film wouldn't falter in the end. I wasn't disappointed.