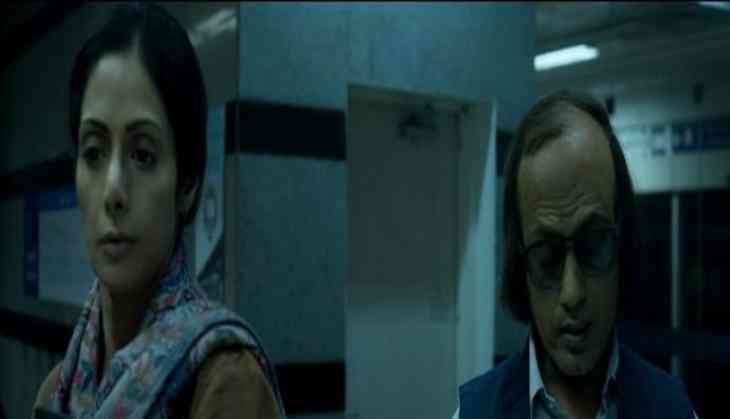 Mom is not a new story. In fact, a few weeks ago
Raveena Tandon
's Maatr dealt with a similar plot line. What works for Mom, however, is the way it is narrated by debut director, Ravi Udyawar. And of course, it has the big advantage of having Sridevi play the title character.
Devaki (Sridevi), a biology professor, outwardly has a happy family with husband Anand (Adnan Siddiqui) and two daughters. However, all's not well as Devaik is the step mom to the older daughter Aarya (Sajal Ali) and is struggling to be accepted by her. Aarya resents the fact that her dad married again after her mother's demise and makes it a point to let Devaki know that she will never be considered a mother.
Cool and collected Devaki goes about trying her best to make the best of the situation when a terrible incident happens. This only makes Devaki and Aarya's relationship worse.
The first half of the this film keeps you charmed initially and then takes you on a thrilling ride as Devaki's fascinating character gets unravelled. However, the second half doesn't keep up with the pace of the thrilling ride and falls rather flat on its face, thanks to a lot of loopholes and cliches.
What stands out though through the film is the superlative performances by most of the actors. Sridevi gets into the skin of Devaki's character so effortlessly, and yet again impresses with an emotion laden flawless performance. Nawazuddin is on par with her, if not better, as he plays a small time detective DK. Nawaz aided by an amazing physical transformation, portrays DK with such ease that he makes the character memorable. Akshaye Khanna as a cop looks dashing and does a decent job but his character is not really etched as well as the other two protagonists are. One really wishes to see this competent actor in more films and better roles. One also wishes to see more of the charming Pakistani actors Adnan Siddiqui.
Udyawar's direction is confident and sure, but his writing (he's written the story alongwith Girish Kohli and Kona Venkat Rao) could have been sharper.
Watch it for the thrill it provides at least in the first half. And of course, for the thrill of watching two powerhouses of talent, Sridevi and Nawazuddin together on screen.
Stars: Three and half