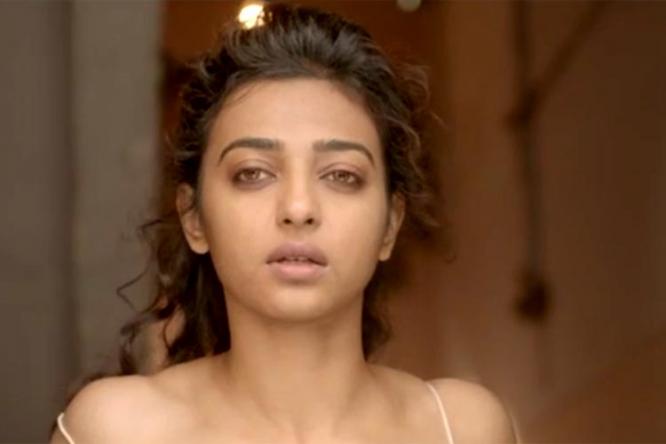 Ahalya is Kahaani director Sujoy Ghosh\'s 14-minute re-imagination of the Ramayana\'s mythological tale of Ahalya in contemporary Kolkata
Radhika Apte, Tota Roy Chowdhury and Soumitra Chatterjee play Ahalya, Indra and Gautama respectively; the mysterious woman, her artist husband and a cop
Sujoy Ghosh creates a world of fear and tension in just 14 minutes and leaves much to the imagination
A perfect retelling of a myth that would appeal to the impatient netizen - a meaningful story told succinctly
The Ramayana tells us the story of Ahalya, wife of older sage Gautama, who was seduced by a disguised Indra and then cursed by her husband for her infidelity. Much of the intrigue revolves around whether she knew it was Indra disguised as her husband; that is, if she was a willing participant or a victim of deceit and trickery.
In Kahaani director Sujoy Ghosh's 14-minute Bengali short film, Radhika Apte essays a modern-day version of the 'most beautiful woman ever created.'
In a fleeting role, shrouded in a glow that's at once eerie and ethereal, dressed in a flimsy nightie, she is the seductress in Ghosh's retelling. Indra here is the confused Inspector Indra Sen, essayed by Tota Roy Chowdhury, perhaps a pawn (or doll) in the old hands of artist Goutam Sadhu, played rather mysteriously by the legendary Soumitra Chatterjee.
Indra's stone makes an appearance in a different avatar, highlighting the director's choice of temptation and role-reversal over tradition.
Any doubts about Ahalya's levels of awareness are dispelled during the first scene. She leads the dazzled Inspector into the living room, and Ghosh concentrates on her self-conscious, rehearsed strides. She then brushes off a suspicious incident - one whose meaning finds culmination after the final twist - with the air of a criminal forced to think swiftly; her eyes dart around before she offers a nervous explanation. This would be enough for any alert cop, but Indra is obviously hypnotised by her ways. As are we.
Ms Apte, who will soon appear in Ketan Mehta's Manjhi - The Mountain Man, lets her physicality and a predetermined notion about her namesake, do the talking. And walking. The only problem is that Apte seems too aware of the fact that she is playing an enigmatic young lady, as is evident from her smoky manner and glazed eyes.
The filmmaker constructs this as an atmospheric little thriller, a sequence of events that wouldn't seem out of place in his taut Kahaani. A meeting is followed by a conversation that begins harmlessly, but slowly enters absurdist territory, which is then followed by an inevitable moment of reckoning.
But there's a bit of a heavy-handed effort to display the urgency of this rendition. The background score is jarringly out of sync with Chowdhury's deer-in-headlights expressions, a pointed indicator that this is a story that must rely on the suspense caused by its mythological device to be a contemporary version of it.
It's a testament to Ghosh's effective partnership with editor Namrata Rao that the end still manages to captivate, despite the predictable turn of events. The claustrophobia invoked by the final few shots distracts from the simulation of its preceding suspense - a timely victory of craft over derivative storytelling.
It isn't easy to create a world of fear and tension in 14 minutes, less so if it's entirely dependent on your viewers' understanding of a tale they may or may not have read.
Eventually, this short film comes across as little other than a polished tribute - perhaps appropriately paced for a web platform, but more of a net-practice session in the real world.
Watch the film here: