Saiyami Kher is new to the world of films but her family has been in Bollywood for decades -- she is the granddaughter of famous 1950s actress Usha Kiran, the niece of Tanvi Azmi, and she calls Shabana Azmi her maasi (aunt).
The newcomer talks about her lineage, making her debut in Bollywood with Rakeysh Omprakash Mehra's Mirzya, her take on love and her equation with her first leading man, Harashvardhan Kapoor.
What is the response you have received for the Mirzya trailer?
It has been 15 days since the trailer came out but the praises have still not stopped. Praise from the industry is pouring in from people like Karan Johar, Anand Rai, Shekhar Kapoor, Hrithik Roshan, Alia Bhatt, Varun Dhawan. I can't believe this is actually happening. It's taking me time to soak it in. I have actually saved a screenshot of Mr. Bachchan's tweet since I am a huge fan of his.
Considering your film background, were you always inclined towards acting?
Not at all! My grandmother (Usha Kiran) was an actress, my aunts (Tanvi and Shabana Azmi) are actors and my mom was Miss India! But my parents actually ran away to bring us up in Nasik, a smaller city, because they didn't want us to be brought up in Mumbai. My childhood has been spent climbing mountains and swimming in lakes ... I am very happy that it happened this way.
So what brought you to films?
I came to Mumbai to study at St. Xavier's college, and Sushma Reddy kind of introduced me to the world of modelling. I also started doing theatre. I used to work with Nadiraji (Nadira Babbar) and that's when I realised that I really like acting, and that's when I started pursuing it.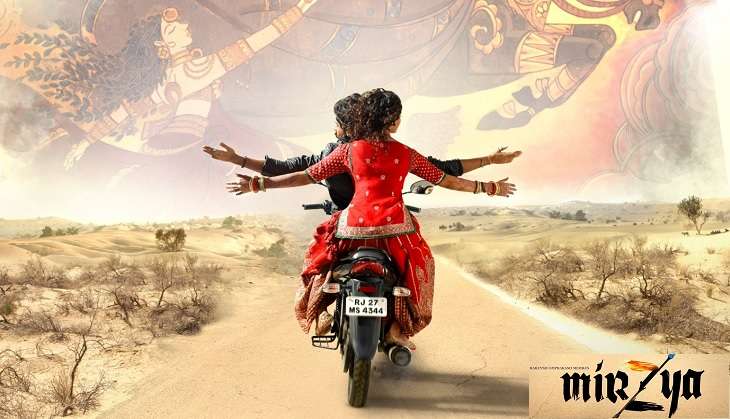 Tell us about your role in Mirzya.
In the film, we are trying to show how love travels through different times. Rakeysh sir's films are so difficult to explain. When my friends ask me what my film is about, I don't know how to start because his films are so different. It was great because we got to play two different characters -- very few people get that in their first film. It was also exciting because we got to learn horse-riding from scratch.
What's your take on love?
I believe love is eternal and that's exactly what has been shown in the film. There are excerpts of me in the film but not all of it is me ... and that's why films are so much fun because when I perceive love in a different way from my character, I actually get to live the life of another person.
How different is this love story?
It's very different, also because it's a Rakeysh Mehra film. When I talk about sir I don't stop, so I have to be very controlled. I am very fond of him. I was amazed by Rang De Basanti. He made a biopic on Milkha, and after that everyone started making biopics. So he has always been a trendsetter and that's what is special; he never follows norms. He does not worry about Box Office. He just wants to tell a story that his hearts believes in.
Often, when two newcomers are cast opposite each other, they fall in love. What kind of relationship do you share with your leading man, (Anil Kapoor's son) Harshvardhan Kapoor?
I think we were so much in love with each other in the film that we had enough of that.
How was the ice broken between you?
I was very worried that he would be very filmy because he comes from a film family but he is a very chilled out guy. Since we spent so much time together, it made it easier. I am into sports and so we had endless discussions about sports. We used to keep updating each other about scores and we became close. His knowledge of cinema too is very good -- our tastes in cinema are very different and that would be a big topic of discussion. We both got along well and since we were both newcomers, there was no baggage at all.
Your next film was supposed to be with Mani Ratnam.
I was approached by Mani sir and I feel so blessed. I went to meet him, he really liked the screen test and he said 'You are on.' It's a Telugu-Tamil bilingual film. Unfortunately, that film has got delayed due to some logistic issues and he has started another film. I am still keeping my fingers crossed that we will start shooting for it by the end of this year.
-- Sourced from Anita Britto, Bollywood News Service