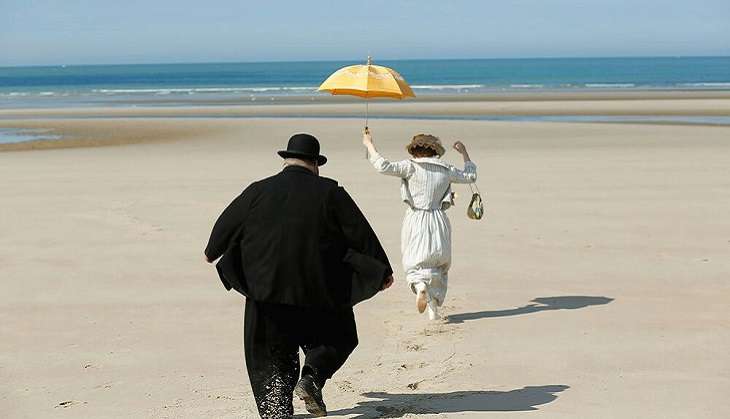 The Pick Of The Day: Ma Loute (Slack Bay)
Despite my tentative approach to most black comedies, Bruno Dumont's French Slack Bay had me chortling in amusement - I haven't laughed as much in any other festival film this year. This may be partly because no major character gets gruesomely killed here or wholly because one of my very favourite actresses (Juliette Binoche of Blue, The English Patient, Chocolat, Clouds Of Sils Maria) had me in splits while portraying a way-over-the-top attention junkie.
Set in the early 1900s on a windswept beach resort near the Calais coast in France, the delightfully wicked film dwells on the class war in a whimsical fashion. Subsistence level fishermen look on in grim amusement as privileged tourists ooh-aah and rhapsodise theatrically over the mundane-for-them picturesque beauties of the land. You can't help but smile at the bang-on parody of rich tourists. The film carries it to the extreme when they show a mussel gatherers' family cannibalistically devouring their hapless tourist victims. The harried matriarch asks her children who have blood dribbling from the corner of their mouths if they would like "more foot" while holding up a bloodied sawed-off human leg!
To the refined horror of André Van Peteghem (Fabrice Luchini) and his class-conscious wife Isabelle (Valeria Bruni Tedeschi), their beautiful annual holiday village has become a place from where people disappear mysteriously. However, their two daughters and niece (or is it nephew?) Billie (Raph) are mindless of the inherent danger and continue to enjoy beach games and boat rides. Billie develops a crush on the 18-year-old Ma Loute (Brandon Lavielle) who has huge ears, a loopy grin, a sour temper and teeth that seem to be rotting from eating human flesh!
The inefficient police officer Machin is entrusted with investigating the case. Matin is rotund and inflated -- probably due to a misplaced sense of importance -- and his body makes creaking sounds each time he walks or has a pratfall (which he does at regular intervals). His reed-thin assistant sagaciously observes, "Disappearances are often mysterious." It's the kind of kooky comedy where the tubby Machin mysteriously flies off into the air; and has to be shot down to bring him back to earth.
And then there is Juliette Binoche displaying a hitherto-unsuspected-by-me comic flair. She is the flamboyantly dressed Aude who is Billie's mother and Andre's sister. Her trilling voice, her exaggerated affectations which includes a realistic spell of fainting, her elbows-aside scramble for centre stage and her hilarious mutterings from between battered teeth (don't ask) when running after the flying policeman helps her steal the thunder from a huge assortment of oddball characters.
Things To Come
The much-awarded, languidly paced French film Things To Come was refreshing after the dark and quirky films I had been seeing. If Juliette Binoche in Ma Loute was a statement in overemphasis, her compatriot Isabelle Huppert is as riveting in her character's subdued and controlled reactions to major upheavals in her life.
Huppert is Nathalie Chazeaux, a middle-aged philosophical professor, who is primarily a thinker. Nathalie is the kind who can come up with a quick and perceptive analysis of her mother's personality. But Nathalie has to start processing her feelings when a series of life changes hit her. Her husband Heinz leaves her for another woman after two decades of marriage. She snaps, "I thought you would love me forever," but she adapts to her new life. Her son and daughter get busy with their individual lives, her quirky mother dies in an old age home, her publisher abandons her and her favourite ex-student, Fabian, migrates to the hills to write in peace. Though a hint of attraction is suggested between Nathalie and Fabian, the film leaves it tantalisingly unspoken.
Besides Huppert's performance and a cute cameo by the fat, black cat Pandora, what I enjoyed most is the dialogue, especially the philosophical ones. But I wanted more from the screenplay, my appetite was not sated. Later in the night, after eating pani puri at Kailash Parbat, I felt I should have asked for more pani - the serving just wasn't filling enough!
-- Dinesh Raheja (Editor - Bollywood News Service)