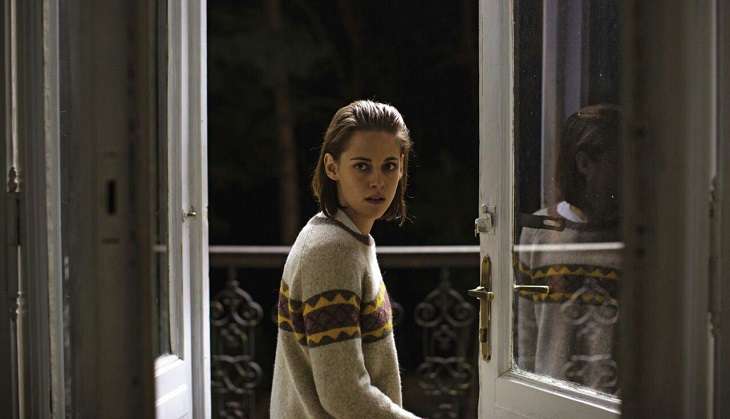 Personal Shopper Movie Review (Movie Still)
The plan was to partake of delicious Parsi food - dhansak, lagan nu custard and raspberry soda -- at Jimmy Boy, Fort, before proceeding to the nearby Regal cinema for MAMI. But the best laid plans of men and mice ... the cabbie took ages to reach from Powai to Regal cinema, so we made a quick meal of palak paneer and tandoori rotis at an Udipi joint across the cinema hall, washed it down with fresh lime soda, and rushed to the theatre. Somehow, film festivals have become associated with hectic activity in my mindscape.
The Personal Shopper
The audience sat up straight when the film (starring Kristen Stewart, the star of the blockbuster Twilight Saga series of films) ended abruptly ... immediately after positing a shocking psychological conundrum. Several people emerging from the theatre asked aloud, "Did you understand the last scene?" I can't say the film neatly tied up all the knots at the end, but I do feel that the questions it posed are tremendous.
When the text message comes from an unknown source, even an innocuous Diwali greeting leaves me flummoxed and curious to know the identity of the caller. So for me, the horror elements in The Personal Shopper lay in the elongated sequence which focuses on an exchange of texts between Kristen and a stalking spirit (while she travels by train between Paris and London) rather than images of wispy ectoplasm dropping glasses to draw attention.
The texts seem to affect Stewart's character Maureen. A part-time medium and a full-time personal shopper to a star, she is in Paris waiting for a sign from her dead twin brother Lewis, in honour of the pact they had shared. Egged on by the spirit to unveil her true self, Maureen becomes reckless and secretly tries on the haute couture outfits and shoes of her starry client, Kyra. But, as she reveals, "there is no desire if it's not forbidden." Intriguing.
Kristen's life threatens to spiral out of control when she questions if the spirit is really her brother. Kyra is gruesomely murdered, evidence lands up at Maureen's flat and what is the mystery in the hotel room where the sensors on automatic glass doors open up to let an invisible presence pass by? Maureen realises she cannot escape the presence even when she flees to faraway Oman ... There the film teases you with that most tantalising of questions ... just what is it that Maureen is escaping from?
The film is a one-woman show for the most and Kristen Stewart carries the complex role with as much elan as the strappy dresses and designer stilettos.