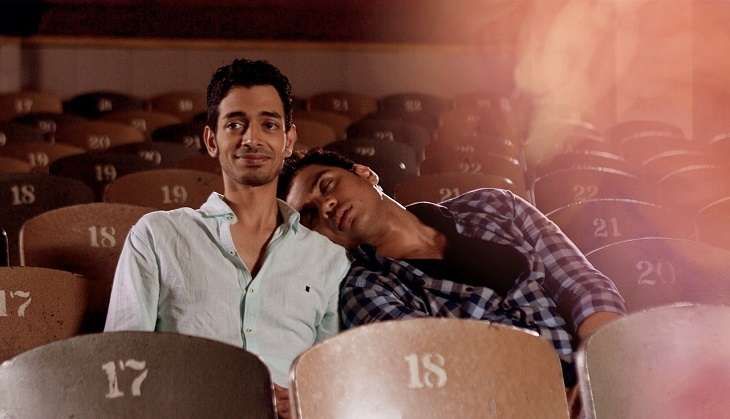 Shiv Pandit was nominated for the Best Male Debut award in Shaitaan. In a giant stride, the actor has now done Loev, in which he plays a Wall Street dealmaker who gets intractably drawn to his young music-producer friend Sahil (Dhruv Ganesh). The love story between the two men also involves a third angle Alex (Siddharth Menon).
An interview with the intense and adventurous actor.
How did Loev happen to you?
Loev was not supposed to happen to me...I had met the director over a cup of coffee as the two of us had attended the same school (The Doon School, Dehradun). He was new in town and reached out. During the course of our conversation, he mentioned that he had a script and was shopping for actors. It seemed people had dissuaded him from considering me for his film as 'they' felt that I would never accept a script like this. Safely, that thought is a thing of the past and I am quite happy that I got to be a part of Loev!
Did you have reservations about accepting this role because of the probable repercussions it could have had on your career?
Not all. What repercussions? People keep asking me this...frankly with all due respect, this question, to me, is absurd.
Have you had any same sex experiences/relationships?
No, I have not.
In your film, the gay men don't have any pronounced feminine gestures. What do you think of this doing away of stereotype?
That is a very superficial way to look at the world of homosexuality and therefore I decided to do Loev. The film doesn't confine itself to stereotypes. It is a simple story about love. Gender, sexuality doesn't matter. You could replace the male characters with female ones and the story would still be the same.
Are you homophobic?
I was.
Are Indians homophobic?
A majority, yes; and the beauty is that most of us don't even know it. India in general is an extremely homophobic country. The last few years have seen massive forward movements for the gay community. Honestly, if you don't like or condone same sex relationships that's fine; if you do ... that's fine too. That's the beauty of a democracy.
The late Dhruv Ganesh has given a brilliant performance and your chemistry with him is amazing. What was your off screen rapport with him?
Excellent. A performance is about give and take and you are only as good as the actor opposite you. We understood we had a job to do and we wanted to do it well. I could project intensity in the scenes with him and be chilled out with him off screen. I was actually supposed to work with him in Shaitaan initially -- he had Neil Bhoopalam's part...but this was at a very initial stage.
How badly were you affected by the news of his death at a young age?
I have still not come to terms with it...and I am scared to do so. I still live with him through the film.
In a scene from the film, Dhruv Ganesh shows his butt. Would you have done the same if the director had asked you?
You obviously haven't seen the unedited version of the film.
What was more difficult -- the kissing scene with Dhruv or the one in which you force himself on him?
I have to give credit to the director who purposely kept the scene where I force myself onto Dhruv's character towards the absolute end of the shootin schedule...thereby allowing the actors to develop a trust and bond amongst themselves. By the time we reached that scene, we knew each other. The kissing scene was more of a surprise which was sprung on Dhruv and me as he had no idea it was coming. The director whispered in my ear after two takes "Kiss him!" I was like "What? Now?" We had walked for four hours to reach this vantage point and were dead tired, so kissing anyone was the last thing on one's mind.
Did this film change the way you look at homosexuals and homosexuality?
I have a lot of gay friends. I believe in live and let live.
--Dinesh Raheja (Editor - Bollywood News Service)