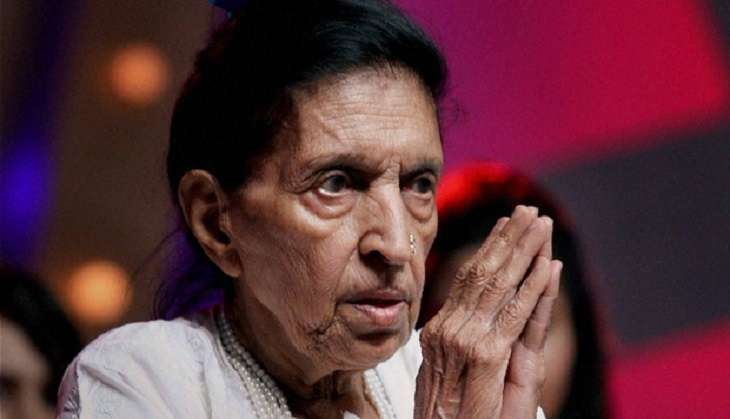 Legendary bollywood playback singer and ghazal maestro Mubarak Begum Shaikh passed away after prolonged illness at her residence late Monday night, a family member said.
Known simply as 'Mubarak Begum', the Rajasthan-born singer breathed her last at 80.
She is survived by her son Hussain, daughter-in-law Zarina and granddaughter Sana with whom she was living since a long time.
"She breathed her last around 10 pm on Monday night at her Jogeshwari home. She had been ailing and hospitalised frequently since over a year with various health problems," her daughter-in-law Zarina Shaikh said on Tuesday.
Her funeral will be held on Tuesday around 11 am at the Oshiwara Muslim Kabrastan, Zarina added.
Born in Sujangarh, and proficient in Hindi as well as Urdu, Mubarak Begum launched her career with the All India Radio (AIR) with singing programmes and light musical recitals.
She moved to Mumbai 70 years ago and sang her first playback song in 1949 for the film Aaiye, for which the music was composed by the late music director Naushad.
That was the launch of a notable singing career spanning over 110 films over four decades till the early 1980s.
Apart from playback singing, she used to give regular stage performances and concerts as well.
Among her most memorable songs were Kabhi tanhaiyon me, hamari yaad ayegi (Mahari Yaad Aayegi-1961); Mujhko apne gala laga lo, ai mere hamrahi (Hamrahi - 1963); Neend udd jaye teri, chainse sone wale (Juaari - 1968); Wo na aayegi palat ke (Devdas - 1955); Wada humse kiya, dil kisiko diya (Saraswatichandra - 1968).
Over the years, Mubarak Begum was beset with financial difficulties and her family had to appeal for monetary help to take care of her medical bills.
A few people, including Bharat Ratna Lata Mangeshkar and bollywood superstar Salman Khan helped her out in times of dire need, while recently education minister Vinod Tawde sanctioned her hospitalisation expenses.