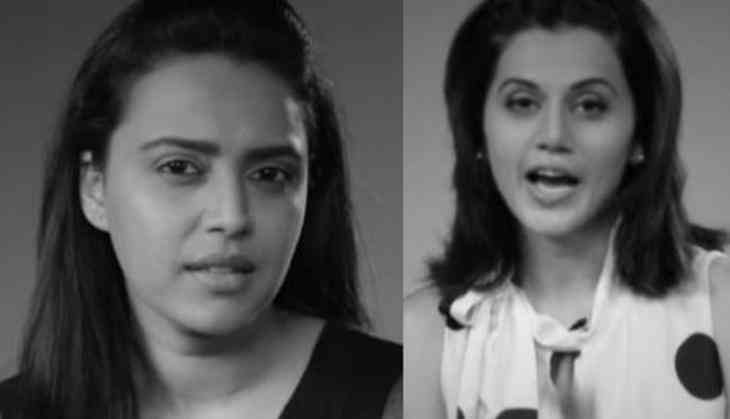 While the B-town is busy giving out Women's Day wishes, Swara Bhaskar and Taapsee Pannu have come up with an insightful cleavage video.
The duo delivered a strong message through a sarky video on YouTube, titled ' How Much Cleavage is Good Cleavage.'
In the 3-minute long video, the actresses tell working ladies to wear 'collar bone high neck or a turtle neck and strangle oneself because workplace is not the place to flaunt your body.'
Giving out the suggestion on how to dress for the gym, the ' Baby' star said, 'In the gym, there is so much pressure of losing weight and sweating it out but that is not enough, but that is not enough. You have to keep in mind that your t-shirt is almost like a safari neck.'
Swara kept the sarcasm going on in the video by saying, 'Because there will be men in the gym and you have to watch your assets, after all you are working so hard on your body to cover it all up.'
The next segment of the video is the most sarcastic one, where the actresses tell all the ladies to 'scarf it up or wear your mummy's, daadi's shawl in a club' or 'wear a polo neck, even if it's the summers' because men might not get ideas, if women dress that way.
In the end, the black and white video gains colour and the main objective of the video comes up to remind all women, 'We are women, we are born with it. If you have it, then flaunt it. What other people think about it, is not my problem. It's ours and it's our right to celebrate it.'
The video ends with both the actresses asking every woman out there, 'Are you proud of what you are and what you have?'
-ANI