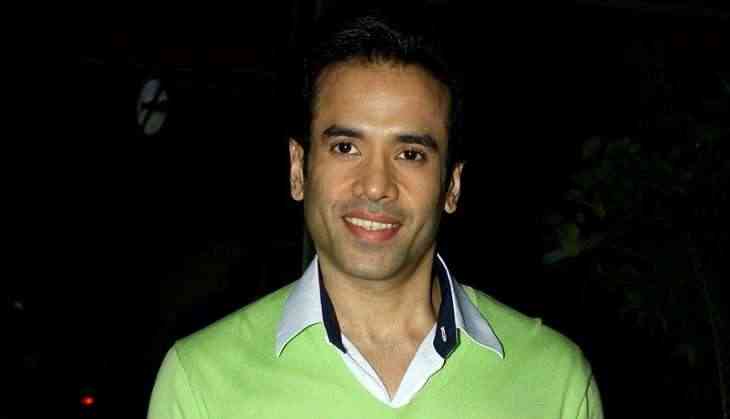 Laksshya doesn't have too much separation anxiety: Tusshar Kapoor
Actor Tusshar Kapoor, who became a father to son Laksshya through in-vitro fertilisation procedure last year, says the 14-month-old doesn't have much separation anxiety.
The actor is often on sets for shooting, and the little one knows when it's time to say goodbye to his father.
"He is okay when I am leaving. He doesn't have too much separation anxiety. From the time the movie ('Golmaal Again') started, I would have him on sets. He knows the time when I am going.
"I spend my time with him in the morning. When I say goodbye, he understands. Sometimes, when I am there with him, he is extra naughty. He should be used to separation also," Tusshar, who brought his son for the shooting of the Rohit Shetty directorial here earlier this week, told select media, including IANS.
"I have to make him used to travel more and more. He has to be flexible to changes in schedules and plans," he added.
Since he has been on the set of the upcoming film twice, does that mean Laksshya will make his acting debut in "Golmaal Again"?
"No. He (Tusshar) is quite protective because of the weather. He (Laksshya) has been throughout the film with him. Sometimes he comes on the sets, otherwise he is in the hotel," said Shetty, who is making the fourth part of the "Golmaal" series.
Has the little one already been introduced to Tusshar's films?
"He is not allowed to watch films or TV, not even iPad and phones. We just show him five minutes of nursery rhyme when he is eating," said the actor.
Which will be his first film that he would like to show to his child?
"It definitely won't be an adult comedy," said the "Kyaa Kool Hain Hum" actor.
"'Golmaal' is a very kids film. But I don't know what he would pick. I would want him to see my first film ('Mujhe Kuch Kehna Hai'). That's close to my heart. It's a romantic and sweet film. It was liked by family audiences at that time in 2001. But you never know. He might come up with a serious film like 'Khakee'," he added.
Has the protective father thought of changing his choice of films?
"No. I haven't thought so much. I've always wanted good work. It could be of any genre. Just because Laksshya is in my life, it doesn't mean I won't do a 'Shootout at Lokhandwala' or 'Kyaa Kool Hain Hum' because they are adult films. I've not really thought about my career in that sense. If he doesn't like my movies, he can see his grandad's (Jeetendra) films," said Tusshar.
Talking about his work, the actor, who is playing a mute character again in a "Golmaal" film, said it's hard to judge himself.
"When we (the team of 'Golmaal') are together on the set, the whole spirit of 'Golmaal' comes in. But it's good to have that insecurity ... 'Am I doing it as well as before?' Imitating yourself is the hardest thing to do. That always keeps me wired and I do my best when I am wired," he said.
Shooting for "Golmaal" films is nothing less than "a paid vacation" for him.
"We always shoot in Goa. This time in Hyderabad mostly. You get to work with friends, you get a blockbuster and I guess awards too. Everything falls into place when it comes to 'Golmaal'. It's kind of a blessing. I hope this time also the hard work pays off. It's a combination of a lot of things that go well," he said about "Golmaal Again", which is set for a Diwali release.
His film releasing on the same day as superstar Aamir Khan's "Secret Superstar" doesn't bother him.
"I have seen the trailer of 'Secret Superstar'. It's very nice, different and sweet. There are so many instances of both movies (that release on the same day) working. 'Welcome' and 'Taare Zameen Par' came on the same day in 2007. Good films will always work," said Tusshar.
-IANS