Rating: 2.5 stars
A film revolving around illegal blood trading rackets
Director Syed Ahmad Afzal\'s second film after Youngistaan
Randeep Hooda rescues an impossibly long film
Don't close your eyes. This is an interesting time for Hindi cinema. 
Cops, dacoits, politicians, students or lawyers aren't the only ones defining cinematic backdrops anymore. We learned a bit about sperm donation in Vicky Donor, the "business" of sainthood in Global Baba, organ trafficking in Rocky Handsome, drug mules in the unreleased Peddlers, child trafficking in Mardaani, a corpse-burning community in Masaan, the coal mafia in Gangs Of Wasseypur and Gunday (sort of), car-jacking hooliganism in Titli and marijuana planting in The Blueberry Hunt. 
Laal Rang, too, fascinates with its choice of environment. Focused on a world we may have skimmed over at the bottom corners of national newspapers - an illegal blood trade racket - the Karnal-based film boasts of Haryanvi characters shaped by this lifestyle, and vice versa. 
Choosing a film within its story
The first thirty minutes suck you in like a well-researched feature piece would; flimsy introductions occupy the periphery of an edgy underground industry. Shankar (Randeep Hooda), an established blood-bank king, meets - and captures the imagination of - naive student Rajesh (Akshay Oberoi; sincere) during their diploma course in medical lab technology. 
Fresh-faced Rajesh seeks a secure future, but is seduced by Shankar's aura, his legend and sense of myth. It's more than just Shankar's neat wheels - the RX100 bike, an ultimate campus status symbol. One can almost sense peculiar homoerotic undercurrents the first time Rajesh rides pillion, a hypnotic tone-setting scene on its own.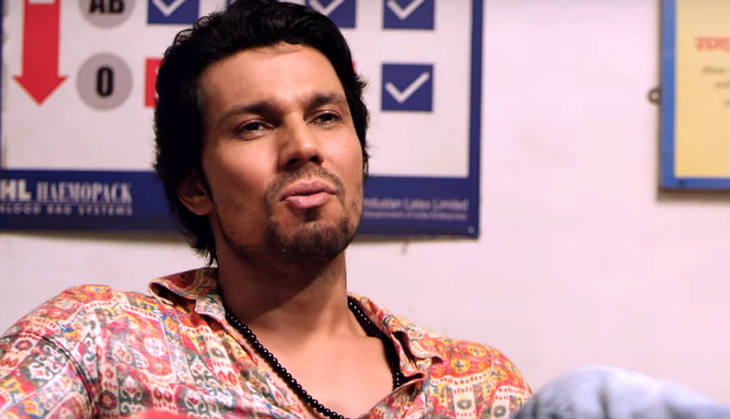 Photo: a film still

Scoring up a storm

Perhaps the director deliberately pinpoints and over-dramatizes such moments, to suggest the beginning (or end) of sub-eras. This is clearly evident from French composer Mathias Duplessy's eclectic interpretation of on-screen drama. His music evokes several famous sounds throughout the film - from Motorcycle Diaries' guitar-heavy journeyman themes, to a clear influence of Shigeru Umebayashi's lilting ballads for In The Mood For Love and A Single Man. 

Like most mainstream Indian films, Laal Rang is often guilty of background score overkill, but Duplessy's strings and Vipin Patwa's compositions (his second notable effort after 'Bollywood Diaries') visibly lend a moody, and almost dystopian, flavour to this secret landscape. 

Things get messy, both in life and plot, after Rajesh voluntarily embraces the get-rich-quick path through Shankar's network of 'blood'. He becomes the greedy pretender to fund his upcoming wedding and life with college colleague Poonam (an electric Piaa Bajpai; could have done without obvious linguistic quirks).

Director Syed Ahmad Afzal doesn't shy away from using 'Bollywood-epic' tropes and vast Shakespearean strokes to make this subject more accessible - the rise and fall of the community, small-town romances, the classic guru-chela bromance, inevitable rifts, persistent cops (Rajneesh Duggal; another hinterland attempt after Direct Ishq), abrupt song snippets and senile frame rates. 

No half-measures

Perhaps the reason this stands out amongst the million hopscotch entertainers (endless running time aside) is its whole-hearted commitment to storytelling. It swings, and misses a lot (ill-placed songs, Shankar's deformed love track, voice-overs, meandering drunk conversations), but comes around to recognizing its essence. Beneath the surface of its narrative politics, lies a simple operatic tale about a boy and his tragic mentor. 

Hooda, the actor

Randeep Hooda has that air of withered humaneness; he has mastered the unrequited chuckles and conflicted existence of the golden-hearted gangster. As the Jatt hustler, he is a lot like the film he occupies - loud, obnoxious, overindulgent, flashy, impossibly verbose, a maker in love with his creation - but there's an element of unbridled passion to all of it. 

Despite being a man well aware of the fatal consequences of his trade, it's difficult to dislike him. You feel for him when he can't afford the luxury of love and companionship, and eventually, brotherhood. 

Most importantly, Hooda is getting better at choosing films, something I never thought I'd say after his clumsy impersonation of the once-flamboyant Yuvraj Singh in Madhur Bhandarkar's awful Heroine. 

Laal Rang probably deserves a better title, trailer, poster and final cut. But its tagline, also Shankar's defining dialogue, "All work, good or bad, must be done with honesty" proves to be prophetic. The makers have followed his advice to a T.