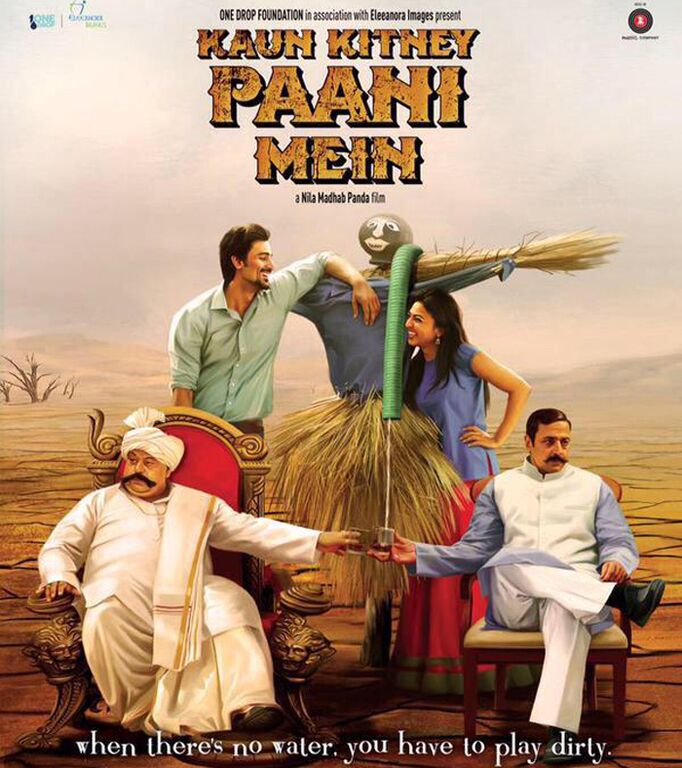 The trailer of Kaun Kitne Paani Mein, the latest Bollywood offering by I am Kalam-famed Nila Madhab Panda will leave you in splits. Starring Saurah Shukla, Kunal Kapoor, Radhika Apte and Gulshan Grover in pivotal roles, the film is a satirical take on a serious problem in India -- the scarcity of water.
Highlights of Kaun Kitne Paani Mein trailer
1. Actor Saurabh Shukla is plays an 'unfortunate' king of a village where there is no water. His one-liners are not short of epic. It is because of his comic timing, that the plot of the film gets registered in the trailer.
2. Picture a middle-aged plump and bald 'raja' trying his best to sell his kingdom but facing enormous difficulties because of the scarcity of water in the region. The helplessness of the 'raja' is shown as he announces 'Aaj toh hum snan karenge' before shifting his deeds and announcing 'Aaj hum kulli karenge.'
3. Rang De Basanti star Kunal Kapoor plays the character of Shukla's son. He is the last person who can help the king to sell the village. In a hilariously complex engagement, he is asked to romantically trap Gulshan Grover's daughter, Radhika Apte.
4. Gulshan Grover plays the king of the land on the other side of the wall. So the other half of the village has water in abundance but it is being ruled by Grover, who harbours a strong rivalry with Shukla.
5. Radhika Apte, who has been garnering immense positive reviews for her Sujoy Ghosh short Ahalya seems to be playing a very submissive character. She looks beautiful and adds the right amount curiosity to the trailer.
The title of the film in itself suggests a lot of hustle-bustle in the film. However, this comedy-drama seems well-blended, catering to a rather grave issue. Watch the trailer here:
Note: Don't miss the old man who plays assistant to 'raja.'