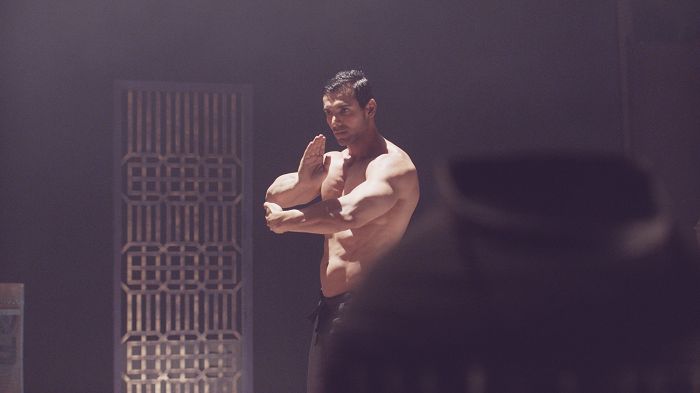 Director Nishikant Kamath\'s 4th Hindi film; first after \'Drishyam\'
Produced by, and stars, John Abraham
Yet another unimaginative, cheesy remake of a Korean hit
Rating: 1.5 stars
A handful of sequences prove that director Nishikant Kamat is perhaps Bollywood's biggest tragedy going around.
The first one is an engaging hand-to-hand combat battle in the restroom of a discotheque. Rocky Handsome (John Abraham; handsome - and acting - as a piece of rock), an ex-agent on a bloodthirsty mission to rescue his annoying abducted 7-year old neighbour Naomi (Diya Chalwad), slashes and shoots and chops at his oriental rival (Kazu Tang). Their fairly well choreographed brawl is intercut with some very strange dance moves happening outside (Nora Fatehi, doing an erotic-punch motion to Bombay Rockers' famous 'Rock Tha Party' - yes, the decade-old single with homicidal stuffed animals losing their shit in a basement parking lot). The song serves as a peppy, subversive backdrop to the sharply cut punches thrown inside.
The second one is the final battle between these two - moments after Handsome goes all Korean and Kingsman (read: gory, blood-spurting, stylized knife punches) on baddies in a cathedral. Again, as routine as it may look in terms of choreography, the sound design adds a visceral layer of wanton destruction.
The third one is when he attempts to painfully extract a bullet from his flesh. Rahat Fateh Ali Khan's lilting voice drowns out his screams when he douses it with alcohol. The camera then focuses on the throbbing wound, all suspense, the screen goes silent, and finally, the bullet pops out - the exact moment when the words 'Aye Khuda' kick-start the melody again.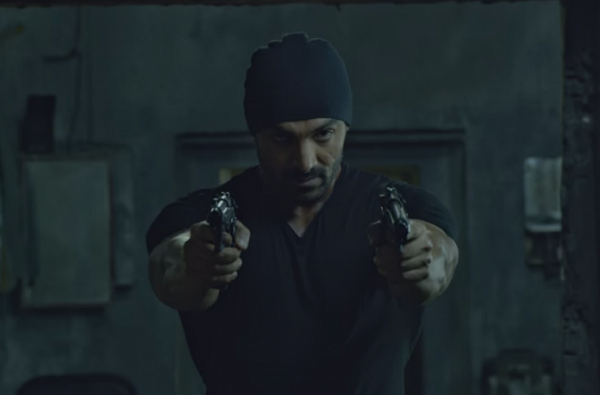 These scenes are brainchildren of a filmmaker who knows his craft, but can't be bothered to write his techniques into an acceptable screenplay.
His latest only proves what a lazy - or 'busy' - director he has become. Even his previous film, Drishyam, which seems like it released yesterday (easy to be prolific if ideas and ctrl+c mean the same thing), was a terminal mishmash of remakes. Acting as the lead villain here doesn't absolve him of his crime. In fact, he acts better than he directs; a small 2011 psychological thriller called 404: Error Not Found will confirm this.
A depressingly faithful adaptation of the Korean hit 'The Man From Nowhere,' Rocky Handsome revolves around a sullen, sunken John Wick wannabe who roams around Goa (Ramoji FilmCity) like he can't decide whether he is Undertaker or Batman. 30 seconds into the film, we're transported to a romantic song, back when he had a life with wife (Shruti Haasan; give up already).
Naked embraces and Seychelles beaches are supposed to make us feel bad for him when she is killed. That's the problem with all-out Indian actioners; they do the hyperkinetic madness well, but treat character establishment, emotional investment and lighter moments like unwanted orphans. As means to an end that involves 1000 fps strides, rainfall, blood and eccentric villains.
Which reminds me, Teddy Maurya, who plays one of the two drug-lord brother baddies, seems to have taken the advice of offsetting Abraham's tree-trunk face too seriously. He ends up behaving like a hemorrhaging nincompoop - a mutant cross between Nirmal Pandey in 'One Two Ka Four' and Amrish Puri in 'Koyla'.
Because child trafficking and organ harvesting are two of the main plot devices, almost every character threatens one another with "I'll sell both your kidneys!" Which brings to me to little Naomi. I'm not fond of kids who act like they're older than they are. She clearly tries to emulate actresses she has grown up watching on screens, instead of playing a real character in a movie. She is no Munni (she talks way too much), and he is no Bajrangi.
There are some other inane aspects too - the cops deciding to frame Rocky by involving the CIA send a fake email reading, "I KILL YOU!" to [email protected] (Barrack, get the dead-terrorist reference?), Naomi's mother making porn-star noises to showcase severe bouts of drug-addiction, John Abraham actually speaking, and so on.
I've seen worse, but to put things into perspective: The director's earliest Hindi film was the delightful 'Mumbai Meri Jaan'. This was before he discovered that making movies is a very lucrative business.