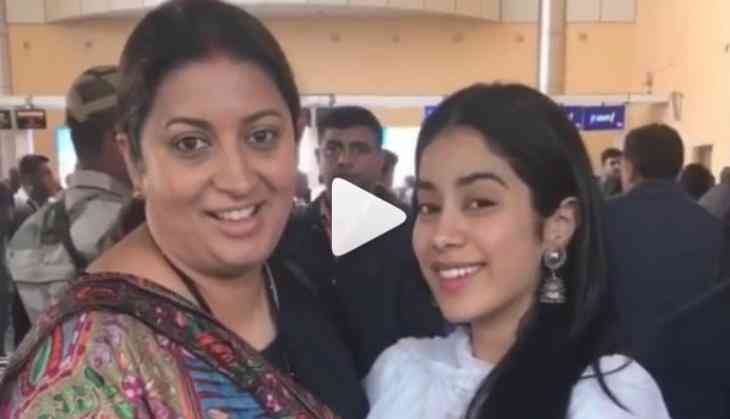 Central minister Smriti Irani who mainly is very much active on social media and now she shared a video on Instagram. In this video, Smriti Irani and actress Janhvi Kapoor were seen together and both spotted at the airport. During this meeting, they both conversation and here Janhvi called her an 'Aunty'.
After that Janhvi Kapoor also made apologizes to Smriti Irani in very funny way and Smriti Irani actually not stopped herself to post this video. In this accidental meeting, Smriti and Janhvi had a long conversation. During this meeting, Janhvi continuously called her Aunty. After that Janhvi even made apologizes to Irani in very cute way.
Smriti Irani really loved this way of Janhvi Kapoor and after that Irani also captured the moment and shared the Instagram. After that she shared the video and gave the caption, "The someone shoot me"moment —When #jahnvikapoor sweetly apologises for continuously calling you aunty &
you say " koi baat nahi beta " #totalsiyapa 🤦‍♀️ye Aaj kal ke bachche #auntykiskobola 🙈🚶‍♀️
Let us tell you that Central minister Smriti Irani is very much active on social media and usually shares the post on Instagram. A few days back she also shared the video in which she had the company o Jubin Irani.