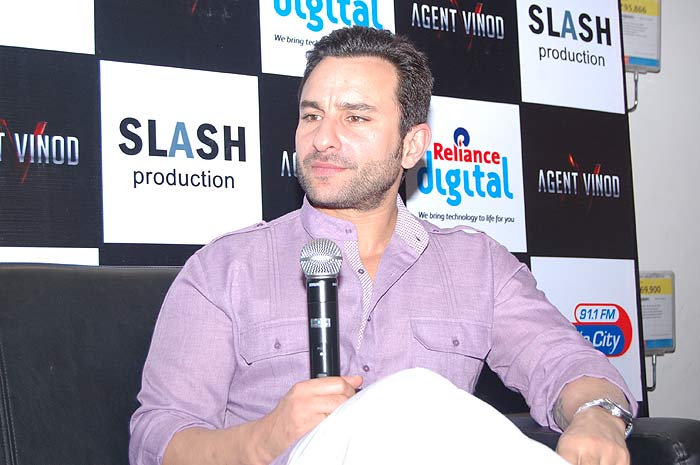 Saif Ali Khan became a father at a relatively young age, while he was still in his 20s. Though his kids Sara and Ibrahim now stay with his ex wife Amrita Singh, Saif is very involved in their lives. Daddy dearest thinks education is most important for them presently but he acknowledges his kids' acting dreams.
Recently, pictures of Saif's teenaged son Ibrahim with Sridevi's and Anurag Kashyap's daughters were splashed all over but the concerned father is none too pleased about his son being in the media limelight. Saif says: "I had dinner with him (Ibrahim) last night and spoke to him. He told me that other people also posted his picture online; but he understands, I hope, that interest on the social media is a double-edged sword. People are interested in him today also because of his family and who his parents are. It's something he should be careful about. He now understands that he needs to be a bit reserved and be seen less . unless you have something particular to say."
Saif has no problems with his son choosing a career in Hindi films eventually but feels he is still way too young. "Even if he is interested in cinema, he should do it in a proper way at the right time," says Saif firmly.
On the other hand, the star seems to have accepted that his daughter Sara, now a personable young lady, will make her way into films sooner rather than later. Saif says, "It was her birthday two days back; she is older that's why she is more mature . she was always wise beyond her years. She has interest in acting and I think most kids growing up in our world are interested in acting. Soha (my sister) has such good education qualifications but would rather act instead of working in a bank. Sara too has acting in her blood obviously and wants to do it."
Saif is in two minds about his reaction to Sara joining films. He confesses, "It's a great job, it's a great world, everything I have earned is from films, and I have seen the world and stayed at amazing hotels all because of movies. But sometimes, I think it would have nice to have a stable job with normal timings . but then you can't have everything. I wish a little more security for Sara. It's frightening for me to think of age being a limiting factor sometimes."
But Saif is very definite about one fact -- he will be a supportive dad. He states,
"What you do with your life is up to you. I think education is very important because thereafter you can do anything in the world. Sara will have a great university degree by next year. After that, I will support her if she wants to be an actress."
- Bollywood News Services