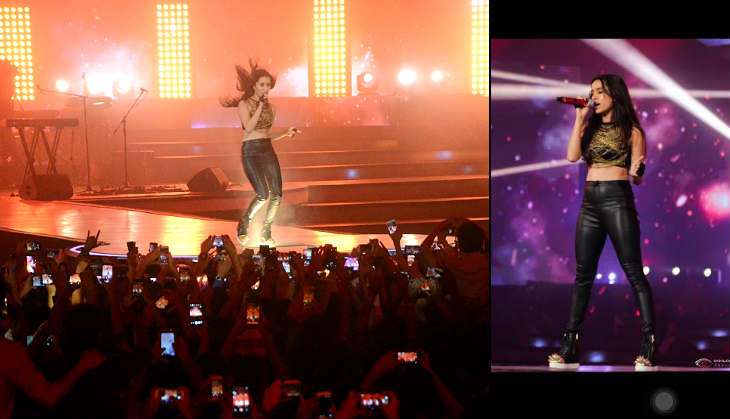 Shraddha Kapoor is currently gearing up for the release of Rock On 2. Ami Sheth of Bollywood News Service caught up with her for an interview. Shraddha spoke about her upcoming film and much more. Excerpts:
There's a lot of buzz around your singing in Rock On 2. Are you a trained singer?
While I was growing up, I took training in classical music from my nana (Pandharinath Kolhapure), who is unfortunately no more. I regret not continuing the training. For Rock On 2, I had to train in rock music from Samantha Edwards who is a beautiful jazz vocalist. She has a divine voice. She would teach me how to breathe in vocal classes, and there were some funny exercises which help you to hold your breath better.
What was it like to record the songs?
'Udjaa' is the most difficult song I have ever had to sing. There was a line in the song where I could not hold my breath but Shankar (of music composing trio Shankar Ehsan Loy) said, 'You can do it.' It's all thanks to the training ... otherwise it wouldn't have been possible. Of course, you give a few takes and then they choose the best.
Who is your inspiration as a singer?
My very own grand maushi, Lata Mangeshkarji, has been a huge inspiration; and she's an even bigger inspiration for my mom. My mom (Shivangi Kapoor, nee Kolhapure) has the voice of an angel which a lot of people don't know. She actually sounds like the younger version of Lataji. But she devoted her life in bringing up my brother and me. She too has been my inspiration. Sometimes we just sing over a cup of tea.
As a kid which songs would you hum a lot?
I had sung 'Pani pani re' at a function for which I got the third prize which I was not happy about (laughs). I love my maushi's (Padmini Kolhapur's) film song 'Yeh galiyan ye chaubara' as well as 'Tan tanatan tan tan tara' from David Dhawan's Judwaa. I have done full dancing and dhamal too on these songs. I love all kinds of music.
Is there any change in your voice after you sang 'Galiyan' for Ek Villain?
Definitely. Since the time I sang 'Galiyan' my voice has become more base. Even the way I speak has become more base. May be it's because of the vocal classes.
Is this passion for singing only for Rock On 2 or is music a major part of your life?
Actually, now I write my own songs! I have never said this before ... I have been writing for a while and now I feel like talking about it. I never used to reveal that I write; I used to keep it very guarded.
Would you like to record an album?
I don't know but I have written and recorded two songs. I performed one of them at a concert. As for an album, never say never but right now I am caught up with lovely movies. So, may be some day.
How integral is music to your Rock On 2 character?
All the characters have some conflicts in the film and somehow everyone's conflict is connected. I play Jia Sharma, who is a keyboard player, programmer and a singer.
Do you think you could have been a singer rather than an actor?
The reason I discovered that I want to sing is because of being an actor. Another reason was watching Rock On. I was always fond of singing but I didn't know that I could do it in movies. However, when I saw Farhan singing his own songs in Rock On, I thought that if he can do this, so can I.
I had told my parents back then that if they make a sequel of this film, I'll be in it. It's amazing -- it's hard to get that what you ask from the universe but it happened. It's not planned. Whatever I have wished for as child, is happening. This is my life. I hardly go out. I like to sleep early and wake up early.
--Ami Sheth, Bollywood News Service