Almost two years after Badlapur, Huma Qureshi is back on the silver screen with Jolly LLB 2. The actress will be seen as Akshay Kumar's wife in the satire and believes that her character plays an essential role in taking the story forward.
Qureshi is confident that Jolly LLB 2 will open new avenues as an actor for her as she would be benefitted by the presence of Akshay Kumar.
Sharing the journey of the Subhash Kapoor directorial, Huma interacted with us and shared some interesting insights.
Excerpts:
How did you come on board for Jolly LLB 2?
Subhash Kapoor called me right after the release of Jolly LLB for another film which never got made. When he was working on part two and he narrated the script to me. Without saying anything, he launched into the massive three hour narration. In between the narration, I had made up my mind to do the film and the cherry on cake was getting an opportunity to work with Akshay Kumar. I have always wanted to work with him and I am so glad that this is the film are working on together.
How was it working with Akshay Kumar?
Akshay Kumar used to play a lot of pranks on me. He used to take my cell phone and send messages to two three heroes from the industry saying 'I love you'. That aside, he is a great guy to work with: he has a sense of discipline, sense of time and more importantly, respect for the time of other people and to get this from a superstar is a great thing. Superstars tend to take success for granted, but that's not the case with Akshay. I have seen him work really hard on our film and I am sure he does that for all the films. I hope to imbibe some sense of discipline from him. I want to be a multi-tasker like him.
How do you see Akshay's shift from being an action star to one of most trusted actors?
It is not something you can work on. I think Akshay Kumar combines the commercial elements with real and issue based topics effortlessly. It is really amazing that an actor like Akshay is taking chances to try something different. He knows how to select his scripts and act effortlessly in them. He is a gifted actor. I am a huge fan and after working with him, I love him even more.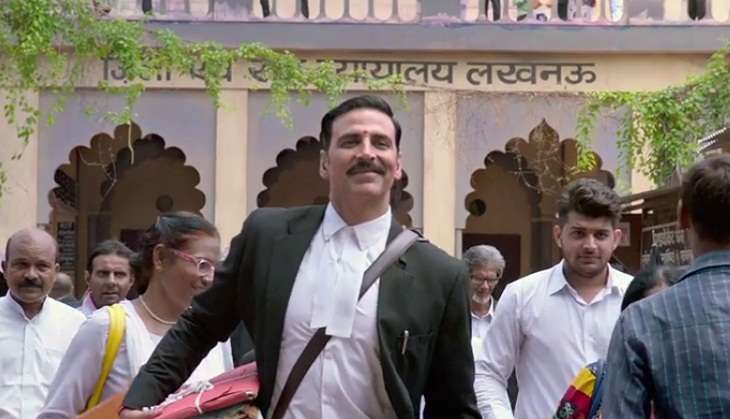 Akshay Kumar in Jolly LLB 2 (Akshay Kumar in Jolly LLB 2)
Do you think working in a commercial film like Jolly LLB 2 with a star like Akshay Kumar would widen your audience reach?
My biggest hit far has been Badlapur. I think the appreciation and exposure I will get from Jolly LLB 2 will be huge. So yes, it would help me.
Right from Gangs of Wasseypur to Badlapur, your characters have a dark undertone to them. Is that a conscious effort on your part?
I have not planned anything and these are just interesting roles that have come my way. I was given the choice to play either of the two female characters in Badlapur, but I thought playing a sex worker was far more challenging. I think as an actor, I need to take up meaty characters and that is what my attempt has been till date.
Do you think it is difficult to break the perception around you in the industry?
I think it is an actor's job is to create and image and break it later on. You first work very hard to become a particular character and when the film is released, you should take up a script that offers you something different. So yes, it is difficult because acting in films in itself is difficult.
You have been linked to Sohail Khan off late. How do you tackle with these reports?
I have always responded to all these things on social media. I don't think about it really as my family knows what the truth is. Whenever something unpleasant like this comes up, I go to social media to clear the air. Getting linked up to someone whom I consider my brother is too much I think.
Jolly LLB 2 releases on 10 February 2017.