The YRF film, Sultan, starring Salman Khan, Anushka Sharma, Randeep Hooda and Amit Sadh, is breaking records left, right and centre. The Ali Abbas Zafar-directorial is an obvious hit and the Box Office collections prove it.
However, despite the dazzling star cast, there is an unassuming presence in the film, which made most of us sit up and take notice. That's Govind, who was Salman Khan's best friend in Sultan.
Be it for his explanation of a 'shit guy' or that 'dish fixing' scene, Govind made for quite an interesting surprise element in the cast of this Bollywood blockbuster. But, who he is?
Anant Vidhaat is actor who essayed the character of Govind in Sultan. He is a Delhi University graduate and has done films like Gunday and Mardaani in the past. But, Sultan gave him perhaps what every actor aspires for - fame, appreciation and love. It means more to him as he says it's a challenge to be noticed in a Salman Khan film.
While talking to Catch, Anant explained what Sultan changed for him and how he is enjoying this phase. Excerpts:
How has the response been so far? Are you in a happy phase?
It is absolutely overwhelming and I am overjoyed to see the kind of response my performance and the film is receiving. Everything that is happening right now is completely amazing.
Did you expect this?
I think every actor wants this (receiving such appreciation). But you don't know when and how it happens. And of course this is unexpected. Like all other actors, I also wanted to taste this popularity and now that it is happening, I don't know how to express this happiness.
How was the experience of working with Salman Khan?
With Salman Khan, it was a thorough learning process. One needs to be constantly observant while working with Salman Khan as you never know when and where something strikes you, and you get to learn from it. Personally as well, it felt good and so positive to be a part of his life for a few days.
In a recent interview, you said "while working with him (Salman Khan) I never knew what to expect. That element of surprise was an ongoing thrill while shooting." Working with Salman would have been thrilling... Was it also inspiring?
It definitely was. Both as an actor and in life as well. I think as an actor I was inspired by his spontaneity. While acting, now I believe that if you rehearse so much, your performance becomes mechanical and then it tends to look forced at times on screen. However, if you are shooting without rehearsing much, you realise that you have created a moment. Your reaction to that created situation becomes organic. Salman is quite impromptu when he gives a shot. So he'll take his time to absorb the scene but never does he over-rehearse.
In life as well, this singular quality is really important. You should loose yourself and open up to things around you. I think it's better to deal with things in a real moment right there, right then.
What are the three things that instantly hit you when you think of Salman Khan?
1. Superstardom
2. Fitness
3. Ease
What has Sultan changed for you?
More than anything else, people now know my name. I don't know if I was ever this confident earlier! Now I can hope to get good roles after Sultan. Though I am yet to see the real change because it has just been a few days since the film's release. I am currently basking in this new phase of happiness.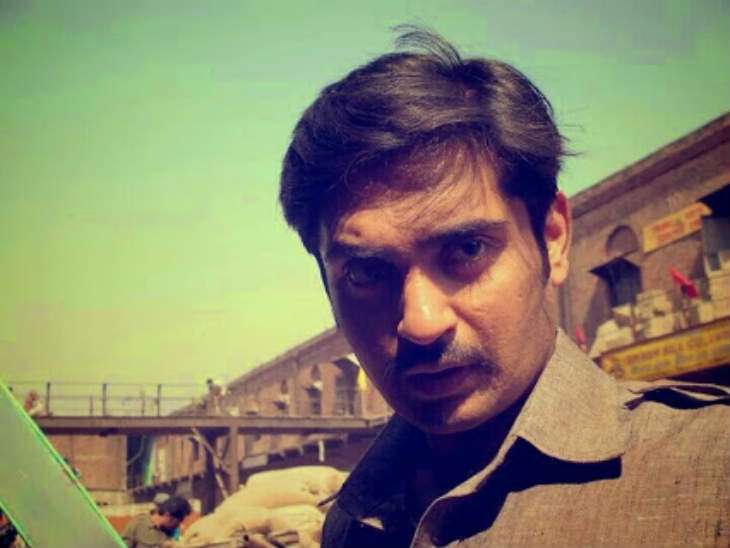 Anant Vidhaat during the shooting of Gunday (Twitter)
You have been a theatre artist and now you are doing films. What transition do you see in yourself when you're acting on stage as opposed to when you are acting in front of a camera?
I did theatre in Delhi. I am a Delhi University student. I enjoyed doing plays since my childhood. As cliched as it may sound, but it's the truth. You have to discover an actor in you if you want to give 100% to acting. And I did that when I was in fourth standard. Of course I didn't realise it then. But, now out of those many childhood moments, I can recollect that one moment when I went on stage for the first time and felt free. This also meant more for me because I was not a celebrated student in class. So from nowhere in that class to the only one on that stage, it was a great transformation.
My roots are always on stage. I am always elated when I am on stage.
I think the only difference between theatre and films is that they are both different mediums of performance. You just need to take care of the basic grammar of the medium. Otherwise, if somebody acts badly on stage, you say 'filmy acting kar raha hai' (your acting is filmy) and if somebody acts badly in films, you say 'thoda theatrical ho gaya' (your acting is theatrical).
Basically, acting is one job and you need to perform it as per your best capability. The medium could be anything.
There are many theatre actors who take up films later but don't enjoy it as much as they enjoyed theatre. They are so used to that live performance and response... Why does this happen? What gives you more of a kick, theatre or films?
I want both. And I think I am capable of balancing both. Still, if you ask me to choose, I would also end up picking theatre. I think the reason is that I am an actor and theatre is more of an actor's medium while cinema is more of a director's medium than an actor's. You can explore your freedom on stage but you'll have to respect the director's point of view here. You are a king the moment you step on to a stage.
How much of creative liberty did Ali (Abbas Zafar) allow you during the shoot?
Ali is a director who knows perfectly where to let his actors act freely and where to tell them that 'that's it... leave this shot here'. And both these things happened while shooting Sultan. At times, he changed the scripted scenes for me as he was positive about my improvisation and at other times, he even asked me to stop overthinking and just follow what has been written.
How has your family reacted to this sudden change in your life?
It has just been a few days. I have not gotten enough time to think beyond Sultan and its response. All I know is that my family is happier than I am. I know my mother had been praying for me since years. She wanted this phase of popularity for me. My mother and father have been supportive of all my decisions.
So have they been supporting you from your initial days of theatre?
Yes. I remember the day I told my father that I wanted to be an actor, he asked me a basic, fundamental question -- why do you want to become an actor? So when I explained my reasons to him, he seemed pretty convinced and happy with my choice. Since then, it had been my family's dream to see me as a successful actor.
What is the best compliment you have received for your performance in Sultan?
It is awkward to even say it but somebody told me that 'what Nawazuddin Siddiqui was to Salman Khan in Bajrangi Bhaijaan, you were to him in Sultan'. I mean, even if a part of my performance made somebody think like that, it is huge for me.
Do you think Sultan somewhere was more about Aarfa than Sultan Ali Khan's?
I think Sultan is definitely a different film from the other Salman Khan films. And what you're asking is precisely the reason it has received such wide acclaim. I would give credit to the director here. I think Ali made a brave choice and he balanced it perfectly to make the audience realise that Sultan is about a man's world which centres around his wife -- Aarfa.
So while watching the film, you realise that even in the scenes when Anushka is not in the frame, her presence is felt. If you're watching Sultan in a scene, Aarfa's presence could also be felt. That's the beauty of the story.