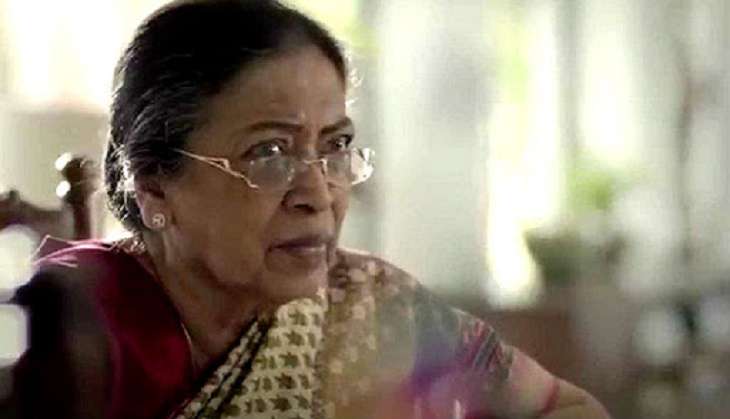 Veteran actress Sulabha Deshpande passed away on 4 June. Deshpande is best remembered for her critically-acclaimed roles in plays like Shantata! Court Chalu Aahe (1971), Marathi films like Jait Re Jait (1977), Vihir (2009) and a number of Hindi films - including like Shyam Benegal's Bhumika (1977) and Albert Pinto Ko Gussa Kyu Hota Hai (1980).
Her association with acting began when she was working as a school teacher in Mumbai. She had then contacted the acclaimed playwright Vijay Tendulkar and had asked him to write a script for a play for her students.
Deshpande was a part of various theatre groups like Rangayan and Avishkar in the 60s and 70s. But it was her role in Vijay Tendulkar's play, Shantata! Court Chalu Aahe, that introduced her to the film industry. She played the lead female protagonist in the cinematic adaptation of the film.
She soon became a popular face on screen, where she established herself as one of Indian television's favourite onscreen mothers.
Her last rites will be held at Mumbai's Dadar crematorium on 5 June.
Celebrities took to Twitter to express condolences. Take a look:
#SulbhaDeshpande had that rare ability to express volumes with just a meaningful look...a great & deep loss for theatre & films! #RIP

— Anil Kapoor (@AnilKapoor) June 4, 2016
Rest in Peace ... 🙏 https://t.co/DwGuwN6pfh

— Raveena Tandon (@TandonRaveena) June 4, 2016
Sad to hear about Sulabha Deshpande. Will always be remembered for her immense Contribution to Marathi theatre & Hindi Cinema. #RIP

— Madhur Bhandarkar (@imbhandarkar) June 4, 2016
RIP Sulabha Deshpande. Enjoyed watching you in films. 🙏🙏🙏 https://t.co/qoMLixxi4I

— Farah Khan (@FarahKhanAli) June 4, 2016
RIP Sulbha Deshpande Ji - you will be missed .. Thank u for everything ... Condolences to the family. https://t.co/ULBm631UgL

— Riteish Deshmukh (@Riteishd) June 4, 2016
Oh really? Magnificent presence. Her Union with Arvind Deshpande ji today after 27 years..RIP Sulabha Deshpande ji. https://t.co/NqB53p3WSS

— Sonu Nigam (@sonunigam) June 4, 2016
Bahut acchi Abhinetri Sulabha Deshpande ji aaj hamare bich nahi rahi.Mujhe bahut dukh hai,unke (cont) https://t.co/b6hz7TClQL

— Lata Mangeshkar (@mangeshkarlata) June 4, 2016
RIP. Sulbha Deshpande. Worked with both her and her late husband Arvind Deshpande in the film "Duniya" pic.twitter.com/bQJzivUQTl

— Rishi Kapoor -"Book" (@chintskap) June 4, 2016
Day of colossal losses. RIP Mohammad Ali, Sasha Shulgin and Sulabha Deshpande :(

— TheRichaChadha (@RichaChadha_) June 4, 2016
Sad to know about the demise of Sulabha Deshpandeji. What a lovely, warm person and wonderful actress! Also RIP boxing legend Muhammad Ali.

— Madhuri Dixit-Nene (@MadhuriDixit) June 4, 2016