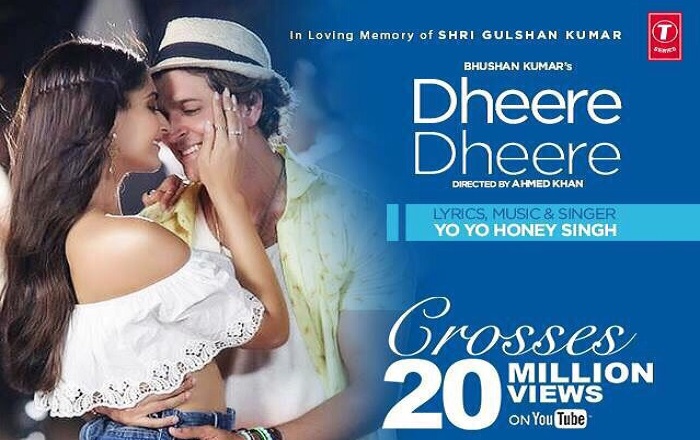 After going past the views of 'Main Hu Hero' in just 5 days, Hrithik Roshan - Sonam Kapoor's music video Dheere Dheere has now crossed 20 Million views on YouTube.
The 41-year-old 'Bang Bang' star took to Twitter to congratulate his co-star and the team associated with the video--produced by T-Series as a tribute to Gulshan Kumar.
"Oye @sonamakapoor crossed 20 million today! http://bit.ly/DDvideosong what shall we do next," Hrithik wrote.
Sonam, 30, retweeted the post.
Hrithik also congratulated producer Bhushan Kumar, for coming up with the idea of paying a tribute to his music composer father and founder of T-Series Gulshan Kumar.
"What succeeds is intention behind the action. A son's love for his father. Well done Bhushan! @Tseries (20 million seriously)," he tweeted.
Officially released on September 1, the video is Hrithik and Sonam's second project together after an ad film.
Chairman and Managing Director of T Series, Bhushan Kumar expressed his thoughts over this achievement. He said, "The kind of response the song is receiving is overwhelming, especially, since it is our way of reviving the memories of my father. The song going 20 Million in such a short span is heartwarming."
Watch the song 'Dheere Dheere' here:
-PTI