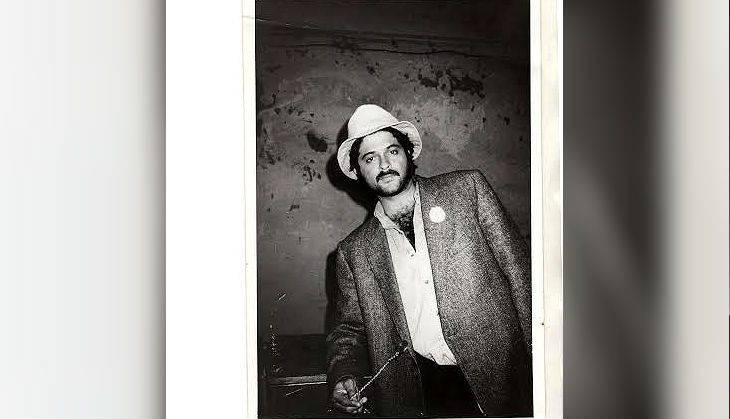 Anil Kapoor and I bonded from day one after I asked him an awkward question on the mahurat day of Love Marriage (1984, co-starring Meenakshi Sheshadri).
I shot this picture of Anil on the sets of his home production, Mr India (1987), a film whose shooting seemed to stretch endlessly. Each time I met him -- and I met him often in those days because I was a reporter - he would be shooting for Mr India.
While observing the shoot of the popular musical medley from the film in which Sridevi threatens to rupture the football thrown accidentally by Anil's children, I marvelled at Anil and Sridevi's patience because the director Shekhar Kapoor took hours to meticulously shoot a scene or set up the lighting.
Also read: #CinemaSnapshot: When Dimple Kapadia couldn't explain why she worked in Ram Lakhan!
Anil was always very conscious of his looks and would stop and peer at every mirror to check out his looks. Once when he was tweezing his moustache and smiling at his own reflection in a mirror, I asked him, "Anil, do you love yourself?" A bit taken aback at my candour, he kept the mirror aside, and said, "If I don't love myself, how can I expect others to love me?"
Being with Anil is like spending time with a college friend. He is accessible, friendly and talkative. He keeps punctuating his conversation with, "Samajh raha hai, na?" So once I jocularly retorted, "Anil, I am an intelligent man, I understand the first time." When I met him recently at his residence to interview him on the TV show 24, mid sentence he asked me, "You understand na?" Nothing had changed. After Slumdog Millionaire and 24, 'Tu samajh raha hai, na' has morphed into, "You understand, na?" with a slight American accent to boot.
I am extremely fond of Anil Kapoor - just like he is fond of himself.
Also read: #CinemaSnapshot: When he was just the Prem of Maine Pyar Kiya and not 'The Salman Khan'
-- Sourced from Dinesh Raheja, Bollywood News Service