One of the biggest Bollywood releases this year - Housefull 3 - is hitting the screens on 3 June. Directed by Sajid Farhad, the film features an ensemble cast comprising Akshay Kumar, Abhishek Bachchan, Riteish Deshmukh, Jacqueline Fernandez, Nargis Fakhri and Lisa Haydon.
Catch gives you a ring-side view of the mega Housefull 3 event, which is being held in Mumbai.
So the stage is set, the stars are here and welcome to the world of extreme madness.
Stay tuned for live updates. The event starts at 3:15 pm.
3:25 pm: The stage is set.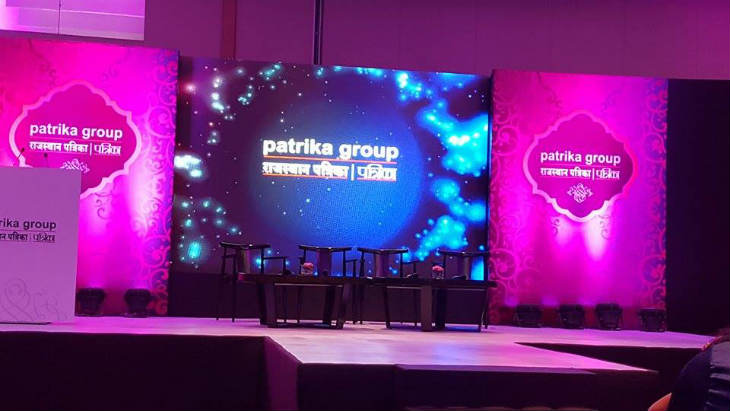 Catch News
3:50 pm: Bollywood's Khiladi speaks
Akshay Kumar promises the gathering that the film will make them "laugh for two hours 11 minutes". In Housefull 3, Akshay plays a man with a split personality.
"Whenever I do a film, I want more and more people to watch my films. This is the first entertaining film of 2016. All other films that have been released in 2016 so far are very serious. The biggest USP of HF 3 is that it is an entertaining film.""I have never played a character with a split personality. So that is another USP of Housefull 3."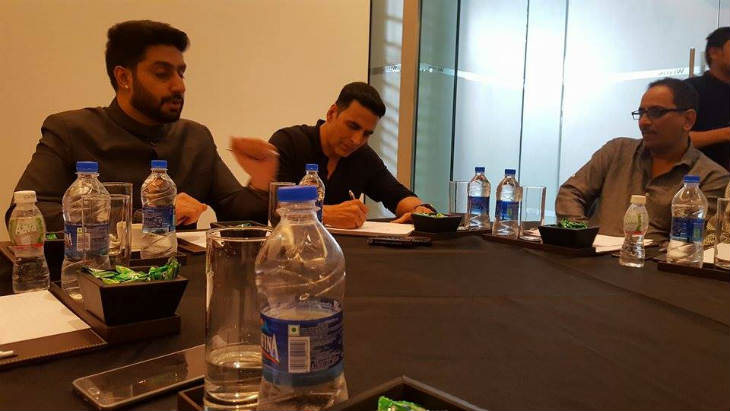 4:00 pm: Abhishek Bachchan takes the stage
"Every character has a different USP and this is a complete family entertainer. Very few comedies are made in India. You should go to the cinema hall and just enjoy. Go watch it with family, have some laughs," he said.
"Cinema is all about pure entertainment. Indian cinema has to be escapist but at the same time entertaining. There is a reason why all entertaining cinema do well at the box office."
"A daily wager will never want to see their own life on big screen. So they like watching entertaining films."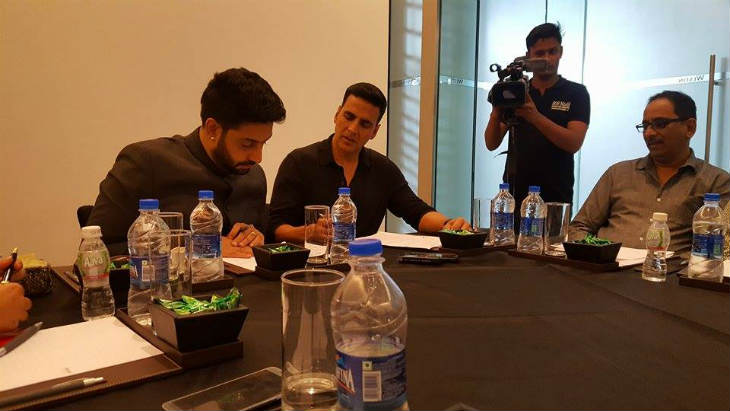 4:05 pm: Why does Akshay Kumar do four films a year
"I think people don't have enough money to watch all films. The ticket rates are very high for common people. The number of films releasing on screens have increased," he said.
"I am confident that the cinema halls will get housefull boards to the theatre (with the release of Housefull 3)."
"I finish my work quickly and hence I do 4 films a year. I cant sit home for 300 days because I hink one film shooting takes nearly 45 to 50 days for me"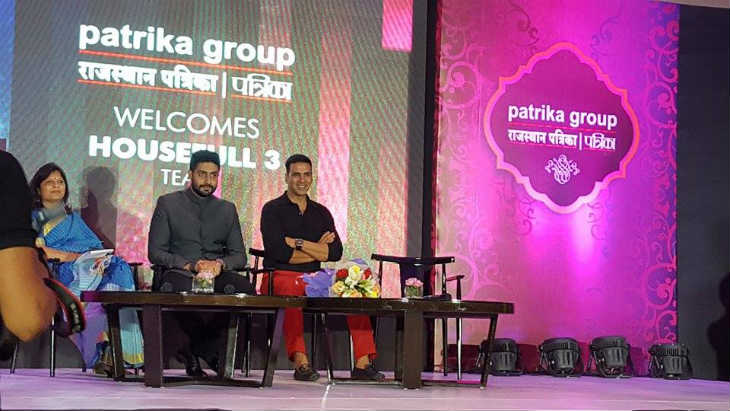 4:10 pm: Riteish Deshmukh leaves event citing an emergency.
4:15pm: Junior Bachchan on commercial cinema vs art cinema
"I don't think the realistic cinema will ever compete with commercial cinema. Yes, you can be educated audience but a common man will always like commercial cinema. Our Hindi films are entertaining and Indians love to watch films that whole family can enjoy," he said.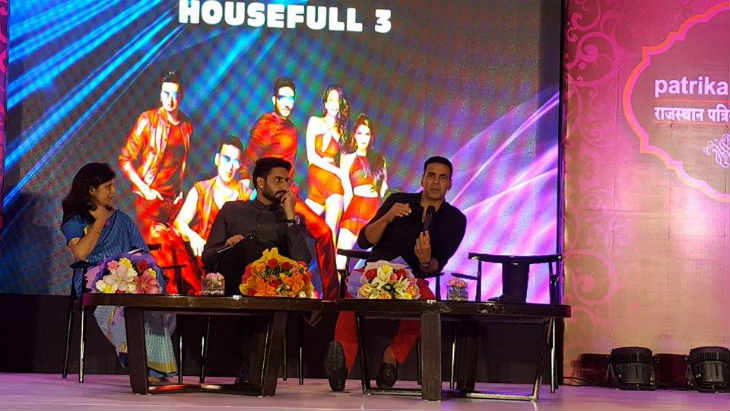 4:20 pm: Akshay opens up on why comedy films get a bad rap in India
"Award shows in India don't value comedies. Comedy films are need of the hour. I hope award shows juries and critics start valuing comedy films. They need to realise that making people laugh is very difficult," he said.
Akshay also said he had learned a lot from megastar Amitabh Bachchan.
"I learnt the art of being on time from Mr Amitabh Bachchan. He is the best and most disciplined person. I have seen his style of approaching a scene and as well as a film. He is so professional that I got to learn a lot from him. I was being warned before giving the first shot with Amitabh Bachchan. I forgot everything when shooting with him and I could not shoot with him. He is one man who rehearses a lot. He keeps on doing it to get the acting perfect," he said.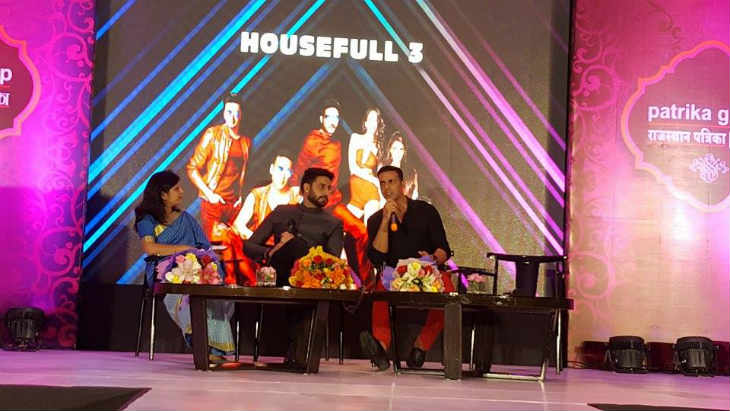 4:29 pm: Akshay Kumar knows how to achieve inner peace
"You should make a point to help one person a day. You get inner peace when you help a person. I don't believe in meditation and I think humanity is the only thing that gives you inner peace," he said.
4:30 pm: Abhishek Bachchan knows Housefull 3 won't win any awards
"I dont think anybody of us would win any awards for HF3," he said, adding "Rowdy Rathore got bad reviews but producer SLB (Sanjay Leela Bhansali) didn't care about the reviews as he was busy counting money."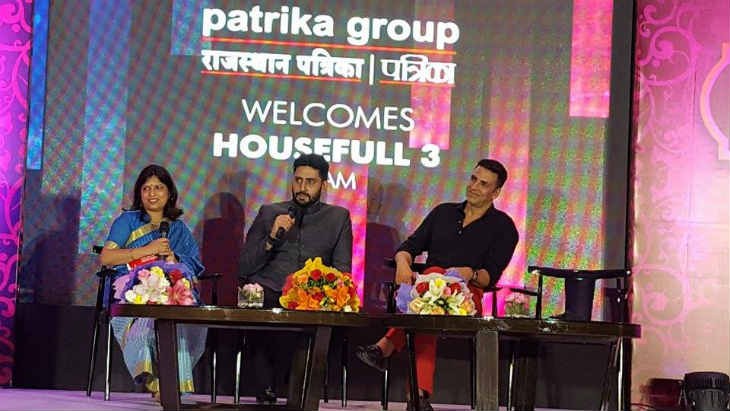 4:35 pm: Which Housefull film did Akshay Kumar like best?
"Out of all Housefull films, I had the most fun shooting for HF3. It has a great confusing script," he said.
He also spoke about how he missed 'papa Ranjeet' from Housefull 2. "I am a huge fan of Ranjeet sir. I have seen all his films. I remember some of his films scene by scene."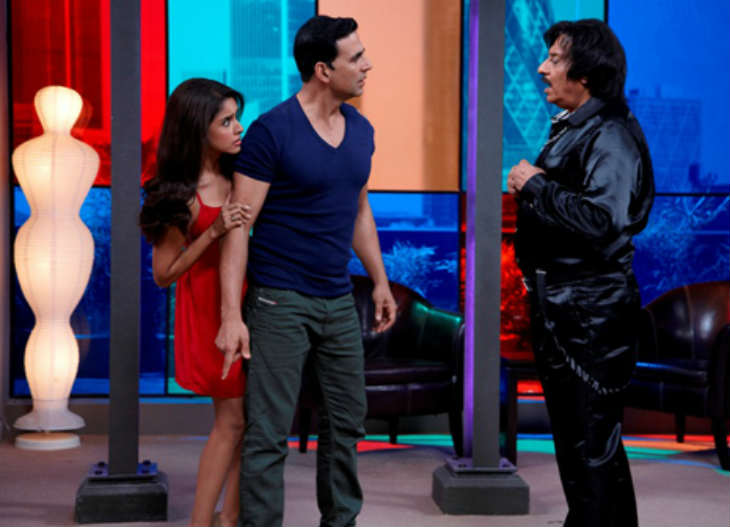 5:10 pm: And it's over!
"We want you to watch Housefull 3. Because we know that all of us want those moments of laughter and our film is filled with such moments," Akshay Kumar.