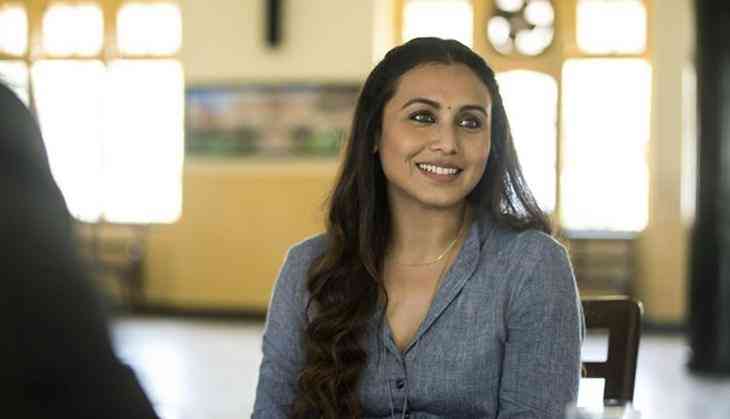 An admission first: I did not know about Tourette Syndrom (TS) before Hichki. Going by the reactions of those who watched the Rani Mukherjee-starrer with me, neither did they. So full marks to director Siddharth P Malhotra for raising awareness levels.
Now to the film: Hichki does something that has been successfully tested in Hollywood AND in India and elsewhere several times – how the protagonist battles all odds and succeeds. Only, here the success is not limited to a person.
Malhotra sets up his second film in a way that you know there will be a happy ending and are prepared to enjoy the journey. Once the expectation is set, however, he intelligently starts to weave in a number of strands to show how the 'mainstream' keeps the 'other' away in various ways. Various 'others' actually.
Naina, played by Mukherjee, grows up fighting three things:
TS – a neurological disorder that induces involuntary, repetitive tics. In her case hiccup-like sounds
An absentee father, who thinks she is not 'normal'
Anybody and everybody, who doesn't understand her tics.
She goes around explaining her condition patiently, making people aware, adding to their knowledge. Naina is determined to be a teacher – of a kind she never had herself. Landing a job is tough, but keeping it proves to be tougher.
Like her, the movie keeps explaining, drawing the audience's attention to several tics in our daily lives. And it does so gently; no in-your-face pack a punch. But like a loving teacher.
Malhotra and his co-writers – Anckur Chaudhry, Ambar Hadap, Ganesh Pandit – do a good job of adapting a book that has been already filmed (Front of the Class). Redrawing the plot in an Indian milieu isn't an easy task.
Actually, it should be 'milieus' for the story traverses the world's of different classes that have been brought together by a common factor: a school. Avinash Arun's camera and a liberal dose of outdoor shots have ensured the settings look real. Editor Shweta Venkat Mathew has kept it smooth, not getting in the way of the story. She could have kept it shorter though.
Malhotra, who helmed We Are Family in 2010, deserves praise for his choice of subject and for successfully seeing it through. In a Bollywood of Mukkabaaz and Newton, Hichki does come across a little plain at times, but Malhotra manages to put his point through without being preachy.
He deserves special credit for casting Rani Mukherjee and NOT a male star. There were several precedents: Be it Taare Zameen Par or Toilet Ek Prem Katha, 'risky', issue-based films have tried to buy insurance by casting big, male heroes, who may or may not be decent actors. It was easy to have taken this route here as the protagonist in the source material is a male.
Rani Mukherjee, who has made a habit of playing strong characters (No One Killed Jessica, Mardani), keeps the director's faith. She makes Naina her own and carries with elan not only the role but the entire film with her.
The rest of the cast, especially Shiv Subramanian, Neeraj Kabi and Asif Basra, does well to support her throughout. Real-life couple Supriya and Sachin Pilgaonkar handle deftly handle their parts. There are lots of young actors who play students and the film wouldn't have stood its ground had they not been able to produce the sort of chemistry they have.
Overall, Hichki is a refreshing watch from which leaves you with something even after you walk out of the theatre.
Rating: 3.5/5