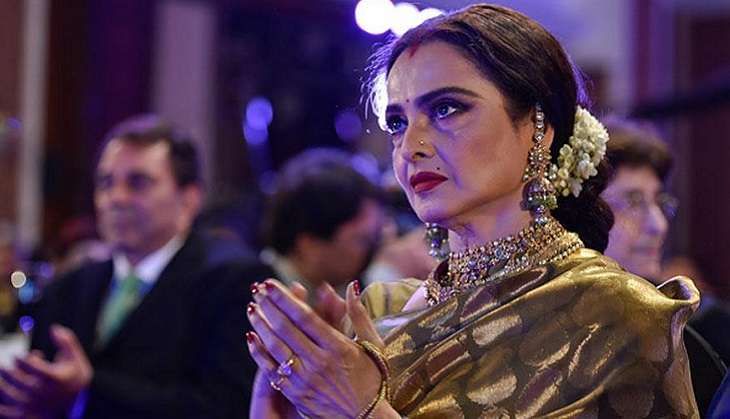 The eternal diva of the silver screen, Rekha turns 62 on 10 October, 2016. Dinesh Raheja shares 12 lesser-known facts about the actress who continues to be a glamour icon.
1. When Rekha's mother, actress Pushpavalli, took her to meet director Mohan Sehgal for her first Hindi film, Sawan Bhadon (1970), Rekha was in a defiant mood. Rekha was brought up in Chennai and didn't want to act in Hindi films as she didn't know a word of the language.
2. When her hero Navin Nischol saw her, he was horrified because he thought Rekha was overweight and didn't look like a star. But Sawan Bhadon was a smash hit and Rekha was an instant star at the young age of 16!
3. Rekha's first film, however, was Ammakosam and not Sawan Bhadon. She shares, "I made my debut in my aunt Anjali Devi's film Ammakosam at the age of 12. I had returned from my hostel in Salem district. My mom gave me a choice between films and studies, I chose films."
4. In the initial stages of her career, the teenaged Rekha treated the studios like a college and sometimes bunked shootings. She says, "A producer would see me on the highway eating ice-cream while I was supposed to be shooting for him at the location. But I have been punctual for so many years now."
5. Rekha lived in the same Bandra neighbourhood as Meena Kumari in the early 1970s and became friends with the senior star. She says she would often drop in at the ailing veteran's house.
6. In the early '70s, Rekha was an integral part of the Juhu gang that comprised Parveen Babi, Danny, Kabir Bedi, Amitabh and Jaya.
7. Rekha's hitherto middle-level success took a dramatic upswing after she became fascinated with yoga and makeup. Meena Kumari's makeup man, Ram Dada taught her to hone her makeup skills and Rekha mastered the art in two years. Her makeup, poise and performances in films such as Ghar (1978), Muqaddar Ka Sikandar (1978), Silsila (1981) and Umrao Jaan (1981) won her raves.
8. Rekha mimicked Mumtaz, pout et al, to perfection before developing her own strong identity. She recalls, "After Khubsoorat (1980) when a critic said that I am a good mimic who will never be a good actress, I stopped, altogether."
9. From Ek Bechara (1972) to Mother (1999), Rekha has worked in more than 25 films with Jeetendra. She says, "I saw the Jeetendra-Babita starrer Anmol Moti more than a dozen times."
10. Rekha says Hrishikesh Mukherjee made Khubsoorat to bring out the little girl in her. The famed director affectionately called her "Chinna Ponnu" which means little girl in Tamil.
11. Rekha has an elephantine memory. She recalls her screen outfits with precision, rendering a continuity photo album unnecessary. She can remember the outfit and the cologne you had worn the first time you met her even when she meets you after years.
12. In the Gulzar-directed Ijaazat, Rekha was supposed to do Anuradha Patel's role of the other woman and Raakhee was supposed to play the wife. But when the film was eventually made after the Gulzar-Raakhee separation, and Gulzar approached Rekha again, she told him, "I would like to play the wife for a change."
-- Sourced from Dinesh Raheja (Editor - Bollywood News Service)