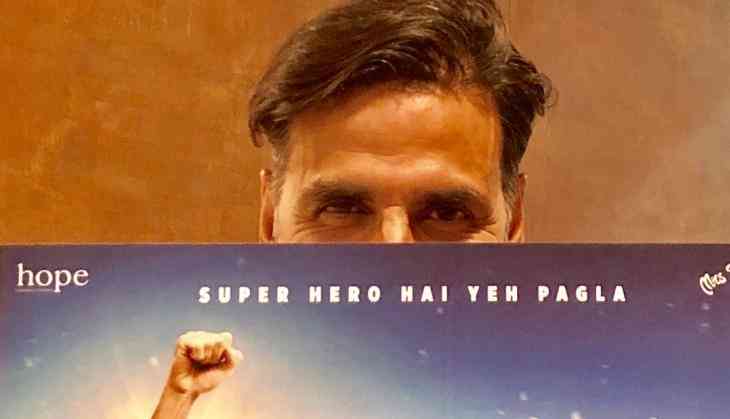 Get ready for Akshay Kumar's superhero film, it's not Rajinikanth's 2.0
Bollywood superstar Akshay Kumar is all set to star in a super-hero film and if you are thinking that it is Rajinikanth starring Robot sequel 2.0, then you are wrong. Actually according to Akshay Kumar then he is playing super-hero in his next film Padman.
In the morning Akshay Kumar has shared the poster of his next film Padman, and in this poster, Akshay has not revealed his whole look. In the poster, there is a line 'Superhero Hai Yeh Pagla', so according to superstar Akshay Kumar, he is playing a superhero in this film.
Launching tomorrow...PADMAN IN TWO MONTHS @PadManTheFilm @radhika_apte @sonamakapoor @mrsfunnybones @SonyPicsIndia @kriarj #RBalki pic.twitter.com/wu0Nziraqy

— Akshay Kumar (@akshaykumar) November 26, 2017
The film stars Radhika Apte, Sonam Kapoor in leading roles and it has directed by R. Balki. The interesting thing is that the film has produced by first time producer and actress Twinkle Khanna.
Well, in the poster it has revealed that another poster of the film is coming out tomorrow. The film is a biopic and inspired by the real-life person, Arunachalam Muruganantham. The interesting thing is that earlier Twinkle Khanna herself wrote a book on this person and later she decided to make a film on the same person.
The film is ready to hit the screens on 26th January 2018 and it has taken the slot of Akshay Kumar's another film 2.0, the sequel to Rajinikanth starring 2010 released film Robot.