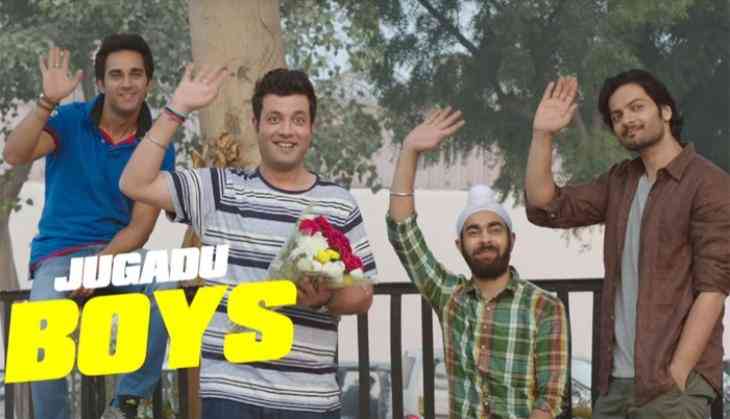 Fukrey Returns Movie Review: Fukras are back to give you laughter ride, Choocha is star of the film
Fukrey Returns Movie Review - The second installment of the Fukrey franchise has hit the screens today, and the fans of the Fukrey franchise are eager to watch this film. Mrighdeep Lamba has brought another Fukrey venture for the fans.
Movie Name - Fukrey Returns
Star Cast - Pulkit Samrat, Varun Sharma, Richa Chadha, Ali Fazal, Manjot Singh
Director - Mrighdeep Singh Lamba
Producer - Farhan Akhtar, Riteish Sidhwani
Music - Sameer Uddin, Prem-Hardeep, Sumeet Bellary
Genre - Comedy Drama
Critics Rating - 4 stars
STORY
The story of the film Fukrey Returns has been carried forward from where the first part ended. In the prequel, it was shown in the climax that Bholi Punjaban (Richa Chadha) is in the jail and Fukrey gang Hunny (Pulkit Samrat), Choocha (Varun Sharma), Lali (Manjot Singh) and Zafar (Ali Fazal) are happily living their lives and enjoying the benefits of Choocha's dreams. The first part ended with no twist, but this time the filmmaker have brought more twist and turns.
Bholi Punjaban has got freed from the jail with the help of politician Babulal Bhatia and now Bholi is angry and wants to take revenge from the Fukra gang. Choocha had a special quality of selling dreams and in this one Choocha has a quality of foretelling the future. Now Bholi makes many troubles for them and how Choocha helps the gang, the whole film revolves around this chapter.
DIRECTION
The filmmaker Mrighdeep Singh Lamba has packed the whole story to make it as much entertaining as he can. The best part is that in the first part the filmmaker was making a film but this time he has put all the best things in it to make a proper sequel. Well, there are senseless things but at the end, you need to entertain your audience.
PERFORMANCES
Varun Sharma (Choocha) is the best actor in the film and his performance has made this franchise more famous now. He has made himself popular same as Pappi Ji in (Tanu Weds Manu series). Richa Chadha has retained herself as a badass villain and her awkward chemistry with Varun Sharma is a cute thing in the film. Pulkit Samrat and Pankaj Tripathi are other best things when it comes to performances. Other actors like Ali Fazal and Manjot Singh are good enough for their roles.
MUSIC
The background score of the film is good, however, there is no any such good song besides Mehbooba that will stay on your lips for a long time. All in all the music part could have been better.
VERDICT
Fukrey Returns is surely an amazing film that you will watch until the end of this year. The sequel retains the entertainment of its first part and it will make you laugh lots of time. If you are a fan of Fukrey, then you should watch Fukrey Returns.