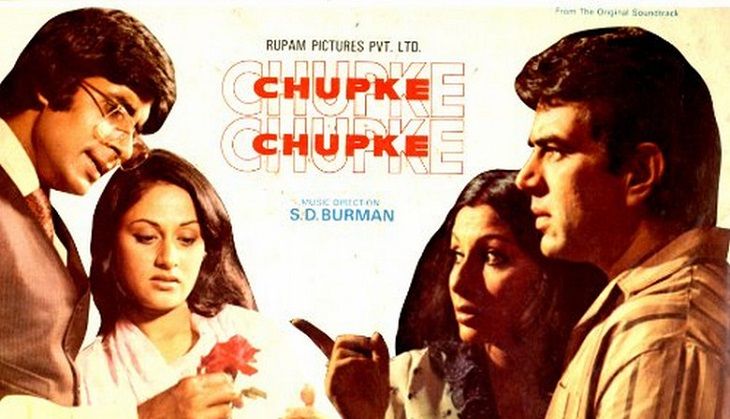 Bollywood has to its credit a number of classic stories that command for repeat viewing. The mere mention of films like Andaaz, Anand, Guide and Chupke Chupke often brings to mind a montage of scenes, dialogues and music, which just goes to show how striking they were.
What if these films were to be remade today with the fresh crop of Bollywood stars? Here's our pick of the new cast for the remakes:
1. Andaaz (1949)
Directed by Mehboob Khan, Andaaz featured Dilip Kumar, Raj Kapoor and Nargis in a love triangle. The intense chemistry between the trio created a lot of buzz. So why not pick a star cast which is popular for spreading some passion on screen already? Our pick? Ranveer Singh playing Dilip Kumar's role, Deepika Padukone as Nargis and Ranbir Kapoor in the role played by daddy dearest, Rishi Kapoor.
2. Aan (1952)
This Mehboob Khan-directorial addressed a number of emotions. The story included elements of There was love, betrayal, rejection and much more. It originally featured Dilip Kumar, Premnath, Nimmi and Nadira. We think Shahid Kapoor could do justice to the role immortalised by Dilip Kumar, while Sushant Singh Rajput could play Premnath. We also think Richa Chadda and Kangana Ranaut would be perfect for the roles played by Nimmi, and Nadira respectively.
3. Guide (1965)
This Vijay Anand film was a cinematic adaptation of the RK Narayan novel of the same name. The film had Waheeda Rehman playing an unhappy married woman who is keen to take up dance as her career. She meets a guide (played by Dev Anand) who helps her in pursuing her dream. Guide remains one of the most memorable performances of both the legendary actors of Hindi cinema. Since chemistry is of the essence here, Considering the chemistry of the lead pair, we think Shahid Kapoor and Sonakshi Sinha may be a good fit for the remake.
4. Anand (1971)
This is one film which is synonymous with superstar Rajesh Khanna, despite the fact that it featured Amitabh Bachchan as well. Directed by Hrishikesh Mukherjee, this is a cult classic. And a remake of a film of this magnitude calls for a superstar cast. Aamir Khan as Rajesh Khanna and Shah Rukh Khan as Amitabh Bachchan? What do you think?
5. Kal, Aaj Aur Kal (1971)
This Randhir Kapoor film was based on how three generations live under one roof. It featured the Kapoor trio - Prithviraj Kapoor, Raj Kapoor and Randhir Kapoor. We would like to see Amitabh Bachchan in the role of Prithvi Raj Kapoor as he matches the intensity in voice and acting. Shah Rukh Khan in the role of Raj Kapoor and Varun Dhawan in the role played by Randhir Kapoor.
6. Abhimaan (1973)
Abhimaan saw Amitabh Bachchan playing the role of a popular singer who encourages his wife, Jaya Bachchan, to take up singing as a career. If this Hrishikesh Mukherjee film was to be remade, then our vote goes to the next generation of the Bachchans, Abhishek Bachchan and Aishwarya Rai Bachchan.
7. Chupke Chupke (1975)
This Hrishikesh Mukherjee directorial is already a remake of the Bengali movie named Chandmabeshi. Chupke Chupke features Amitabh Bachchan, Sharmila Tagore and Dharmandra in the lead and is a story of a girl, Sulekha (Sharmila Tagore), who is in an awe of her brother-in-law's intelligence and judgement.
Considering the innocence of Sharmila's character in the film, Alia Bhatt springs to mind as our choice for the role - should there ever be a remake. Sidharth Malhotra and Varun Dhawan can play the roles essayed by Amitabh Bachchan and Dharmendra respectively. Parineeti Chopra could be roped in to step into Jaya Bachchan's shoes.
Some classics should never be touched. This piece is not intended to hurt the sentiments of cinema lovers.
-- Text By Falak Rahman