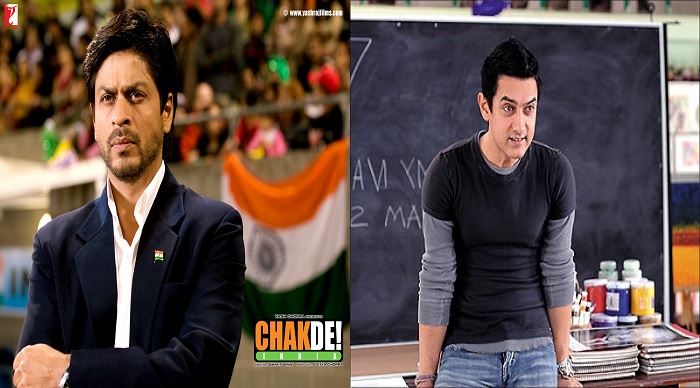 We may forget everything we learn in our life, but there a few lessons taught by our teachers that are unforgettable. In reality, the term teacher has a much deeper meaning that what we perceive it to be.
A teacher is someone who supports students and helps them to excel in their respective areas of interest.
As we celebrate Teacher's Day today, we bring to you five teachers in Bollywood who will continue to inspire us
Aamir Khan in Taare Zameen Par
Th film beautifully portrays the bond between Aamir Khan who plays a teacher and his dyslexic student (Darsheel Safary) who turns to painting while seeking a refuge from his demanding father .
Shah Rukh Khan in Chak De India
Well, he may not be a school teacher or a college lecturer, but Shah Rukh Khan's portrayal of hockey coach Kabir Khan in Chak De India was definitely one of his most inspiring roles. His lessons in grit an perseverance to the Indian Women's Hockey Team continue to motivate us.
Amitabh Bachchan in Black
This is probably Amitabh Bachchan's finest performances till date. Black, one of the most unforgettable movies of the 2000s saw Bachchan playing Professor Debraj Sahai who educates a girl who can neither see nor hear and helps her find a life for herself.
Akshay Kumar in Oh My God!
A person teaching academics or sports doesn't have to be the only kind of teacher in our lives. In Oh My God, the biggest teacher in Paresh Rawal's life was Akshay Kumar who makes an appearance as Lord Krishna. Kumar teaches Paresh Rawal the most important lesson of his life i.e. teach him the philosophy behind different religions.
Kareena Kapoor in Bajrangi Bhaijaan
Yes, Kareena Kapoor played the character of a teacher in Bajrangi Bhaijaan but the reason for her being a part of this list is different. As Rasika, the actress made Salman's character of Bajrangi realise that it is futile to distinguish people on the basis of their religion. The lesson that every human being is equal is what brings about the transformation in Salman's character from Bajrangi Bhaijaan.
A still from Bajrangi Bhaijaan