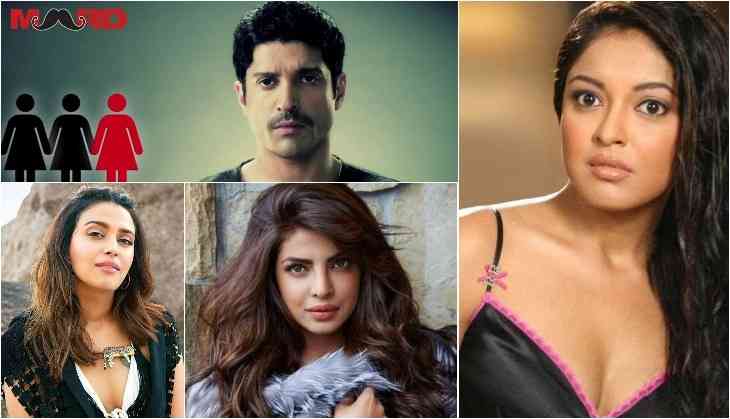 Bollywood actress Tanushree Dutta who made her silver screen debut with Aashiq Banaya Aapne starring alongside Emraan Hashmi and Sonu Sood is once again in the discussions for her revelations about being harassed by veteran actor Nana Patekar. The incident took place in the media in 2008 during the shooting of film Horn Ok Pleasss.
Actually, allegations were that Nana Patekar forced choreographer Ganesh Acharya to put some intimate scenes in one song that was supposed to be shot solo by Tanushree Dutta. The actress even protested against it and told that she never signed it. She told the incident that she locked herself in the vanity van when no one was supporting her. Then some goons from Maharashtra Navnirman Sena (MNS) called by Nana Patekar came and banged her door to come out of the van.
Tanushree Dutta shared the whole horrible incident and now when she again has raised the issue then actors like Farhan Akhtar, Priyanka Chopra, Richa Chadha and Swara Bhaskar.
Agreed..the world needs to #BelieveSurviviors https://t.co/ia82UsCkkq

— PRIYANKA (@priyankachopra) September 28, 2018
This thread is very telling. @janiceseq85 was there at the time of the incident being debated today. Even when #TanushreeDutta had career concerns to keep quiet 10 years ago she did not & her story hasn't changed now. Her courage should be admired, not her intention questioned. https://t.co/Ola3MNdmtS

— Farhan Akhtar (@FarOutAkhtar) September 27, 2018
It hurts to be #TanushreeDutta rn. To be alone, questioned. No woman wants publicity that opens the floodgates of trolling and insensitivity.What happened to her on set was intimidation.Her only fault was she didn't back down-takes a special courage to be #TanushreeDutta.

— TheRichaChadha (@RichaChadha) September 27, 2018
A female assistant director on set of the film speaks up. #IBelieveYouTanushreeDutta https://t.co/SjH0foQKbu

— Swara Bhasker (@ReallySwara) September 28, 2018
While on the other hand, recently during the trailer launch of Thugs Of Hindostan, when Big and Aamir Khan were asked about the same they been diplomatic clearly said that the issue is not related to them they were there to represent their films.