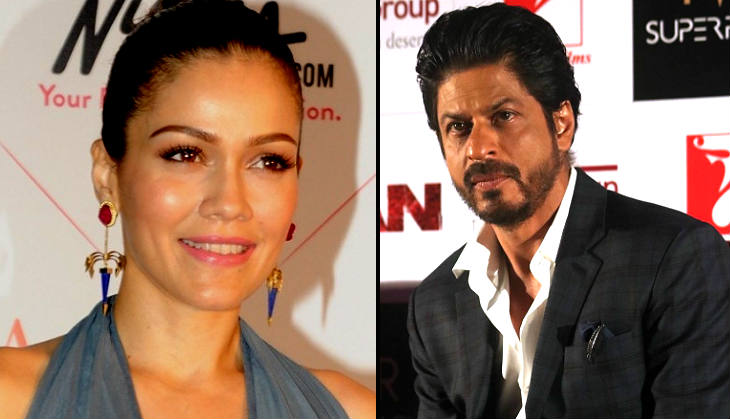 Actor Shah Rukh Khan's Fan is set to release tomorrow, i.e. 15 April. Directed by Maneesh Sharma and produced by Yash Raj Films, the film features SRK in two roles -- superstar Aryan Khanna and obsessed fan Gaurav.
Fan is one of the biggest releases of the year. But, there's something about the film that we've missed talking about all these days. 
It's just not an SRK film. It also features actress Waluscha De Sousa who is debuting in Bollywood with this YRF entertainer. However, we haven't seen her even once during the film's entire promotional campaign. 
Waluscha is not new to the industry. She is already a red carpet regular and a known ramp face. But, it is a bit strange that you have to look very hard to spot her in the trailer. There are two more reasons that Waluscha's lack of visibility in Fan's promotional campaign raises eyebrows:
1. When YRF launches an actress, it's a big deal in the film industry. The coveted production house completely owns its talent. Be it Anushka Sharma, Parineeti Chopra, Vaani Kapoor or Bhumi Pednekar, the launch of YRF's actresses have always been grand irrespective of how much of screen space they are given. 
2. Waluscha plays a pivotal character in Fan. It's a serious deal if a new face is being launched opposite a superstar such as Shah Rukh Khan. Her lack of visibility is indeed mystifying. 
Two huge Fan events have been held till now -- the launch of the song Jabra and the trailer. In both the events, director Maneesh Sharma accompanied SRK. Waluscha was missing in both these events. She wasn't present in even one of Fan's press conferences. 
On social media as well, Waluscha might have posted about the film but her name was not attached to any of the trends related to the film. 
We wonder what the real reason could be.